How To Use A Debt Avalanche To Eliminate Your Debt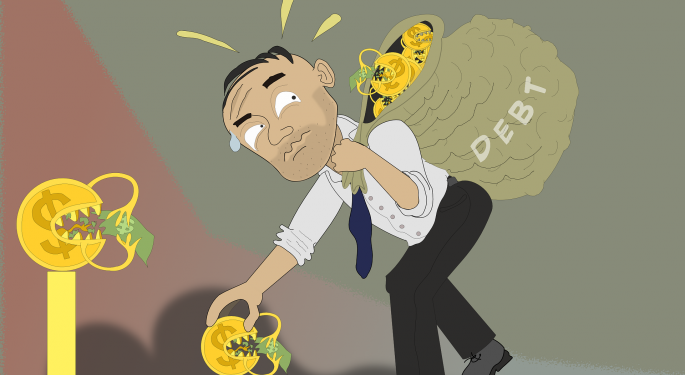 There's no quick fix or magic bullet for eliminating debt. However, coming up with a solid strategy for paying down debt and sticking to that plan is absolutely necessary.
The smartest and fastest way to eliminate debt is a strategy known as the debt avalanche.
Take Inventory
Regardless of the strategy you use, the first step in the process is taking inventory of your situation. Write down everything you know about your outstanding debts, including each credit card balance you have and any student loans, personal loans and auto loans. Make sure to figure out what interest rate you are paying on each balance. In addition, make note of your monthly income and estimate (using past months) how much you typically spend per month on necessities such as rent, food and transportation.
Related Link: 9 Financial Steps Every College Graduate Should Take Immediately
Higher Rates First
Now that you have taken stock of the situation, the debt avalanche strategy starts with ranking each of your debts by interest rate, highest to lowest. Regardless of the size of your debts, it will always be cheaper and faster to pay off your debts in order from highest to lowest interest rates. For example, credit card balances will likely be much smaller than auto loan balances, but credit cards carry some of the highest interest rates out there.
The smartest approach to becoming debt free is to tackle debt with the highest interest rate first and save as much money on interest payments as possible.
You Don't Have To Do It Alone
In that same vein, if your inventory-taking process reveals a seemingly overwhelming (or confusing) amount of debt, it may be best to meet with a financial planner or other expert to discuss potential options. Sometimes, a simple debt consolidation can result in reducing your interest bill by thousands of dollars. And even if you fear that you may be at risk of personal bankruptcy, it's better to get a professional opinion as soon as possible to know exactly where you stand.
When you have a number of different sources of debt, it may be tempting to start paying down your smallest balances first. However, if your ultimate goal is to be totally debt-free, the quickest path to the destination is to start chipping away at those higher-interest debts as soon as possible. If you are consistent with your payments and remain disciplined over time, those giant debts will start tumbling down like a series of avalanches, one loan at a time.
Posted-In: bankruptcy debt personal financeEducation Personal Finance General Best of Benzinga
View Comments and Join the Discussion!