Save Money With…Food?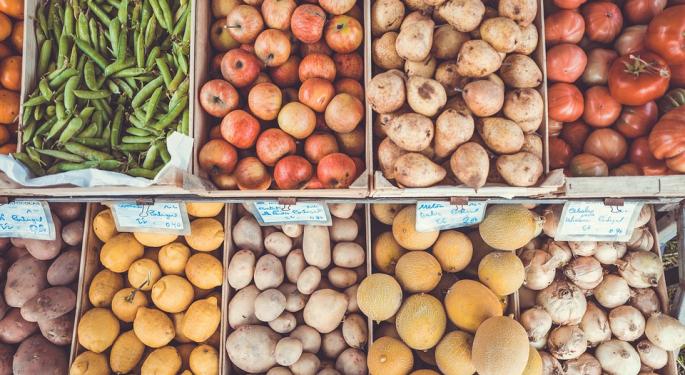 This article was originally featured on DriveWealth.
Yes, you read that right—food. So much of our day is consumed (pun intended) by thoughts of food. Think about it: it's so easy to plan your next grocery trip, think about what you're going to have for dinner, or even click on articles purely because the title includes the word "food" (you know who you are). So easy, in fact, that we dug up a couple of cool statistics from some recent studies on American adults just to prove how much time people really spend thinking about food each day:
To start, only 16% of American adults spend less than one hour each day on food planning and preparation
This means the other 84% of adults typically spend more than one hour each day on food planning and preparation, with a total of 41% all of people spending more than two full hours daily
Keep in mind that this block of time doesn't even include the time it takes to consume the food we make—which typically adds another hour and eight minutes to the total "food time" spent each weekday
And that becomes one hour and seventeen minutes of eating time for each day on weekends, if you were wondering
Finally, if you're thinking the stereotypical "oh, of course Americans spend so much time worrying about food," you might want to consult this study which shows that Americans actually spend less time cooking and eating than people in many other nations (in fact, the US ranks pretty close to middle of the pack globally)
If you're still not convinced, try making a little tally for each time you find yourself thinking about food today and you might notice—it's more common than you even realize. But, what if you could spend as much time worrying about saving money as you spend thinking about your next meal? A report released this week might just give you the incentive to do both—at the same time.
On Monday, a new study was released by a group called Champions 12.3. If you haven't heard of them yet, Champions 12.3 is an international coalition of executives from nearly every profession (such as business professionals, agriculture workers, research scientists, religious authorities, etc.) that has united with the common goal of drastically reducing food waste globally by 2030. You can find their biography here. And if you have heard of them, you'll know that they have some pretty cool things to say.
Their most recent study starts by pointing out that one third of all food produced in the world today is lost between the farm and the table. That's a lot of food waste. If you're like many of us, that's a lot more than you ever realized. So, in attempt to combat that level of waste, Champions 12.3 has begun coaching businesses around the globe on how to reduce their food waste. Whether it be grocery stores, restaurants, or even large office buildings with cafeterias, the results that they have seen are major. In a follow-up study of 700 different companies across 17 different countries, Champions 12.3 discovered that for each $1 a company had spent in attempt to reduce food waste, it saw a positive average savings of over $14. Please take a second to think about how significant that is! Just like many of us, many business leaders might not even be aware of how much food their business really wastes every day – and how real the monetary incentive to stop that waste has become.
But, this principle isn't just for businesses! It can be applied to households, university campuses, and even cities, too! For example, when several towns in England decided to start actively reducing food waste in 2014, each household that participated saw an average ratio of 116:1 (savings:costs). What does this tell us? It may be easier for households to see immediate results, because your food choices are made on a much smaller scale—and, unlike businesses, your food choices realistically only affect several people. This means that you can make changes more quickly and effectively than a business can—and save money in larger proportions, if you do it right. It also tells us that our potential savings when it comes to food are significant to say the lease.
But, how do you start actively reducing food waste in your home? Champions 12.3 has that covered, too, with three simple steps: Target, Measure, and Act. First, you set an ambitious "target" of how much waste you want to reduce over time. Eager governments and companies typically set targets of nearly 50%, but if you're just starting out, you can aim to keep it a little lower at first. Then, measure your food supply chain. What is getting eaten in your house and what sits around forever? How much fresh produce should you really buy, knowing it'll go bad in a week or less if you don't use it? Questions such as these may seem simple, but they can really shed some light on the things you spend money. Finally, act. Make a list of the goods you find yourself not using and plan your weekly meals in advance so you can know exactly how much fresh produce you'll use. That way, when you go to the grocery store, you'll have a plan. And "oh, maybe I'll make this on Tuesday" is no longer a complete plan, it's a waste waiting to happen.
So, in all the time you spend thinking about food each day, you can also start planning to save money like never before. It's really so simple: decide what you're going to eat (as you always do) and take note of what things you don't really use. Then, of course, if you don't use something, don't buy it again. With the Target, Measure, Act method, you could even see 116-fold returns just for going about your normal food-based thought process. And what can you do with 116-fold returns? Invest them for later.
What's that? Sounds like a win, win, win from over here!
Posted-In: DriveWealthEducation Topics Personal Finance General
View Comments and Join the Discussion!