Star Wars Vs. Harry Potter Vs. Marvel: An Intellectual Property Battle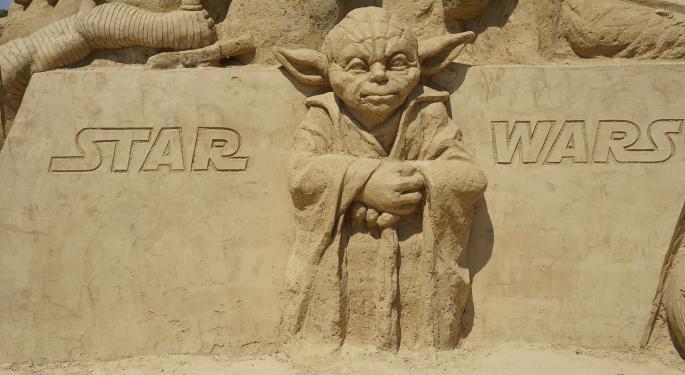 In a three-way battle, the science fiction of Star Wars is pitched against the magical wizardry of Harry Potter and the super heroes of Marvel Entertainment. Picking the "winner" is truly a tough proposition, as each in its own right has a mass appeal, huge fan following and tasted commercial success of enormous magnitude.
Benzinga's entertainment team looked at the valuation of the intellectual property of the three franchises to evaluate the winner among the three, taking a little help from readers who gave their verdict through a Twitter poll instituted by the team.
We would like to clarify here the evaluation is not for the franchises' total worth, as it would encompass a lot more items, such as worldwide box office collection, home entertainment sales (which include DVD sales, rentals, digital sales and VHS sales), toy and merchandise sales, video game sales and miscellaneous items, including revenues from books, licensing fees and resales.
The World Intellectual Property Organization defines intellectual property as creations of mind such as inventions, literary, artistic works, designs, symbols, names and images used in commerce.
Star Wars: Shining the Brightest
Walt Disney Co (NYSE: DIS) acquired the lucrative Star Wars franchise through its acquisition of Lucasfilm from its founder George Lucas in 2012 for $4.05 billion.
Brand Finance estimates the value of the Star Wars brand to be over $10 billion, which is over 2.5 times what it paid for acquiring Lucasfilm.
The franchise's films include the original trilogy, a prequel trilogy, a sequel trilogy, an anthology (which is the upcoming film titled "Rogue One: A Star Wars Story") and the animated film "Star Wars: The Clone Wars" that was released in 2008.
Not counting revenues from the upcoming Star Wars flick, a Fortune article valued the total value of the Star Wars franchise at roughly $42 billion.
Potter Mania Sweeps Over
Meanwhile, Time Warner Inc (NYSE: TWX)'s Harry Potter series is valued at nearly $25 billion, according to estimates by StatisticBrain (roughly $7.2 billion from movie sales, $7.7 billion in book sales, $1.98 billion in DVD/digital sales and $0.6 billion in rentals).
Harry Potter fans are now being treated to the latest bonanza from the franchise, namely "Fantastic Beasts and Where to Find Them," a prequel of sorts to the Harry Potter series and the ninth film of the franchise, released November 18, 2016. In less than two weeks after the release, the film, distributed by Time Warner's Warner Brothers, grossed over $500 million in worldwide box office.
Marvel(lous ) Buy
Marvel Entertainment, which is behind superheroes such as Iron Man, Captain America, Thor and the rest of the Avengers gang, and which Disney acquired in 2009 for $4 billion, is another asset that has been worth its gold for its acquirer. According to an estimate, over 90 percent of the value of Marvel's assets represented goodwill and intangible assets, especially character IP.
Box office returns alone from Marvel are pitched at over $8.5 billion, excluding the recently released "Doctor Strange." More importantly, the Marvel buy opened the floodgates for Disney into the men's world, which until then remained women-centric.
The Results Are In
The Twitter poll ran by Benzinga showed 45 percent of respondents preferred owning Star Wars compared to 21 percent for Harry Potter and 30 percent for Marvel/DC.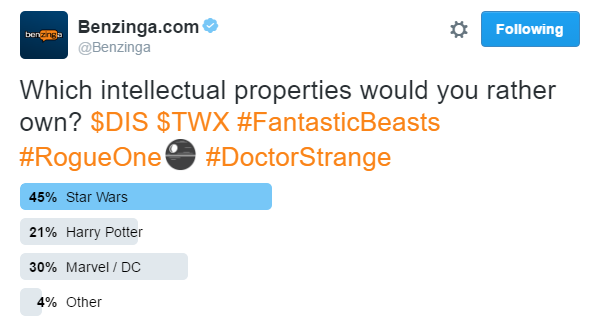 Spencer White of Benzinga had this to say about the victor of the three-way battle, "Star Wars. It's a guaranteed billion dollars a year for the next 50 years."
It looks like the Star Wars franchise is a run-a-away hit, although the value of the other two cannot be belittled given the success stories they have to tell.
Posted-In: Avengers Brand Finance Captain America Doctor Strange Fantastic Beasts And Where To Find ThemEducation Media General Best of Benzinga
View Comments and Join the Discussion!