Does Pokémon GO Pose National Security Risk?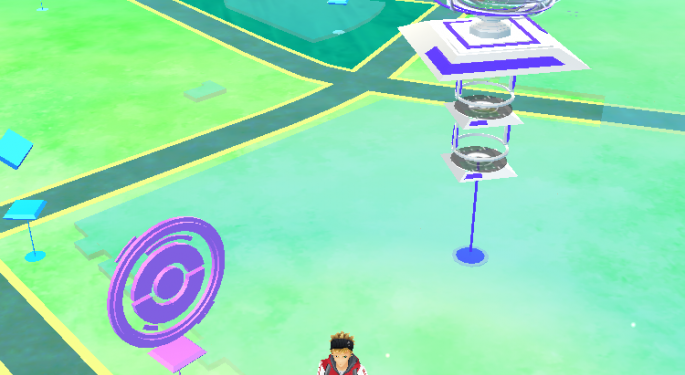 As Nintendo Co., Ltd (ADR) (OTC: NTDOY)'s new augmented reality game Pokémon GO rapidly gains popularity, already being applauded for Monday's 35+ percent spike in ADR prices and set to surpass Twitter Inc (NASDAQ: TWTR)'s daily active user numbers, an interesting issue has arisen as people from all walks of life try to catch 'em all.
According to a few Reddit threads and other social media mentions, while Pokémon have been found in virtually any location possible, even those deemed possibly inappropriate such as inside police stations and residences, one area that logically would be completely off limit has had its share of sightings: military installations.
While initial accounts had gamers frustrated at the seeming lack of Pokémon on bases, other users said they had seem quite a few at their posts.
Related Link: What Pokémon GO Means For Nintendo Shareholders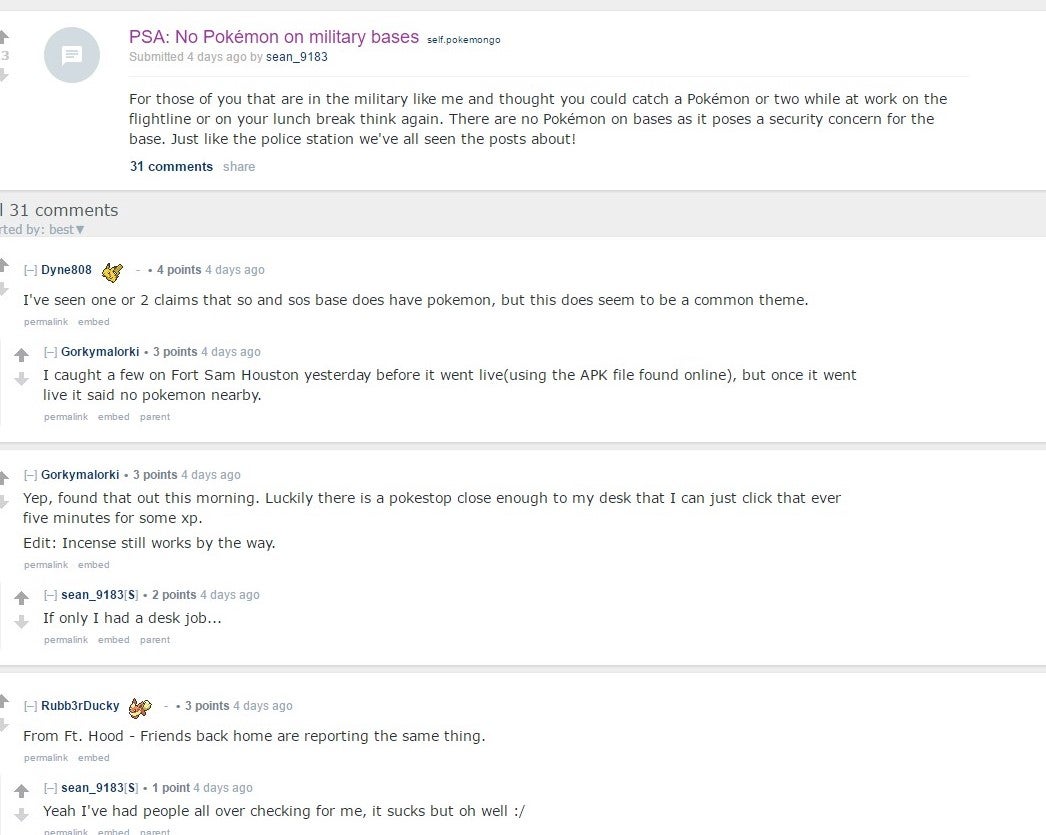 Reddit user sean_9183 wrote, "For those of you that are in the military like me and thought you could catch a Pokémon or two while at work on the flightline or on your lunch break think again. There are no Pokémon on bases as it poses a security concern for the base. Just like the police station we've all seen the posts about!"
Despite this claim, users from bases across the United States and abroad have indicated (some even providing screen capture images a proof) that the above is not entirely true.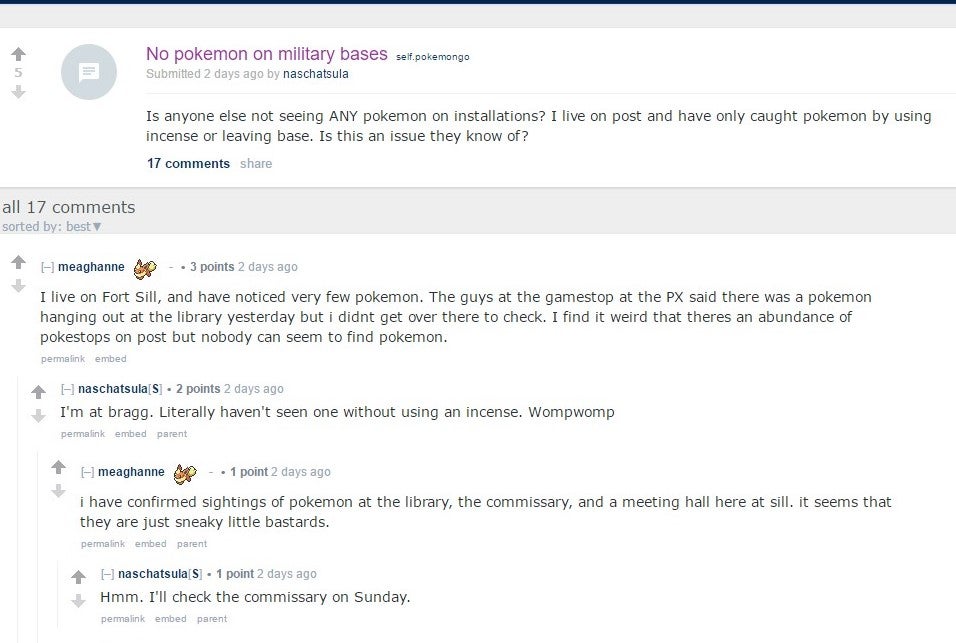 Reddit user naschatsula said, "Is anyone else not seeing ANY pokemon on installations? I live on post and have only caught pokemon by using incense or leaving base. Is this an issue they know of?"
It appears as of Monday, no official guidelines have been made restricting Pokémon from military installations or other locations that pose security concerns.
What's The Big Deal?
The concern is that U.S. Code prohibits the use of photography or other methods of denoting the exactness of military installations, particularly when the images can be used to disclose particulars regarding the installations. For example, you cannot Google Map roads on base or use GPS to navigate on military posts.
18 U.S. Code § 795 - Photographing and sketching defense installations reads in part, "[I]t shall be unlawful to make any photograph, sketch, picture, drawing, map, or graphical representation of such vital military and naval installations or equipment without first obtaining permission of the commanding officer."
Because Pokémon GO engages the camera on mobile phones in order to bring the game alive, it's possible that devices using the app could potentially be hacked and the information could be used to compile a composite image of installations that should be completely restricted from the public.
Of additional concern is the possibility that civilians will try to access base without going through the proper channels or try to get close enough to base to catch the Pokémon, which may appear suspicious to military guards.
As humorously described by Trusted Reviews, "Before you can catch any Pokemon, you're going to need some Poke Balls. Luckily, the game is littered with 'Pokestops' — prominent sites that have been designated as supply stores where players can stock up. Unfortunately, for this particular Pokemaster, the abundance of Poke Balls lays within the bounds of a heavily-guarded military base. But hey, you're never gonna catch 'em all if you don't have the balls…"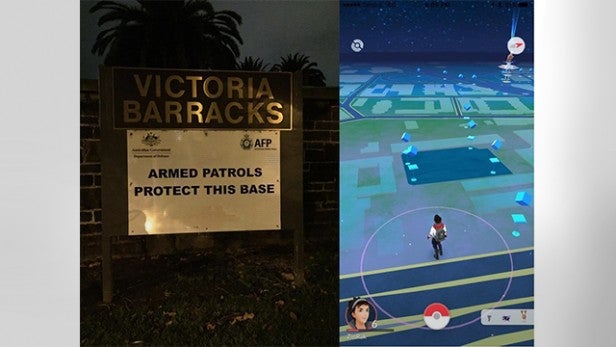 Soldiers Note Irony
On a Facebook Inc (NASDAQ: FB) page designated to ironic, humorous or downright ridiculous military moments, U.S Army W.T.F! Moments has had its share of commentary on the matter.
Posted-In: Pokemon Pokemon Go RedditEducation Tech Media General Best of Benzinga
View Comments and Join the Discussion!