Millennials And Mortgages: Words Of Wisdom From A CFP® Finance Professor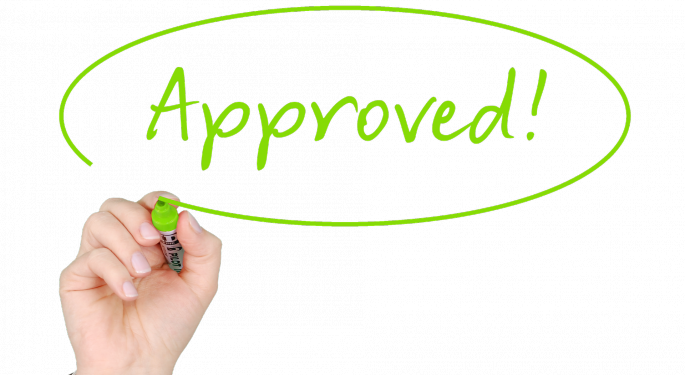 First-time homebuyers are often overwhelmed with information. From interest rates to loan offerings, approvals to inspections and realtor lingo to legalese, the whole process quickly becomes headache inducing.
Having never made such a colossal purchase, literally or financially, there is a tendency to act without guidance. In an age where information is no farther away than a pocketed smartphone, old-fashioned reliance on others is sometimes overlooked. Unfortunately, when the pressure to act autonomously steps into financial decisions and the feelings of inadequacy, naivety or grossly overestimated knowledge stop people from seeking help, financial frustrations can become financial failures.
Instead, homebuyers need to step back, retreat to the trenches, strategize and rely on their battle buddies – trusted friends who have gone through the process, financial advisors, lawyers or personal finance planners.
Although not all first-time homebuyers are Millennials, many Millennials are first-time homebuyers. And, while stereotyping a generation can be detrimental, it is prudent to take into account the assets that set your generation apart from previous generations – members of which are likely to be helping you through your decision-making process.
A 2015 National Association of Realtors® Home Buyer and Seller Generational Trends report illustrated that the largest demographic of homebuyers were Millennials/Gen Yers/Gen Nexters, with the median age being 29. Furthermore, the data indicated that 68 percent of first-time homebuyers were at or under the age of 34.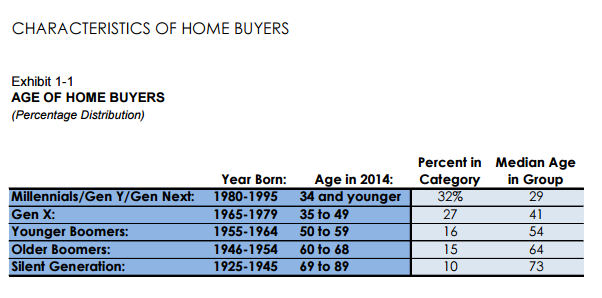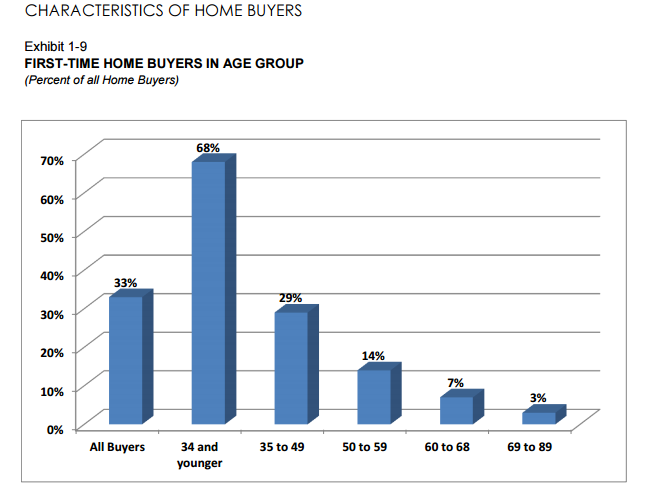 Graphics Source: NAR®
Therefore, if you are a Millennial jumping headfirst into the housing market, acknowledge the resources available – not just those digitally, but those behind the monitor or screen. Educate yourself, but also reach out to people who can impart wisdom and guidance they have gained from first-hand experience.
Benzinga had the opportunity to speak with Ashland University Professor of Finance and CFP® Terry Rumker.
The Complicated Nature Of Approved Loan Amounts
One area of the home buying process that can become a stumbling block is the notion that an approved loan amount means the applicant should borrow that much, or close to that amount. That line of thought is, often inaccurately, justified by thinking an institution wouldn't approve of an amount if they didn't have faith the applicant could afford it. However, while loan approvals take a lot into consideration, they cannot know the exact situations or financial tendencies of an individual, and therefore, cannot predict with complete accuracy whether a homebuyer can afford the maximum approval amount.
The approval is meant as a guideline and firm upper limit, not a nudge to push the budgeting envelope.
Rumker advised, "Most banks will loan a person more money than they should borrow." He suggested working backward to determine how much to borrow, instead of using the loan amount as a basis for how much house to look at. "You should decide how much you are willing to spend each month on your home – principal, interest, insurance and taxes combined – and then figure out how much money you are willing to borrow. Not how much they are willing to lend."
The Touchy Practice Of Low Balling A Bid
Sometimes, your dream home will catch your eye, despite it being outside your budget's comfort zone. While you may be tempted to go ahead and make a bid on the home for a price below the asking offer and at the max end of your approval amount, Rumker cautions against this practice. "I would not suggest low balling a bid below a reasonable gap from the asking price. If a person is looking at a home that requires all of their approved loan amount, it would be a mistake."
To avoid this, Rumker suggested homebuyers stay away from the approved max, "The easiest way would be to not borrow up to the limit. This could lead to a challenge trying to meet the monthly mortgage payment. If one did go to the max, it would be important to track every penny you spend."
He interjected with further justification to not go to the max: unplanned life events. "Always keep an emergency fund in the event of unexpected loss of job or expense of about three to six months of your living expenses." If borrowing the max puts pressure on your budget just to meet the mortgage payments and other home-related expenses, think for a moment what an unplanned situation could do to your monthly budget over the course of just a few months.
Interest Rates
Finally, in light of the upcoming Federal Reserve meeting, at which many are expecting the first of many rate hikes for the upcoming year will be announced, Rumker addressed the differences between adjustable and fixed interest rates.
"Given the current interest rates, it would be hard argue that an adjustable rate would not exceed a fixed rate," Rumker began. "From where interest rates are now, the only direction they are going to go is up and that would cause your adjustable rate mortgage to go up. This causes the monthly payment to increase as well. Fixed rate mortgage makes the most sense when considering the likely direction of rates over the next few years."
Image Credit: Public Domain
Posted-In: first-time homebuyers Gen NextFinancial Advisors Education Top Stories Personal Finance General Real Estate Best of Benzinga
View Comments and Join the Discussion!