Spent Too Much On Gifts? Here's How To Recover From A Broken Holiday Budget
The gifts were wrapped, the cookies were baked and all of the hallways were gleefully decked with baubles and twinkle lights.
But, does your bottom line reflect such a jolly disposition?
A recent Gallup poll projected that the average American anticipates a $720 ticket for gifts alone this holiday season. Additionally, Hersh Shefrin, finance professor at Santa Clara University, stated, "Consumers plan to spend a significant portion of annual pre-tax income on their holiday purchases – for most, between 0.5 percent and 1.5 percent."
While that planned percentage is daunting alone, Shefrin continued, "The simple facts are these: 36 percent of shoppers will overspend their budgets."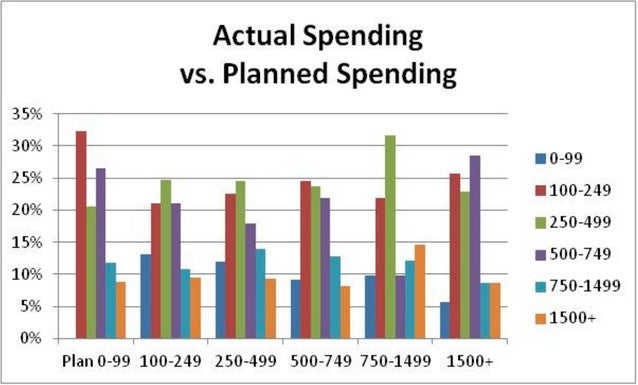 From www.huffingtonpost.com.
Related Link: Creating Curb Appeal When The Weather Turns Crummy
So, what can be done when you find yourself in that percentage group? Overspending -- by a little or a lot -- can send anyone into a spiral of financial frustration and fear. Fortunately, this tight situation does not need to be a permanent way of life. Rather, following well-thought-out plans for a rapid recovery can insure that the damage done in December does not follow you into February.
1) Acknowledge The Situation
Ignoring the throbbing bruise to your budget may take the sting away, but it won't heal the broken blood vessels to and from your bank account. As with any recovery process, admitting there is an issue to address is the first step.
2) Stay Calm
Just as important as not sweeping the expense injuries out of sight, remaining clear-headed is key to a quick recovery. Anxiety and panic breed thoughtless tactics of hiding the issue or incompletely addressing the problem.
3) Assess The Damage
Be honest. Look back at your overall budget and monthly budget and determine how much the seasonal splurge truly set you behind. Were your spending excursions extreme to the point that recovery will take months? Or, can you cut back on January's entertainment budget and end up back even by February?
4) Make A Plan
After admitting how much pain was inflicted upon the bank account, the next step is to determine the proper first aid procedures. Look at the damage and compare that to the larger picture: where can cuts be made and belts tightened going forward? What's the projected amount of time it will take to realistically recover? If the injury is severe, do not rush into recouping the losses if it is clearly a losing battle.
Related Link: Be R.E.A.D.Y.: How To Draft Financial Plans
5) Follow Through
Stay the course. Even the most perfectly pristine plans are only as good as their execution. Take sure-footed steps to ensure your success. Baby steps forward are still steps forward and much more efficient than giant leaps forward followed by complete stagnation or tumbling backward.
While having a fractured financial plan is not very festive, it is not a death sentence. Remember to address the issue head on and learn from the situation. By acknowledging the problem and tracking tendencies, you can more efficiently plan future budgets. Keep in mind that budgets are not concrete, but fluid plans – plans that deserve continued attention and adjustments where necessary.
Posted-In: Gallup Poll Hersh Shefrin holiday season holiday shopping seasonEducation Personal Finance General
View Comments and Join the Discussion!