4 Technologies Combating Auto Theft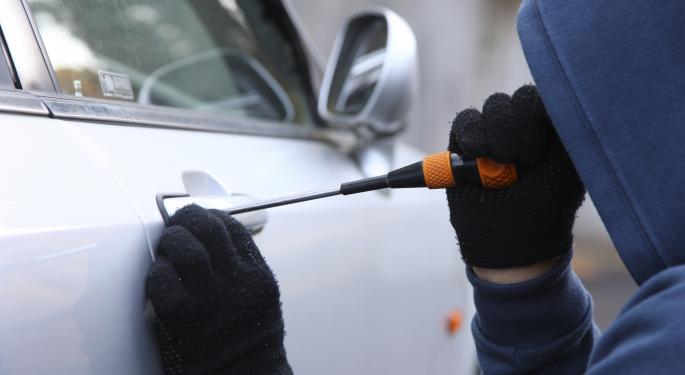 A recent article in The New York Times had an amazing bit of information: There's been a 96 percent drop in New York City's rate of car theft since 1990.
Auto theft is still a major problem in the U.S, but it's one of the fastest-declining crime categories. The FBI reports that, in 2011, thieves stole over 715,000 cars nationwide. But that 2011 data marked a 3.3 percent decline compared with 2010, a 35 percent drop from 2007 and a 42.6 percent decline compared with 2002.
So what's going on? In short, new anti-theft technologies work. The protections are discouraging many would-be car thieves who are forced to go after older (and therefore less lucrative) cars or give up on auto theft altogether.
Related Link: How U.S. Law Enforcement Snaps Up Military Gear
Here are some of the top new technologies that could put most auto thieves out of business.
Engine Immobilizing Systems
First introduced by car manufacturers in the late 1990s, these systems feature a state-of-the-art ignition key embedded with a transponder microchip. The code in the ignition key chip has to match the one in the car, or the vehicle won't start.
Getting around one of these systems is "very difficult," Captain Don Boller, head of the NYPD's auto crime division, told the Times. "Not just your average perpetrators on the street is going to be able to steal those cars."
Telematics
You're probably more familiar with the General Motors (NYSE: GM) version of telematics, OnStar, than with the term itself.
Telematics uses GPS technology to allow your vehicle to communicate with law enforcement and/or systems like OnStar. With the OnStar system, the information can help you unlock a vehicle, assist with navigation or call for help during an accident.
Another well-known telematics company, LoJack (NASDAQ: LOJN), offers a Stolen Vehicle Recovery Unit: an umarked radio transceiver that can be activated if a vehicle is stolen.
VIN-Etched Auto Parts
Permanently engraving a car's federally-registered vehicle identification number (VIN) onto not only its windshield and windows but also its metal parts can greatly reduce the chance of a thief trying to sell the vehicle to a "chop shop" or, of course, to any legitimate source.
Kill Switches
A relatively low-tech version of a car immobilizer, a kill switch is a hidden lever in a vehicle that prevents the car from starting unless it's been switched on. Unless it's been turned on, the kill switch will keep a car's electrical and/or fuel system shut down.
View Comments and Join the Discussion!
Posted-In: anti-theft technology auto theft automobiles automotive salesEducation Travel Tech General Best of Benzinga