Will The IRS Be Able To Enforce The Obamacare Mandate?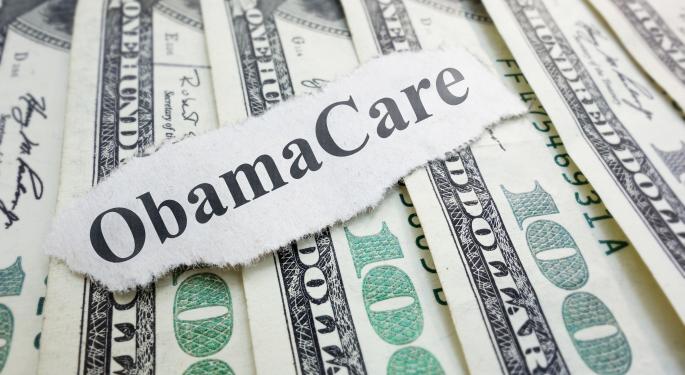 Officially, Internal Revenue Service Commissioner John Koskinen said the organization was able and willing to enforce the insurance mandate under the Patient Protection and Affordable Care Act, but needs additional funding to better meet its obligations. The likelihood of that additional funding becoming a reality was slim according to CPA Practice Advisor.
Nonetheless, the White House continued to hope that the nation's tax collection agency will enforce that part of Obamacare that requires a penalty for those who fail to obtain individual health insurance coverage.
Sorting out the tax "criminals" from the innocent would not be an easy task under the best of circumstances. Given the fact the IRS, in the words of commissioner Koskinen, "… is basically the only major agency running on post-sequester level funding," plus the fact that many taxpayers who have not complied with the mandate have received an extension; these are not the best of circumstances.
Related: IRS Says Watch Out For These Tax Scams
Not that many were feeling sorry for the IRS. Almost nobody ever feels sorry for the IRS.
This year, thanks to ongoing scandals over alleged discrimination regarding the tax-exempt status of (mostly) conservative groups and money spent on lavish accommodations and perquisites for IRS workers at training conferences, it was considered likely the agency would have to make do with available funding.
Big Job, Few Resources
As if enforcing the health care enrollment mandate wasn't enough, the IRS was also charged with verifying subsidies for millions of Americans, as well as helping to distribute those subsidies to citizens buying their health insurance under both state and federal exchanges.
IRS funding problems are real. The agency, according to a recent report from the Treasury Inspector General for Tax Administration said, ""The ACA contains an extensive array of tax law challenges that will present continuing source of challenges for the IRS in the coming years."
This was not good news for an agency that Koskinen said had its budget cut for the fourth year in a row and was allocated just $11.2 billion, down from $12 billion for the 2013 fiscal year. Koskinen noted that main complaint of IRS workers around the country is that there are not enough people to meet the daily demands of the job.
The commissioner certainly didn't grease the wheels with Washington lawmakers Wednesday when he said it would take years to comply fully with information and records requests related to the tax-exemption scandal. It also didn't help when Koskinen said that the charges against the IRS had resulted in the casting of doubt by some "on the independence of the IRS" according to The Washington Times.
Posted-In: ACA Internal Revenue ServiceNews Education Events Media Personal Finance General Best of Benzinga
View Comments and Join the Discussion!