Online Dating: A Study In Cost Efficiency?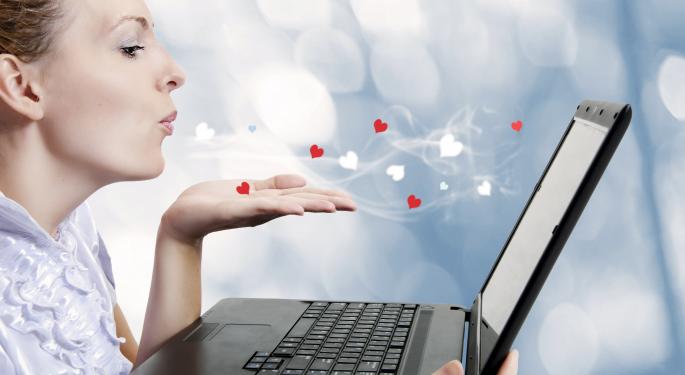 New studies say online dating is not only an efficient way of finding your would-be spouse, but also more cost-effective than the old-fashioned methods of seeking out love.
Researchers tell us about one-third of new marriages in the U.S. begin with an online meeting. And now, according to market strategists at ConvergEx Group, a New York-based global brokerage company, online data can also save a person thousands of dollars.
The ConvergEx folks, using data from statisticbrain.com, note the average courtship time for "off-line," traditional dating ahead of a marriage runs around 42 months – or two years longer than the 18.5-month, average dating-to-marriage cycle for people who meet online.
And using that data, they came up with a formula.
Related: The Economics Of Valentine's Day: The Money Behind The Love
"At a conservative estimate of one date per week and a cost of $130 per date – $100 for a meal and drinks at a nice restaurant, plus $30 for two movie tickets and popcorn – the dating phase prior to an offline marriage runs up a $23,660 tab," ConvergEx said.
"The average dating site customer spends just $239 a year for online memberships, which more than pays for itself to the tune of $12,803 in cost savings from fewer dates," they continued. "Assuming you go Dutch, each party saves a touch over $6,400 in choosing the online route to marital bliss."
The online dating industry, meanwhile, reportedly brings in annual revenues of more than $1.2 billion.
But just because it's become more acceptable, easier and less expensive for people to meet and woo someone online doesn't mean more U.S. residents are tying the knot.
In fact, according to the Pew Research Center, only 51 percent of Americans were married in 2011, compared with 72 percent in 1960 – and those numbers continue to decline.
So, what gives? Federal statistics say more people are living together before marriage, or as an alternative to marriage – a trend ConvergEx suggests could be in reaction to the high divorce rates seen in the 1970s and 80s. "Seeing their parents and/or friends' parents go through a divorce has made today's young people more cautious when it comes to finding a mate," they say.
A larger percentage of young people are also putting career ahead of relationships – which makes them less reliant on a spouse.
And significantly, from a purely economic viewpoint, is the fact the marriage rates are reportedly dropping faster among people with less education. "Declining marriage rates among those with lower levels of educational attainment is a warning sign that is worth watching," says ConvergEx, "especially if the trend continues."
View Comments and Join the Discussion!
Posted-In: demographicsNews Education Psychology Economics Media Press Releases General Best of Benzinga