Shocking Revelation: People Still Like Apple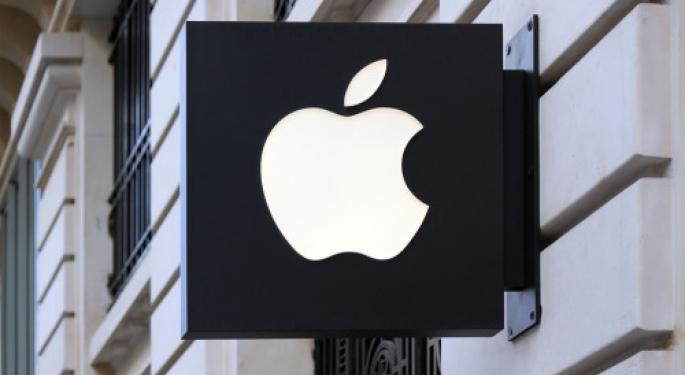 It's no shock to us that our clients hold close to $19 billion dollars in Apple stock (enough scratch to buy 63.5 million iPhone 6 devices, if you're curious).
On any given day, they account for roughly 10 percent of the total trading volume of Apple Inc. (NASDAQ: AAPL). In a smartphone market where Android is the majority leader, our clients route 75 percent of their mobile trades through an Apple device. They love the company. They love the products. They love the stock.
So when it comes to behavioral sentiment about the stock, our clients make for an excellent benchmark.
Now, I know we've all had it up to here with posts about Apple WatchTM and wearables. I was over it a year ago when I was quoted in a USA Today article as saying "our clients are more inclined to check the time on their phone than trade on a watch." I still feel that way.
Over 40 percent of our trades per day are derivatives. Can you imagine trying to roll an iron condor on your wrist? Like, maybe if the smart watch was as big as Flavor Flav's clock necklace. Yeah, boy.
But then again, my myopic little world is overly focused on trading. Certainly people will be using the watch for health and other use cases. Or will they?
Social sentiment data seems to validate my assumption that Apple Watch is not going to be as in demand as previous Apple product launches. I hope I'm wrong. I always want a win for Apple because it's the number one most widely held stock for our client base. With that, I thought it would be interesting to take a closer look at how retail traded AAPL through the course of recent announcements. Because these aren't just Apple shareholders.
They're also Apple product consumers.
Let's start with the two Apple events that highlighted the new Apple Watch. The first came on September 9, 2014, when we first got a glimpse of the design. At the second event on March 9, 2015, we learned about the various models and price points.
Here's how our clients traded Apple on each event day:
TD Ameritrade Client Trading Volume on Apple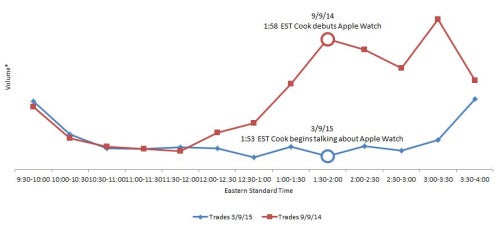 Figure 1: TD Ameritrade client trading volume on September 9, 2014 and March 9, 2015. Relative Trade Volumes. Specific volume data is proprietary. Source: TD Ameritrade. For illustrative purposes only.
With both announcements, buys outweighed sells. But with the first announcement in September, there was a lot more activity in general. The second event in March?
There was barely a blip on the radar. Credit Suisse conservatively estimates Apple will sell 20 million units at an average price point of $400. According to Company Profile in thinkorswim®, that would mean Apple Watch would only contribute about 4.4% of the company's total revenue.*
The story here isn't about the watch. It continues to be about iPhone© and Mac©. Tech innovation drives the major story with MacBook© and many third party analysts analysts believe that Apple will continue to grow share in the PC market.
I mentioned before that Apple is the most widely held stock of our customer base. And in the February TD Ameritrade Investor Movement Index® results, we noted that Apple was also the most widely accumulated stock in a month where, overall, clients were net sellers.
Finally, you might be interested in how our retail clients traded the announcement that Apple would be replacing AT&T (T) as a component of the Dow Jones Industrial Average.
They were bullish and increased trading by 25 percent versus the trailing 30-day average. Although it doesn't always correlate that being added to the Dow is a win in terms of longer term price performance viability, retail clearly saw this as a positive.
The bottom line is: Retail continues to love Apple. The fact that Apple Watch may not sail right out of the gate and run wire-to-wire doesn't mean that everyday investors will love this company any less.

Disclosures:
Photo attribution: Denis Kuvaev / Shutterstock.com
* Company Profile: Information/estimates provided by Insight Guru, a separate and unaffiliated firm.
Commentary provided for educational purposes only. Inclusion of specific security names in this commentary does not constitute a recommendation from TD Ameritrade to buy, sell, or hold.
Investing involves risks, including loss of principal. Past performance is no guarantee of future results.
Supporting documentation for any claims, comparison, statistics, or other technical data will be supplied upon request.
The IMX is not a tradable index. The IMX should not be used as an indicator or predictor of future client trading volume or financial performance for TD Ameritrade.
Shocking Revelation: People Still Like Apple is an independent (publication) and has not been authorized, sponsored, or otherwise approved by Apple Inc.
Apple, iPhone, Mac and MacBook are registered trademarks of Apple Inc. Apple Watch is a trademark of Apple Inc.
© 2015 TD Ameritrade IP Company, Inc. All rights reserved. Used with permission. TD Ameritrade, Inc., member FINRA/SIPC.
Posted-In: Crowdsourcing Tech General Best of Benzinga
View Comments and Join the Discussion!