10 Apple Experts You Need To Follow On Twitter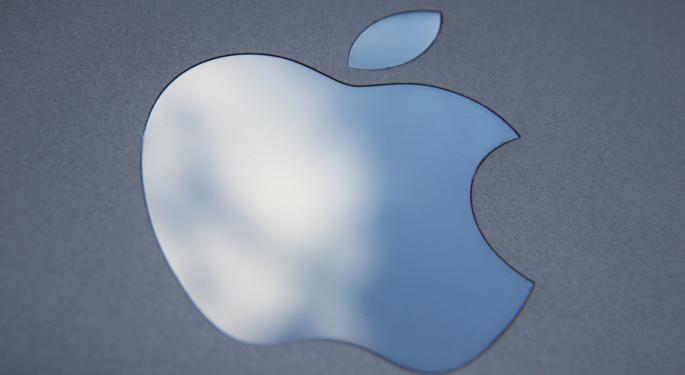 Interested in learning more about Apple? Find out how you can have the world's top Apple analyst answer your questions LIVE on Benzinga's #PreMarket Prep show this Friday, March 6 at 8:35 a.m. ET by going here.
As anticipation builds for the Apple Inc. (NASDAQ: AAPL) "Spring Forward" media event next week, everyone is looking for any hint of what the tech giant might reveal.
Benzinga doesn't have the answer, but there are plenty of Apple watchers on social media who can make some educated guesses.
While Piper Jaffray's Gene Munster is considered the one of world's top analysts, and is known for moving Apple share price, he doesn't have a presence on Twitter. Traders do have the opportunity to have Munster answer their questions about Apple live this Friday before the market opens.
Until then, here are some other Apple analysts, investors and journalists to follow on Twitter:
Benedict Evans (@BenedictEvans), Venture Capitalist at Andreessen Horowitz
Part of one of the leading Silicon Valley technology venture capital firms, Benedict Evans knows what he's talking about. His analysis and observations are both keen and astute.
Apple created a super-premium phone price band, made it into 10-20% of volume, and took the margins. Not sure cars have same opportunity

— Benedict Evans (@BenedictEvans) February 17, 2015
Charles Sizemore (@CharlesSizemore), CFA & Principal of Sizemore Capital Management
Charles Sizemore is honest about being bullish on Apple, but he's not a perma-bull. He tweets a lot of articles and standalone facts related to the tech giant.
Interesting food for thought on $AAPL: According to Barrons, only about 15% of iPhpne user base has upgraded to iPhone 6 so far.

— Charles Sizemore (@CharlesSizemore) February 23, 2015
Ben Thompson (@monkbent), Author & Founder of Stratechery
Ben Thompson is a former of employee for both Apple and Microsoft, so he's got more than enough industry experience to effectively analyze Apple's strategy. His observations are accompanied by clever wit and sarcasm.
If Apple makes a car Gene Munster is going to be so upset.

— Ben Thompson (@monkbent) February 14, 2015
Sean Udall (@UdallTechStrat), CIO of Quantum Trading & Author of TechStrat Report
Sean Udall does his homework. He knows about almost every tech stock and studies the fundamentals for each very closely. Follow his Twitter for light-hearted and enticing tweets.
Just updating my various $AAPL models... EPS, Prod sales, Pay & Price Targets & all I can say right now is wow. More to come! ;))

— Stock007 (@UdallTechStrat) January 31, 2015
Tiernan Ray (@barronstechblog), Barron's Tech Blogger
Tiernan Ray tweets as often as he posts a new tech blog: many times a day. Follow his Twitter account to get links to the newest posts by himself and others on Apple and other leaders in technology.
Yes, Tesla Should Be Worried About Apple's Electric Car - Stocks to Watch - Barron's $TSLA $AAPL http://t.co/FRBd6TSV2G

— Tiernan Ray (@barronstechblog) February 17, 2015
Rene Ritchie (@reneritchie), Apple Analyst & Editor-In-Chief of iMore
Rene Ritchie's publication, iMore, is dedicated exclusively to iPhone, iPad and Apple news. So if there's something going on with the Mac-maker, you can bet Ritchie will know about it. He'll also be at Apple's event next Monday.
Apple "Spring Forward" event on March 9! We'll be there! pic.twitter.com/gux92aPyjf

— Rene Ritchie (@reneritchie) February 26, 2015
Chris Ciaccia (@Chris_Ciaccia), Technology Editor for TheStreet
If there's a big tech event, Chris Ciaccia is more than likely live-tweeting it. Follow him for fast and breaking news.
.@tim_cook announces new partnership with $FSLR on new solar farm to power nearly 60,000 California homes.

— Chris Ciaccia (@Chris_Ciaccia) February 10, 2015
Carl Icahn (@Carl_C_Icahn), Chairman of Icahn Enterprises
It's possible that no introduction is needed for billionaire investor Carl Icahn. While he doesn't tweet as often as other people on this list, his reach is much wider and has much more of an impact on what he does tweet about.
Just over 1yr ago we tweeted our large position in $AAPL & belief the company extremely undervalued. Since then, stock is up 50.6%

— Carl Icahn (@Carl_C_Icahn) October 8, 2014
Cody Willard (@codywillard), Ex-Hedge Fund Manager and Co-CEO of Scutify
Cody Willard owned Apple in his hedge fund from $7 in March 2003 to $160 in October 2007 when he closed his tech-centric long-short equity hedge fund and sold his stocks. He still trades and follows the tech industry, in addition to sharing insights about tech stocks on his Twitter feed.
I think $AAPL still has plenty of upside if only because by many metrics, it remains "cheaper" than the averag... http://t.co/TknnLza76x

— Cody Willard (@codywillard) February 4, 2015
Paul La Monica (@LaMonicaBuzz), CNNMoney Digital Correspondent
Paul La Monica voraciously covers the tech sector. He tweets about everything from breaking news and analysis to stock movements and personal insights.
Still don't think $AAPL is going to buy $TSLA. But here's a question. Does it make any sense for $AAPL to try and buy $MBLY?

— Paul R. La Monica (@LaMonicaBuzz) February 26, 2015
Posted-In: Ben Thompson Benedict Evans Carl Icahn Charles Sizemore Chris CiacciaCrowdsourcing Tech General Best of Benzinga
View Comments and Join the Discussion!