Genprex's Leading Drug Candidate Is Currently Being Developed As A Treatment For Lung Cancer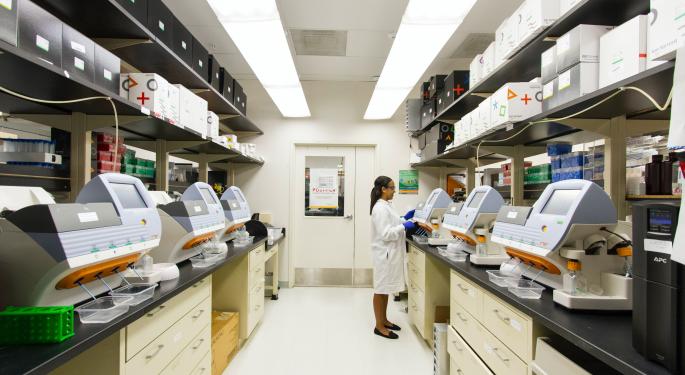 Genprex was one of the sponsors for the Benzinga Global Small Cap Conference that took place on December 8-9, 2020.
According to data from the World Health Organization, cancer is currently the second leading cause of death worldwide, and unfortunately, this number is only expected to rise. In 2018, the total number of cancer-related deaths globally was 9.5 million. And by 2040, this number is expected to increase to 16.4 million.
Due to this growing number, many clinical research companies have been looking for ways to help fight against this disease.
Founded in 2009, Genprex Inc (NASDAQ: GNPX) is a clinical-stage gene therapy company that's developing therapies for patients with cancer and diabetes. The company works with world-class institutions and collaborators to provide novel treatment approaches.
"Genprex is dedicated in our efforts to help patients with limited or no treatment options have access to new and advanced therapies to treat their disease. Genprex's vision is a world where serious disease is treated at its source to actually change the course of the disease, rather than merely treating symptoms," said Rodney Varner, CEO of Genprex.
Leading Drug Candidate
REQORSA™, Genprex's leading drug candidate, is an immunogene therapy that is currently being developed as a treatment for non-small cell lung cancer (NSCLC).
The drug has undergone testing in more than 50 patients over two Phase 1 clinical trials and a portion of a Phase 2 clinical trial. The drug showed promising results, with a favorable safety profile and evidence of efficacy in lung cancer — the leading cause of cancer deaths worldwide.
In January 2020, the U.S. Food and Drug Administration granted Fast Track Designation for the use of REQORSA combined with AstraZeneca plc's (NASDAQ: AZN) Tagrisso in late-stage NSCLC patients whose disease progressed after treatment with Tagrisso.
Further pre-clinical data has shown that REQORSA may be combined with several approved cancer drugs, including Merck & Co, Inc's Keytruda, for treatment of lung cancer; and that it may be effective against other types of cancer as well, including glioblastoma, head and neck cancer, breast cancer, renal cell carcinoma, and soft tissue carcinoma.
One aspect of REQORSA that has set Genprex apart from other gene therapy companies is the drug's delivery system.
The nanoparticle delivery system that REQORSA uses is Genprex's proprietary ONCOPREX® Nanoparticle Delivery System— which is designed to deliver a variety of therapeutic genes to fight against cancer.
"We believe that REQORSA, unlike other gene therapies which either need to be delivered directly into tumors or require cells to be removed from the body, re-engineered, and then reinserted into the body, is the first systemic gene therapy to be used for cancer in humans," said Varner.
Recent & Future Developments
In other developmental news, Genprex recently announced that it has completed the manufacturing scale-up for the clinical-grade production of REQORSA™ immunogene therapy, which is intended to supply the Company's upcoming Acclaim-1 and Acclaim-2 clinical trials for the treatment of non-small cell lung cancer, subject to passing final testing that is currently underway.
The company recently announced the successful manufacturing technology transfer to commercial Contract Development and Manufacturing Organizations (CDMOs) and the successful engineering run of REQORSA that passed all testing; as well as successful completion of the manufacture of an additional batch of TUSC2 plasmid DNA, the tumor suppressor gene missing or reduced in more than 80 percent of lung cancers. Notably, TUSC2 is also the active ingredient in REQORSA.
Going into the new year, one main focus for Genprex will be on the Acclaim-1 and Acclaim-2 clinical trials which will study Reqorsa combined with AstraZeneca's Tagrisso and with Merck & Co, Inc's Keytruda in patients with late-stage NSCLC, respectively.
Additionally, Genprex will be looking to further the development of its diabetes program in conjunction with the University of Pittsburgh, with whom the company signed an exclusive license agreement this year.
"According to researchers at the University of Pittsburgh, this gene therapy may hold the potential to provide long-term effectiveness, or may even be a cure for diabetic patients," said Varner.
Through their further developments, Genprex is targeting important and growing markets.
The projected overall size of the lung cancer therapeutics market is expected to grow to $26.3 billion by 2023. In addition, the separate therapy for diabetes that Genprex is developing addresses a market that is projected to be a $78.2 billion market by the end of 2026.
"Our novel gene therapies are designed to address large markets with unmet medical needs. Pre-clinical data indicates that our lead drug candidate, Reqorsa, can be combined with Tagrisso, Keytruda, and other cancer drugs," said Varner. "With all of our strengths, unique position and upcoming milestones, we believe we are well-positioned to transform the future of patient care and be part of a revolution in medical care being led by cell and gene-based therapies."
To learn more about Genprex, click here.
Photo by National Cancer Institute on Unsplash
View Comments and Join the Discussion!
Posted-In: Benzinga Global Small Cap ConferenceBiotech News Penny Stocks Health Care Small Cap Markets General