AstraZeneca Joins Other Coronavirus Vaccine Frontrunners In Reporting Positive Efficacy, Safety Data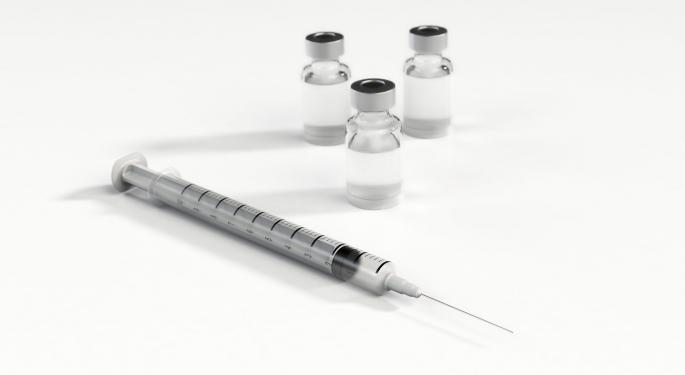 Oxford University and AstraZeneca plc (NYSE: AZN) released an interim readout Monday from the Phase 1/2 study of their candidate coronavirus vaccine candidate AZD1222, previously known as ChAdOx1 nCoV-19.
The Coronavirus Vaccine Data: AZD1222 — a chimpanzee adenovirus-vectored vaccine expressing SARS-CoV-2 spike protein — showed an acceptable safety profile, and homologous boosting increased responses, Oxford researchers said in an article published in The Lancet.
The Phase 1/2 study conducted in five trial sites in the U.K. compared ChAdOx1 nCoV-19 to a meningococcal conjugate vaccine, which served as a control. Healthy adults ages 18-55 were randomly assigned to receive either of the two in 1-to-1 ratio at a dose of 5x10¹⁰ viral particles of the control vaccine or the meningococcal conjugate vaccine as a single intramuscular injection.
Of these, 10 were enrolled in the non-randomized AZD1222 prime-boost group and received a booster dose 28 days after the first dose.
In the AZD1222 group, spike-specific T-cell responses peaked on day 14 and anti-spike IgG responses rose by day 28, researchers said.
The responses were boosted following a second dose.
The study also found neutralizing antibody responses against SARS-CoV-2 in 32 of 35, or 91%, of the participants after a single dose when measured in microneutralization assay80 and in all 35 participants when measured in plaque reduction neutralization assay50.
After a booster dose, all nine participants had neutralizing activity.
"The levels of neutralizing antibodies seen in participants receiving either one or two doses were in a similar range to those seen in convalescent COVID-19 patients. Strong correlations were observed across neutralization assays," AstraZeneca said in a release.
AZD1222 produced temporary injection site pain and tenderness, mild-to-moderate headache, fatigue, chills, feverishness, malaise and muscle aches, according to the pharmaceutical company. No serious adverse events were reported.
"While there is more work to be done, today's data increases our confidence that the vaccine will work and allows us to continue our plans to manufacture the vaccine at scale for broad and equitable access around the world," said Mene Pangalos, executive vice president of BioPharmaceuticals R&D at AstraZeneca.
What's Next For AstraZeneca, Oxford: The Phase 1/2 results, together with the indication of both humoral and cellular immune responses, support large-scale evaluation of the vaccine candidate in an ongoing Phase 3 program, researchers said.
Late-stage trials are underway in the U.K., Brazil and South Africa and are due to start in the U.S.
AstraZeneca said that it has so far committed to supply more than 2 billion doses of the vaccine to the U.K., U.S., Europe's Inclusive Vaccines Alliance, the Coalition for Epidemic Preparedness, Gavi the Vaccine Alliance and Serum Institute of India.
AZN Price Action: At last check, AstraZeneca shares were trading down slightly at $61.08.
Related Links:
The Week Ahead In Biotech: Jazz Awaits FDA Nod For Sleep Disorder Drug, Earnings Trickle In, ACell IPO
BofA On 3 Coronavirus Vaccine Frontrunners, The Remdesivir Opportunity And Antibodies
View Comments and Join the Discussion!
Posted-In: Coronavirus Covid-19 vaccineBiotech News Health Care General Best of Benzinga