A Tale Of 2 Biotechs: Axsome, Axovant Report Contrasting Outcomes For Neurologic Drugs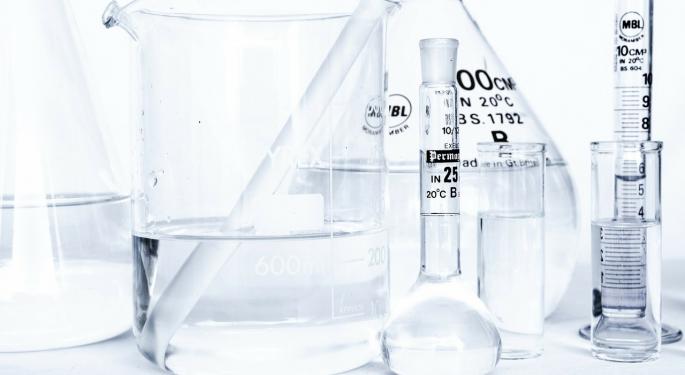 Biotechs Axsome Therapeutics Inc (NASDAQ: AXSM) and Axovant Sciences Ltd (NASDAQ: AXON) were taking diverging paths Monday.
While shares of Axsome surged higher by nearly 8 percent, Axovant shares were down by more than 25 percent at the time of publication.
Positive Interim Results For Axsome's Alzheimer's Agitation Drug
Axsome, which develops therapies for managing central nervous system disorders, said an Independent Data Monitoring Committee, or IDMC, that conducted an unblinded, pre-specific interim analysis for futility recommended continuation of the AXS-05 treatment arm.
AXS-05 is Axsome's lead candidate that is being evaluated in a Phase 1/2 trial dubbed ADVANCE-1 to treat agitation associated with Alzheimer's disease.
AXS-05 is Axsome's product candidate — with the dual active ingredients dextromethorphan and bupropion — and is the most advanced in terms of clinical development. Apart from agitation in Alzheimer's disease, for which it is being granted fast track designation, it is also being tested for treating resistant depression in a late-stage trial and major depressive disorder and smoking cessation in separate mid-stage trials.
The IDMC recommended no further randomization of subjects in the bupropion treatment arm while also ruling out safety concerns.
Following IDMC's recommendation, Axosome's said it will now continue to enroll in a 1-1 ratio in the AXS-05 and placebo arms.
The company previously included a single-agent bupropion arm to compare efficacy of AXS-05 to bupropion to demonstrate AXS-05's superiority, conforming to FDA's combination product rule.
Axovant Pulls Plug On Midstage Dementia Study
Axovant said topline results from an exploratory Phase 2 study of nelotanserin for the treatment of REM sleep behavior disorder, or RBD, in patients with Lewy bod dementia, or LBD, showed that the study did not meet the primary efficacy endpoint of reduction in frequency of RBD events as measured by sleep laboratory video assessment.
The pipeline candidate was found to be well-tolerated and showed signals of efficacy on secondary measures.
Consequently, Axovant said it is discontinuing the clinical development of nelotanserin.
"While secondary measures of efficacy suggest biologic activity for nelotanserin, Axovant has been focused on developing innovative gene therapies and we will not undertake further clinical studies with our legacy small molecule portfolio, including nelotanserin," CEO Pavan Cheruvu said in a statement.
As a way forward, the company said it will advance its gene therapy pipeline through multiple milestones in 2019.
Axovant's AXO-Lenti-PD, which it in-licensed in June, is an investigational gene therapy for Parkinson's disease. Midstage results from this candidate are expected in March.
The company is developing a second gene therapy AXO-AAV-OPMD to restore normal muscle function in patients with oculopharyngeal muscular dystrophy. It plans to initiate a clinical study in 2019.
Related Links:
The Week Ahead In Biotech: Conferences, Clinical Trials And Earnings
Attention Biotech Investors: Mark Your Calendar For These December PDUFA Dates
View Comments and Join the Discussion!
Posted-In: Alzheimer's disease Alzheimer'sBiotech News Health Care Top Stories Trading Ideas General Best of Benzinga