Spicing Up The Health Care Trade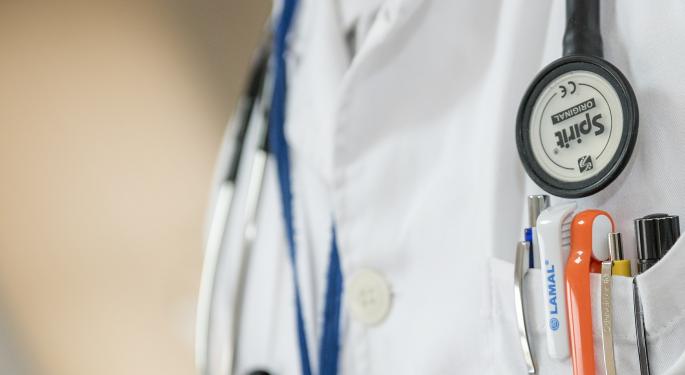 Technology is the best performing sector in the S&P 500 this year, but health care is not far behind. Last year, health care notched its first negative performance on an annual basis since 2008, but the sector is rebounding in style in 2017.
Health care's 2017 resurgence has been buoyed in part by higher beta, momentum corners of the sector, including biotechnology and medical device stocks. Those traits have given rise to momentum-based strategies tracking healthcare stocks, including the PowerShares DWA Healthcare Momentum Portfolio (NASDAQ: PTH).
PTH, which is nearly 11 years old, tracks the DWA Healthcare Technical Leaders Index and holds 51 stocks. The exchange-traded fund is up more than 32 percent year to date compared to gains of around 16 percent for many traditional, cap-weighted healthcare funds.
How PTH Works
PTH's underlying index "is designed to identify companies that are showing relative strength (momentum), and is composed of at least 30 common stocks from the NASDAQ US Benchmark Index," according to PowerShares, the fourth-largest U.S. ETF issuer.
While many old guard healthcare ETFs are heavily allocated to mega-cap pharmaceuticals stocks and the largest biotechnology names, the average market capitalization of PTH's holdings is $14.2 billion, confirming the ETF's status as a mid-cap fund.
PTH allocates less than 8 percent of its weight to pharmaceuticals stocks. Biotechnology names represent 42.3 percent of the ETF's weight while medical equipment and supplies stocks and healthcare services names combine for almost 46 percent of PTH's weight. None of PTH's holdings command more than 6 percent of the ETF's weight. The ETF's top 10 holdings combine for over 40 percent of the fund's weight.
A Smaller Tilt
As a momentum-based strategy, it is not surprising that PTH tilts toward growth stocks and smaller stocks, as highlighted by the fund's average market capitalization. PTH's few large-cap holdings are designated as growth stocks and about 84 percent of the fund's roster are considered growth fare.
The rub with this strategy is growth stocks, obviously, have to be in favor for an ETF like PTH to thrive. While the fund is outpacing the S&P 500 Health Care Index this year and over the past 12 months, the ETF lags that health care benchmark over the past three years.
Still, PTH has recently been popular with investors. Over the past month, the ETF has added nearly $47 million of its $132.2 million in assets under management, a total surpassed by just six other PowerShares ETF over that stretch.
Related Links:
View Comments and Join the Discussion!
Posted-In: Biotech Long Ideas Sector ETFs Health Care Top Stories Markets Tech Trading Ideas Best of Benzinga