Bayer-Funded Study Blows Up In Its Face After Scientists Find Its Pesticide Is Killing Bees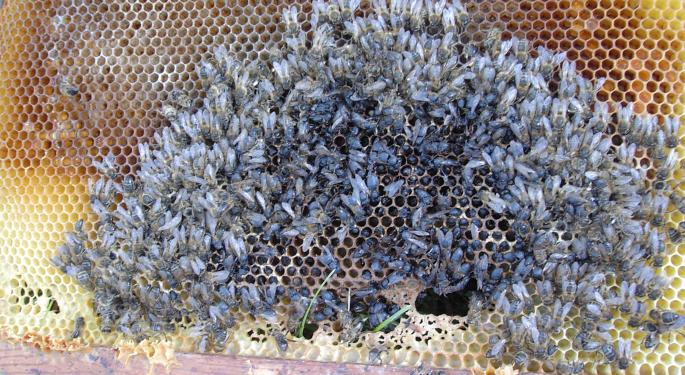 It seems so obvious, yet it took a pair of studies to prove it: Pesticides are the culprits responsible for the decimation of those vital pollinators, the bee population.
In a new report published Friday in the journal Science, two coordinated studies on two continents showed that the use of pesticide ingredients known as neonicotinoids "diminish bee health" and threaten agriculture.
"Two studies, conducted on different crops and on two continents ... find that bees near corn crops are exposed to neonicotinoids for 3 to 4 months via nontarget pollen, resulting in decreased survival and immune responses, especially when co-exposed to a commonly used agrochemical fungicide." the study said.
Big Agriculture Claims Pesticides Only Kill Pests
The studies were conducted on large swaths of farmland in the United States and in Europe, which have varying rules governing the use of pesticides. The study found that the threat level to bees varied between countries, with some bees seemingly more resistant to the pesticides than others.
Still, the studies are a repudiation to Bayer AG (ADR) (OTCMKTS: BAYRY), one of the leading manufacturers of the type of pesticide blamed for the bee massacre. The company, which also financed the study, has insisted that its pesticide is safe for bees.
Its stock was down 3.9 percent on Friday and trading at $129.77.
The scientist who led the experiment, Richard Pywell, from the Britain's Center for Ecology and Hydrology called the results "cause for concern," according to NPR.
An unexplained anomaly in the study was the result from Germany, where honeybees seemed to prosper regardless of their exposure to the neonicotinoids.
"We believe that other factors interact with neonicotinoid exposure to cause negative effects on honeybees and wild bees," Pywell said.
Bayer spokesman Jeffrey Donald told NPR that the German site offered many different types of flowers, and that "the study shows that when hives are healthy and relatively disease free and when bees have access to diverse forage, neonics do not pose a danger to colony health."
Related Link: Bees: The Latest Casualty Of Western Economics?
______
Image Credit: "Abeilles mortes ('dead bees')," By Emmanuel Boutet (Own work) [GFDL (http://www.gnu.org/copyleft/fdl.html), CC-BY-SA-3.0 (http://creativecommons.org/licenses/by-sa/3.0/) or CC BY-SA 2.5-2.0-1.0 (http://creativecommons.org/licenses/by-sa/2.5-2.0-1.0)], via Wikimedia Commons
View Comments and Join the Discussion!
Posted-In: bee crisis bee decline beesBiotech News Topics Movers General Best of Benzinga