How AI Can Help Investors Find Hidden Investment Opportunities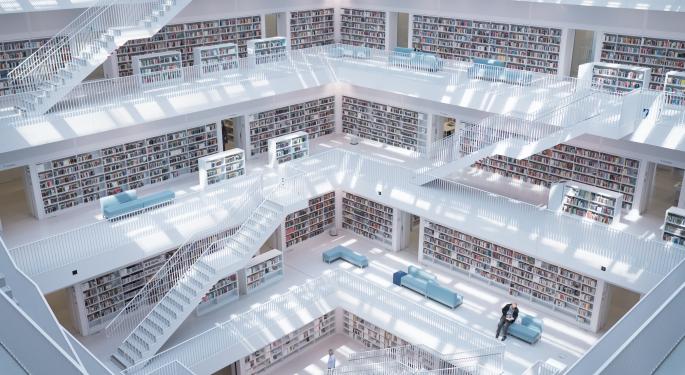 Information is all around us, invisible, hiding in plain sight. We capture it using special tools — our radios, TVs and cellphones — and turn it into things we can use. For instance, radios capture your chosen frequencies, convert them into waves you can hear, and you can instantly listen to your favorite podcast or show.
Money is information as well. For instance, options are a tool to capture the time value of investing in a stock. If you sell a call or put option, you convert that time into real money. In the same way, the daily zetabytes of data we receive in the Age of Information represent financial potential for you and me! Imagine how much better your trading would be if you could weigh every opinion on a stock in seconds. You can't, but your AI buddy can.
AI Takes the Tough Stuff

Investors, even successful ones, face the constant challenge of information overload. By the time you consider all the news reports, charts and analysis for a trade, it's too late to actually execute! AI shortens the time it takes you to sort through analysis and expands the scope of your analysis by expanding the data you can take in.
Alternative data is the buzzword for the information floating all around us. It's a growing industry with a value of around $350 million in 2020. There's only one way for you and me to analyze this level of data — we need the computing power to match the scale of the data. The average person doesn't have time to read through everything, much less disseminate it! When you are ready to analyze a trade, your AI acts like a team of analysts, compiling and measuring the data you don't have time to gather and organize.

Attribution: Pixabay
More data means better risk management. The more you know, the more you can ferret out hidden risks in your portfolio and identify profitable trends.
AI also has a much longer memory than you or me. You can backtest your market hypothesis through AI with surety and actually make it fun because you don't have to filter through junk information or program the math yourself.
How Yewno|Edge Can Help

Investing is 95% research and 5% execution. Yewno|Edge focuses on giving investors the edge through AI driven investment research. Yewno AI extracts institutional level data and brings you instant results on fundamental and technical analysis. Access to the most reputable publications with a noise filter means you only get information that you can use. No matter what kind of an investor you are, Yewno AI adapts to your needs.
It's one thing to gather and filter data — it's quite another to give you a real perspective that you can use. Not only will you know about relevant patents, clinical trials and earnings calls, but you can quickly backtest your theories using larger groups of data. You can now build strategies for any kind of trading based on a marriage of technical and fundamental analysis.
As you make moves in the market, Yewno|Edge modifies its strategy in real time to bring you the most relevant information. It's like having an investment advisor on the phone 24/7 navigating the ups and downs of the market with you. This advisor never needs a break, gets tired or makes an unforced error.
You can also focus the attention of your AI advisor on a theme or country. If you want to study 5G because it's a hot topic, your AI becomes a 5G specialist. If you want to test your cannabis investment theories specifically in Canada because favorable legislation just passed, you can do that as well. Combine this with real-time pricing data and educational materials, and you have a platform that improves your investment strategy from multiple perspectives at once.
Yewno|Edge

Profit doesn't come from blind speculation — the big wins don't always come from taking big risks. They come from having an edge on the information and a perspective that makes sense. Yewno gives you a leg up on creating strategies through quantifying market sentiment. Not only will you have an understanding of how news affects your portfolio, but you'll gain an invaluable perspective on the scale and direction of the effect.
Confident investing comes from being able to drill down into the patterns between millions of news articles, government contracts, corporate filings, court documents and more. Yewno|Edge gives you all of this in an intuitive user interface that you can customize to your personal needs. "When you want in-depth analysis, Yewno|Edge does the digging for you." says Yewno CEO Ruggero Gramatica. "By making associations between concepts, it uncovers helpful connections, giving you a 360 degree view of your portfolio."

Attribution: Yewno

Attribution: Amazon News

Attribution: Benzinga
The Future of AI and Investing

The future of investing includes an increasingly high level of personalization for every investor. As the public gains more direct access to larger amounts of data, the divide between the professional and the amateur investor will shrink. That broker from the 80s who took a fee just to buy us a few shares of IBM (NYSE: IBM) is gone. Index mutual fund managers who don't seek alpha, we're looking at you next — there is no reason to pay your fees when information reaches us just as quickly as you get it.
The finance sector is becoming increasingly digital because AI is at the core of the scaled information access necessary to succeed. The professionals who remain will adapt like R. Mark Shepherd, CEO of Shepherd Financial Partners.
"We perform a comprehensive financial plan for every client," Shepherd says. "This enables us to design their investment policy for their goals rather than just investing toward a benchmark. We believe it is better to invest toward their personal benchmark."
AI continues to reduce the cost of information and analysis, making those benchmarks that much easier to reach. The future of investing is AI serving as an investor's personal team — democratizing finance in a way that gives everyone the power to engage the market more profitably. Make sure that you don't miss out on the new information revolution.
View Comments and Join the Discussion!
Posted-In: General