Venmo's Andrew Kortina Talks Marketing, Virtual Assistants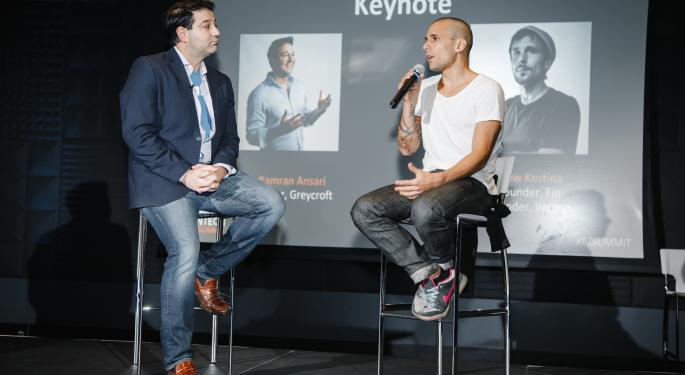 Many of the recent advancements in payment services and financial technology can be attributed to a pair of college students and their innovative idea for splitting checks. Founded in 2009, roommates Andrew Kortina and Iqram Magdon-Ismail developed Venmo, a new solution to traditional transaction processing.
The digital wallet allows users to make and share payments with friends through the use of an iOS or Android application. Now owned by PayPal Holdings Inc. (NASDAQ: PYPL), Venmo handled roughly $12 billion in the first quarter of 2018.
Co-founder Andrew Kortina spoke with the crowd at the Benzinga Fintech Summit in San Francisco about the payments space, including both Venmo and his new company Fin.
Marketing
Back in 2014, residents of New York City began to see advertisements pop up featuring a guy named Lucas and his love of Venmo. Despite the mixed reviews of the marketing campaign, New Yorkers became increasingly familiar with the service.
"Lucas was an engineer at Venmo, and Braintree had a creative agency that was going to do some ads for us, but their best idea was to do banner ads on the Best Buy website and we didn't think that sounded too fun. So we took a picture of Lucas and put it everywhere," Kortina said.
Fin
Kortina's newest service Fin is an electronic assistant that operates in the cloud. The program is designed with a combination of machine learning, specified measurement and skilled executives. Fin is able to manage personal schedules and make recurring appointments, as well as facilitate corporate scheduling and organization.
"When we started the company a little over three years ago, there was a lot of excitement around Alexa and Siri and all of these voice assistants. People were excited that improvement in voice recognition and natural language processing," Kortina said.
Anything that an executive assistant can do, Fin can do, Kortina said.
Unlike other virtual assistants like Alexa and Google Assistant, Fin will not tell you "no," he said.
"A lot of times when you ask Siri something, she won't understand you. But Fin doesn't do that because there's a team of smart people who can figure out what you're asking for. That's the big difference."
Future
Business process outsourcing takes less advantage of technological leverage and focuses more on both globalization and exposure to other industries, Kortina said. "We have gained a lot of experience running an operations team on this kind of software," he said.
"We're actually taking a piece of our stack for measurement and workflow optimization and pulling things out of it that we'll offer to other companies. Obviously we think it applies to any customer service or customer operations."
Related Links:
Flexibility, People Are Key To Lender Kabbage's Success, Co-Founder Tells Benzinga Fintech Summit
Execs From Ripple, Fiserv, Zelle Discuss Blockchain Payments, Instant Transfers
Kamran Ansari, venture partner at Greycroft, left, chats with Venmo co-founder Andrew Kortina at the Benzinga Fintech Summit.
View Comments and Join the Discussion!
Posted-In: Alexa Andrew Kortina Benzinga Fintech Summit FinFintech News Events Tech Best of Benzinga