These 2 Problems Are Holding The AI Industry Back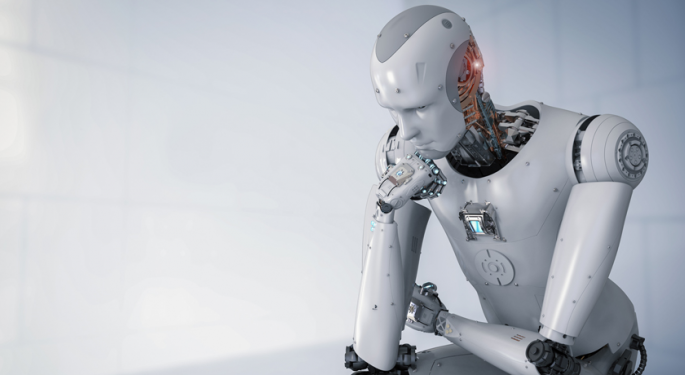 One of the hottest trends in big tech right now is inarguably artificial intelligence (AI). Tech industry giants like Facebook, Inc. (NASDAQ: FB) and Google parent company Alphabet Inc. (NASDAQ: GOOG) (NASDAQ: GOOGL) are paying exorbitant salaries for those with AI experience to draw specialists to their teams. At the same time, everyone from venture capitalists (VCs) to Uncle Sam have contributed billions of dollars into what is likely to be one of the biggest innovations in the tech space (read: DARPA's new AI initiative).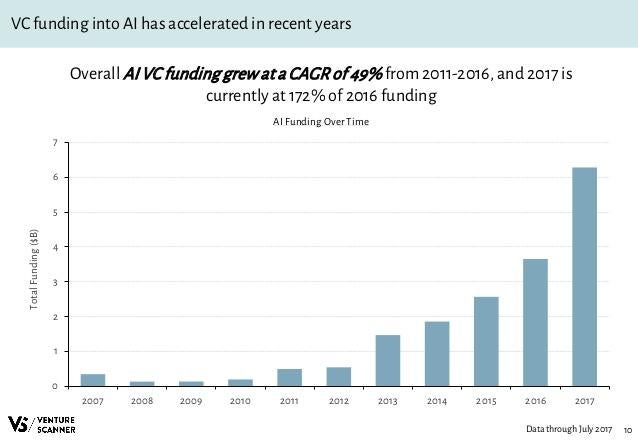 Artificial Intelligence (AI) Report Q3 2017, Venture Scanner
AI funding has increased substantially and Venture Scanner estimates a compound annual growth rate (CAGR) of 49 percent, much higher than many other industries. However, even with the continued increase in funding, there appears to be a slowing down of new projects and VC deals being made in the AI space. Crunchbase found that in 2018, there's been a plateauing of the number of VC deals made with AI startups, though investment amounts remain high. Now that the AI industry is relatively mature, AI isn't declining, but rather slowing in growth. So the question that needs to be asked is: What are the factors holding back growth, and how can we fix them?
Fear of Emerging Tech and Solving Trust
New technology is not always welcomed with open arms by consumers, especially something like AI. When it comes to AI demonstrations and advancements, it's not uncommon for there to be a significant divide in how consumers feel. When Google demonstrated its AI progress at the I/O developer conference earlier in the year, responses were polarizing. Some consumers thought it was fantastic, others found it "horrifying" and "unethical". Clearly, something needs to change about trust in the AI space if we're to see real advancement.
According to research from InsideSales, a large percentage of respondents did not trust AI in any circumstances. For the circumstances respondents did trust AI in, they tend to be mainly entertainment recommendations and parts of automation in the production of goods.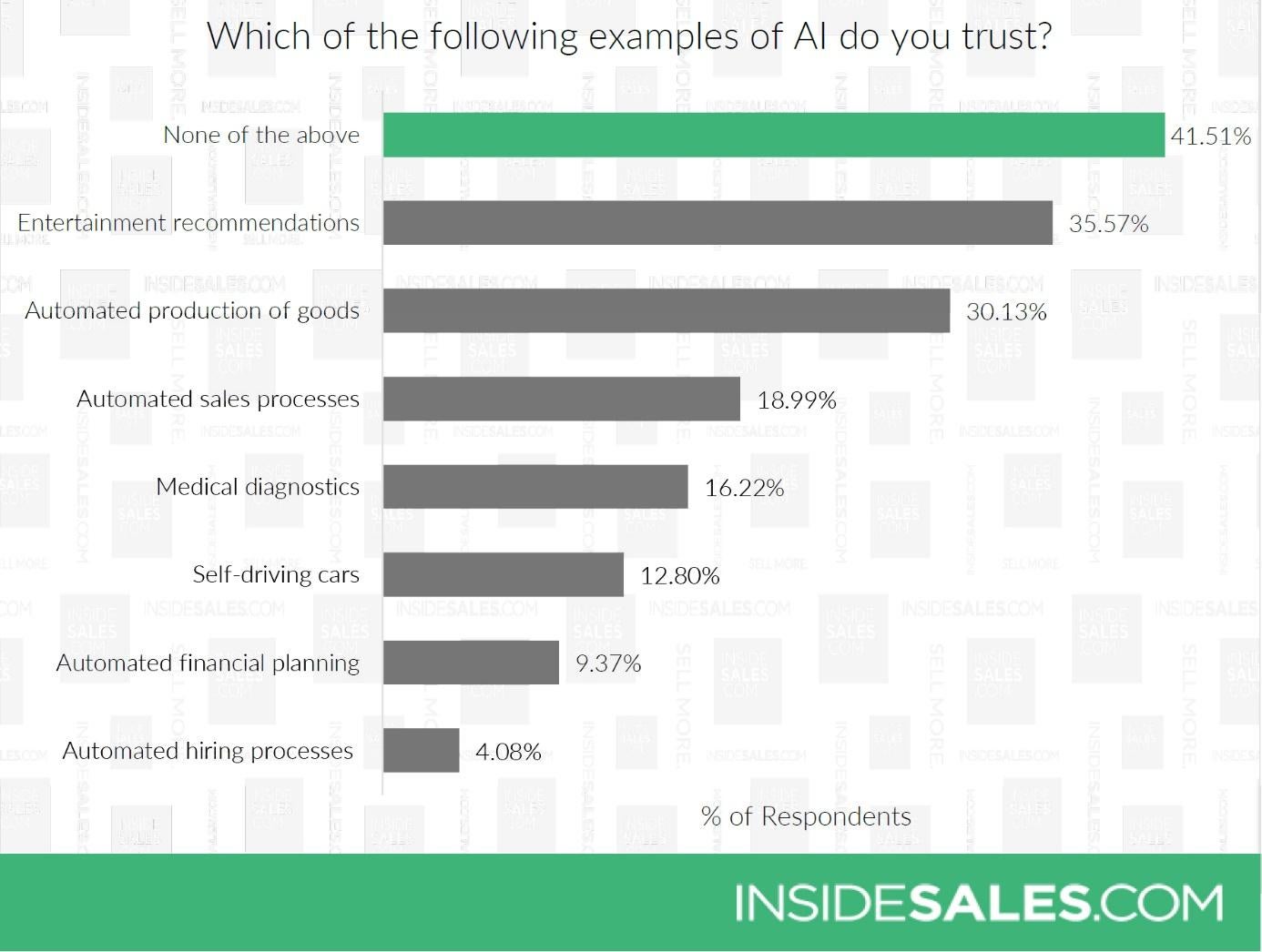 Which of the following examples of AI do you trust? InsideSales & Marketwatch
Unlike other concerns in the industry, trust is one of the concerns that is most likely to only be solved over time and implementation. As AI's capabilities improve and continue to become a part of consumers' daily lives, they're more likely to become comfortable with it staying. Indeed, AI is already in our day-to-day lives now, and the longer exposure to it has warmed consumers up to it in specific areas. Giving music, movie, and television recommendations based on a user's data and history is already one of the highest-rated trust areas for AI. Other areas are likely to follow in a similar fashion after enough exposure.
Access to Computing Power
Another aspect holding the AI industry back is on the business side, not consumer. Sophisticated AI development requires a lot of computing power and as a data volumes only continue to grow in the future, so too will the computing needs of businesses. Dame Wendy Hall, Regius Professor of Computer Science at the University of Southampton and co-author of the independent report "Growing the Artificial Intelligence Industry in the UK," sees the lack of computing power as a hurdle in the UK for new startups. According to Hall, "access to computation power is amongst the significant barriers to innovation around machine learning and AI."
Chipmakers like Nvidia are racing to create more hardware capable of handling AI development, but for startups working in AI, it's difficult—or prohibitively expensive—to get access to the computing power they need. In the UK, AI startups say they're "being constrained by a lack of access to serious computation power." So what's the solution?
Besides looking for more funding from VC firms, AI startups have a couple new ways to access the power they need. One solution to this bottleneck is a government-backed initiative in the UK which recently revealed its "Machine Intelligence Garage" program. The program, run by Digital Catapult and partly funded by the European Regional Development Fund, looks to help startups with viable and well-defined business plans and AI products who are still in the early stages of development gain access to the computing power they need.
Another solution for developers in need of more computing power is to look to the world of blockchain-based solutions. With the blockchain world beginning to look to proof-of-stake (PoS) as a viable alternative over the current proof-of-work (PoW) model, there's a vast amount of computing power that's going to be looking for another use after the hardware is no longer used for mining cryptocurrencies or if the trend is no longer profitable. Offering computing power to AI developers is one of those uses, and projects like Tatau are working to bring the two industries together. Tatau is connecting under-utilized GPUs to create a distributed network of computing power for AI businesses, and other relevant sectors, to access in order to get compute power on demand and pay only for what they use. In return, those with spare computing power will be able to cash in on their investment in an alternative manner, enabling an opportunity for both parties to benefit.
The Future of the AI Industry
While the number of AI deals VCs are making with projects is slowing down, the amount of funding remains high. As AI development continues and consumers become more accustomed to the new space in the tech world, there's a good chance we're likely to see growth continue in the near future. Consumers have largely already grown accustomed to AI recommendations for their media choices and are open to AI in manufacturing and production. With AI continuing to make its way into our daily lives and computational power becoming more accessible for AI-related startups, there's no doubt that the industry will soon be able to overcome the current obstacles in its way. It's only a matter of time.
Posted-In: artificial intelligenceFintech Tech General
View Comments and Join the Discussion!