How AI Is Helping Traders Trade Off Relationships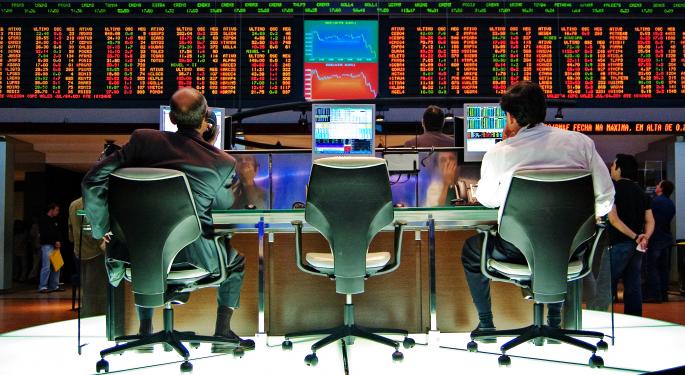 Any trader knows the value of relationships. Trading off relationships can be the bread and butter for these "pairs traders," who exploit inefficiencies in correlations between markets to gain their edge.
Those correlations can be between anything. Stocks and other stocks. Stocks and currencies. Currencies and commodities. It really doesn't matter; everything is related.
The underlying belief in this strategy is known as intermarket analysis, or the idea that the global markets are all interconnected, and can impact each other. Trading individual securities in a vacuum just doesn't work.
Greg Firman, the founder of trading firm E-Trade FX, recently outlined on Benzinga's PreMarket Prep how he uses this strategy in his forex and commodity trading.
"Big money is very much like locusts. They move from one field to the next, they ravage the field, and they move on," he said. "Most of your retail traders come in at the end of that and get scraps, where I try to get myself and my guys out in front of that. So money is moving from one currency, to a commodity, to stocks, and it's just going around and round. Basically what I'm trying to do here is follow the money trail."
Firman said he relies on VantagePoint, a software that uses artificial intelligence neural networks to analyze the relationships between thousands of markets at a time. He takes his cues from there and from price action, and uses that to tell him where he needs exposure.
For example, Firman says, he's been buying the EUR/USD based on rising gold prices. And one relationship leads to others.
"I know if money is going into gold, the direct intermarket correlation is that it's probably going into your commodity currencies," he said.
VantagePoint software recently got an endorsement from Kevin Harrington, one of the original sharks on "Shark Tank," who called it "incredible."
"AI is an extremely hot topic that's already disrupting and reshaping entire industries through the use of AI's machine learning, or artificial neural networks, modeled after the human brain and how it processes information," Harrington said. "Neural networks can find hidden patterns and relationships in global market data and make highly accurate short-term price and trend forecasts based on those patterns."
How Relationships Are Determined
Some relationships between markets are more obvious than others. Stocks within the same sector are often highly correlated, as are different currency pairs.
But generally, there's just too much analysis to be done for a human to do. That's where artificial intelligence in VantagePoint comes in. The software looks at the global markets each day and determines which individual markets moved in sync with each other, the type of analysis that humans just can't do.
In some cases, relationships may not be so obvious. Look at all the markets that have shown strong degrees of correlation to Apple Inc (NASDAQ: AAPL) according to the platform.
That's 31 different markets directly or indirectly correlated to that one stock. It's just not possible to figure this out by hand, which is why we rely on AI machine learning.
For traders who make their money on exploiting pairs, this is critical. The computational power of AI allows for new trading opportunities undetectable by the human brain and is just one example of how the game is changing for pairs traders.
To learn more, check out this video with Kevin Harrington, or click here for a free demo and market forecast from VantagePoint. VantagePoint is a content partner of Benzinga.
Posted-In: intermarket analysis pairs trading vantagepointFintech Movers & Shakers Markets Trading Ideas General
View Comments and Join the Discussion!