How 'Obsessing' Over Customers Grew Mint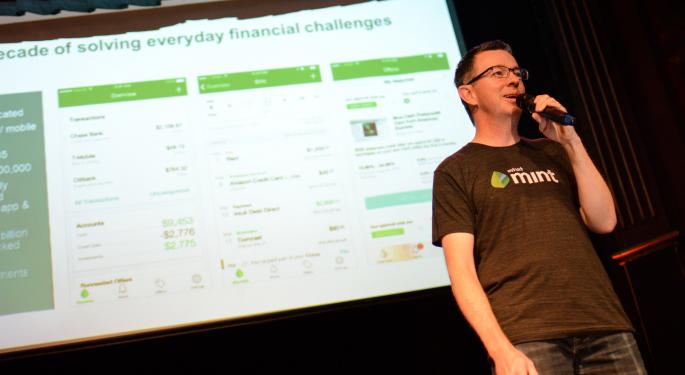 The 2017 Benzinga Fintech Summit was a gathering of leaders from every fintech vertical displaying the next generation of fintech innovation.
In this new article series, we'll be sharing insights and new products from the inaugural BZ Summit.
The Company:
Founded in 2006 and acquired by Intuit Inc. (NASDAQ: INTU) in 2009, Mint is a personal financial services platform that offers users streamlined access to their financial accounts and obligations. While presenting to the audience at this year's Benzinga Fintech Summit in San Francisco, Mint head of product management Kevin Kirn chose to emphasize the Mint product team's development philosophy.
The Pitch:
According to Kirn, The Mint product development team's process is "customer-obsessed." He described their development of new features as beginning with finding their customers financial problems that Mint or its partners can solve.
The team then discovers the customer benefit in solving that problem and brainstorms effective solutions that they can then create, experiment and refine with their customers. Kirn explained that, through this customer-obsessed process, Mint is able to deliver the best possible customer experience and grow its reach to other users.
As examples of the result and continuation of this philosophy, Kirn pointed to Mint's recently-launched overview page, from which customers can customize the information presented to them at a glance. He also pointed to the platform's bill tracking and credit card offers pages.
All three examples employ machine learning to gather data on customer preferences and statistics to better tailor those services to future customers. In the case of the overview page, user customization will influence how the page is tailored to future users with similar characteristics.
The Future:
Mint plans to continue developing and refining these sorts of customer-oriented solutions through further integration of machine learning data.
Watch the video below to see Mint Innovation Workshop's full demo at BZ Fintech Summit.
View Comments and Join the Discussion!
Posted-In: Benzinga Fintech Summit Fintech Mint Mint at IntuitFintech Personal Finance