Orchard CEO Matt Burton Started Off Running Fintech Meetups; Now He's Raised $44 Million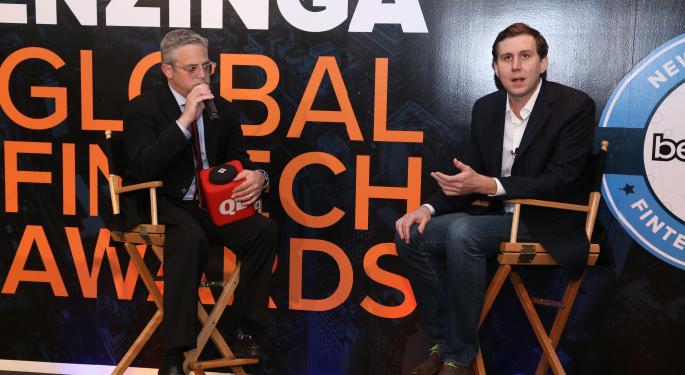 What's true in real estate is true in fintech—location, location, location is everything. Matt Burton, CEO of Orchard Platform, a technology and data analysis provider for online lending platforms, is living proof of that.
Despite his vision of building an electronic market for loan trading, Burton started Orchard without any network in the financial services space, he said in a fireside chat discussion at the 2017 Benzinga Global Fintech Awards.
That meant he had to hustle to build a startup and build a network of advocates in the industry at the same time. But rather than knock on every door in New York, he made investors come to him by putting on regular discussion groups about the direction of the fintech lending industry.
See Also: Orchard Platform CEO: Asian Fintech Scene 'Leapfrogging' Over US In Innovation
At the time, Burton said, the team that would eventually become Orchard were retail investors crawling through LendingClub Corp (NYSE: LC) and Prosper and analyzing data on the marketplaces at night and on weekends.
"We were building out models, technology and reporting ourselves, and we had this epiphany that maybe others in New York would be interested in this as well," Burton said.
The meetups started catching on, and institutional investors began showing up to learn how to get into the fintech space.
"Hedge funds, private equity firms, and family offices started showing up at our meetups, saying 'we're looking to deploy capital in this space,'" Burton said. "Now, 95 percent of the capital in online lending comes from institutional investors."
Orchard has raised $44.7 million to date, Burton said at the event.
View Comments and Join the Discussion!
Posted-In: Benzinga Fintech Awards Benzinga Global Fintech Awards Matt Burton OrchardFintech News Events Startups Best of Benzinga