This Startup Is Making Industry Conferences Actually Productive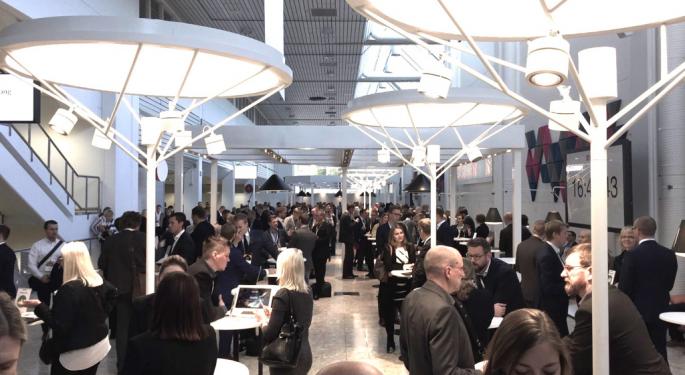 Some things never change until they seem poised to change entirely. The rise of data-driven thinking and tech might upend the way traveling salespeople attend industry events.
Even as data-driven lead generation campaigns become standard, many feel the best way to make connections that bring in sales is good old-fashioned networking, shaking hands at industry events and talking face to face. One startup, Brella, thinks that old-fashioned way of networking needs a technological upgrade.
Some companies spend hundreds of thousands of dollars to sponsor an exhibit at industry functions, promoting their brands and hoping to drive revenue through relationships formed in-person. However, it was previously impossible for companies to quantify these marketing spends, said Jyrki Paananen, chief operating officer of Brella, an event networking app.
Network Matchmaking In The Palm Of Your Hand
Brella is a matchmaking platform that links event attendees together — a kind of mini-LinkedIn for specific event environments. Users can view a list of other attendees with information about their roles at other attending companies and request meetings at the event with people relevant to their profession.
"Large companies are spending more and more in the industry event space, even without knowing how to validate their investments to the dollar — due to the current trend of digital fatigue, human-to-human connection building is now more important than ever," said Paananen. "That is sort of strange to me, given the way CMOs are able to justify other marketing spends and costs per lead. That's the basic problem we're trying to solve with Brella — to make it easier for the right people to meet in an event environment."
Paananen said the goal of Brella is to become the meeting facilitator for every industry event. That way, he said, companies can know exactly what they hope to get out of conferences since their sales representatives will have meetings set up and ready to go before even purchasing plane tickets.
2 Years Old And So Much Potential
Brella is two years old but has gained significant traction, according to Paananen. The app has hundreds of client organizations across 30 countries. Direct user feedback also reveals that the platform is valuable to users, he said.
"One user set up 29 meetings in two days, and another told us [it] closed $350,000 of business from his Brella meetings alone," said Paananen. "Word of mouth was a big lead generator for us. People will use Brella at another event, love it, and want to use it at their own event."
Brella has been the official event meeting app for some large fintech industry events in particular, although Paananen was not at liberty to mention them by name.
The company seems to have a strong pitch to marketing departments and event organizers — you quantify every other part of your marketing spend and it's time to do the same for your events.
Brella is focused on quickly scaling the company to serve the massive potential market the company is addressing, said Paananen.
We're at a point where the product can serve any customer anywhere," he said. "The goal is to be the standard when it comes to facilitated networking platforms at events all around the world."
Related Links:
What If Saving Money Was As Fun As Playing The Lottery? New App Looks To Boost Your Savings
How The Top Institutional Investors Are Handling 2017's Most Popular Stocks __________
Image Credit: Photo courtesy of Brella.
Posted-In: Fintech News Events Startups Exclusives Tech Interview General Best of Benzinga
View Comments and Join the Discussion!