Investors Monitor Own Portfolio Performance With EquityStat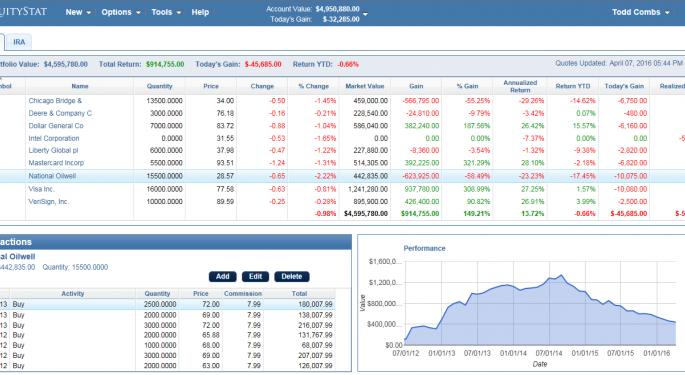 It's almost that time of year.
The 2017 Benzinga Global Fintech Awards is a competition to showcase the companies with the most impressive technology that are paving the future in financial services and capital markets.
To get you prepared for this year's awards, Benzinga will profile each fintech company that has applied. Want to get involved? Submit your company here. For this installment, we spoke with EquityStat Owner Karl Swierenga.
What does your company do? What unique problem does it solve?
EquityStat is an online investment portfolio manager. It allows investors to track and manage their stocks, mutual funds and ETFs, online in the cloud. Many investors own a combination of stocks, mutual funds and ETFs. In addition many investors also have a 401k or retirement plan.
EquityStat's portfolio manager allows investors to see all of these investments in one place. This way the investor does not have to go to their broker to see their stock holding, to their mutual fund company to see their mutual fund holdings or go to their retirement account to see their retirement holdings. They can go to EquityStat and see all of their holdings and also see how each holding is performing as well as see how well all of their holdings are performing collectively.
Who are your customers?
Our customers are any investor who owns stocks, mutual funds or ETFs.
How long have you been in business?
We have been in business since 2014.
Where are you located?
We are located in Dallas, Texas.
Who is your company's leadership? What kind of experience do they have?
Karl Swierenga is the owner of EquityStat. Karl has over 20 years experience in founding and running consumer software companies.
Is there anything else Benzinga should know about your company?
EquityStat will soon be providing their investment portfolio application to United Kingdom investors.
For another fintech profile, click here to read about how Private Wealth Systems empowers ultra high-net-worth individuals.
If you're looking for cool fintech startups and access to top financial institutions, and are sick of attending stuffy corporate conferences, the Benzinga Global Fintech Awards is the event for you. From its first year in 2015, the competition grew to over 250 applicants and over 500 attendees in 2016.
Connect with us on social media -- use the hashtag #BZAwards and #Fintech to spread the word!
Posted-In: Benzinga Global Fintech Awards EquityStatFintech Entrepreneurship Be Your Own Boss Startups Interview General Best of Benzinga
View Comments and Join the Discussion!