Brexit Update: Coronavirus Creates Further Uncertainty Over UK Trade Agreement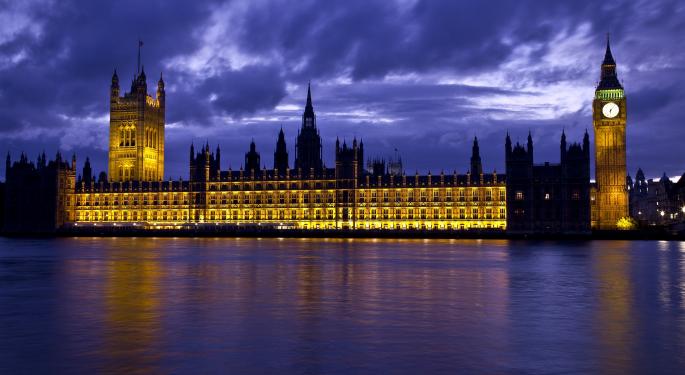 The United Kingdom is meeting for the fourth round of Brexit negotiations between London and Brussels Tuesday, as a comprehensive trade deal to replace the transition phase by the end of this year kicks off.
The U.K. officially left the European Union on Jan. 31 and is in a Brexit transition period that aims to give both sides some breathing space while a new free trade agreement is negotiated between the U.K. and the EU.
The coronavirus pandemic has overshadowed the urgency of Brexit. Both sides have been negotiating using videoconferencing, with the next round of virtual talks beginning on Tuesday.
FX Analyst Predicts Limited Agreement In 2020
Richard Falkenhäll, senior FX strategist at SEB, says to expect a "limited trade agreement to be reached by end of 2020," adding that the COVID-19 pandemic creates further uncertainty.
"Time is running out and the deadline for an extension of the transition period is now less than one month away," Falkenhäll says in a research note.
In a letter to the British Parliament, EU chief negotiator Michel Barnier told MPs that the EU is prepared to accept an extension of one or two years to have enough time to negotiate a new deal, and so far this has not been an option for U.K. Prime Minister Boris Johnson and the U.K. government, according to SEB.
"Our main scenario remains that some sort of limited trade agreement will be reached before the end of 2020, because the alternative would be bad for both parties," the analyst says.
There's no doubt the coronavirus outbreak has created further uncertainty, as the EU would now prefer to focus on support for its own economy, including a long-term budget and the new rescue fund, rather than on negotiations with the U.K., adds Falkenhäll.
Fishing Rights
There is one area which is coming under extreme scrutiny: fishing rights. Both Brussels and London disagree on fishing rights, security and governance.
British fishermen have argued that joining Europe led to the decimation of the fishing industry and now see a golden opportunity to right that wrong, reports Foreign Policy.
Related Links:
Brexit Finally Arrives, Johnson Says It's 'A New Dawn'
View Comments and Join the Discussion!
Posted-In: Analyst Color News Eurozone Politics Forex Markets Analyst Ratings General Best of Benzinga