Good News From California Public Utility Commission Sends PG&E Stock Skyrocketing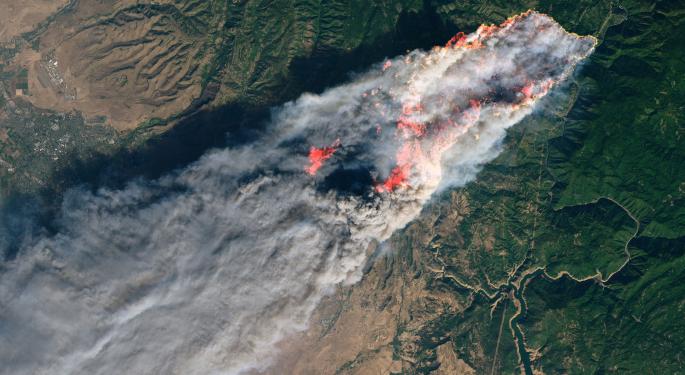 The extreme volatility in PG&E Corporation (NYSE: PCG) stock continued Friday after encouraging commentary from the California Public Utility Commission and an unlikely upgrade sent the stock skyrocketing more than 45 percent.
What's At Stake
For traders who haven't been following the PG&E saga closely, the stock crashed 62.9 percent over the past week on fears that the company's potential liabilities related to the Camp Fire raging in Los Angeles county would blow up the company's balance sheet.
In a new SEC filing Tuesday, PG&E said its subsidiary Pacific Gas & Electric Company has drawn down $3 billion from its credit line in preparation for potential liability for the California wildfire.
"While the cause of the Camp Fire is still under investigation, if the Utility's equipment is determined to be the cause, the Utility could be subject to significant liability in excess of insurance coverage," PG&E said in the filing.
The total cost of the the three California wildfires is expected to exceed $19 billion.
CPUC Weighs In
PG&E got some good news from the CPUC on Thursday, which indicated it doesn't want to force a PG&E bankruptcy and said it would soon be releasing a stress test formula used to establish maximum wildfire liability. Height Capital Markets said Friday the CPUC commentary is welcome news for PG&E investors.
"We believe that the PUC's comments on bankruptcy imply the stress test formula will likely limit PCG's 2017 wildfire liability significantly," Height wrote.
Those same comments were enough for Citi analyst Praful Mehta to upgrade PG&E stock from Neutral to Buy.
"Public Utilities Code Section 451.2 requires the CPUC, when evaluating an application for recovery of wildfire-related expenses, to consider a utilities' financial status and determine the maximum amount the utility can pay without harming ratepayers," Mehta wrote in the upgrade note.
Credit Downgrade
PG&E also got some news from credit rating agency Moody's on Thursday, which cut PG&E's credit rating to Baa3. The credit downgrade may seem like bad news, but Morgan Stanley analyst Stephen Byrd says it's actually a sign of Moody's optimism about the outcome for PG&E.
"Moody's downgrade incorporates a view that the state's regulators and legislators will continue to support the financial health of the state's utilities in order to protect customers from higher rates while still meeting California's ambitious renewable targets and other public policy goals," Byrd wrote.
He also said the CPUC language suggests the commission likely intends to apply its stress test to the 2018 fires as well as the 2017 ones, limiting the potential liability for PG&E.
Morgan Stanley downgraded PG&E stock from Overweight to Equal-Weight and cut its price target from $67 to $31, but even the drastically reduced target represents nearly 75 percent upside from Thursday's closing price.
Other Analysts React
Other analysts cut price targets as well but remained optimistic. Argus analyst Jacob Kilstein cut his target from $54 to $36, but reiterated his Buy rating.
"While we understand the concerns surrounding PG&E's potential liability of $17 billion related to the current wildfires, $12 billion from past damages, and related dividend suspension, we feel the $26 billion decline in market value is an overreaction," Kilstein wrote.
Bank of America analyst Julien Dumoulin-Smith reiterated her Buy rating for PG&E after cutting her price target from $63 to $50 this week.
"With PCG still offering a high risk-reward proposition, we continue to believe that the recent share price correction far exceeds the actual monetary damages incurred; given clarity from the CPUC, we expect shares to re-rate higher," Dumoulin-Smith wrote.
Even after a 40-percent gain Friday morning, PG&E stock is down 48 percent overall since Nov. 1. Shares traded around $24.73 at time of publication.
Related Links:
PG&E Drops Another 25% After $3B Wildfire Drawdown
Everything We Know About The California Fires
Photo credit: NASA (Joshua Stevens): "On the morning of November 8, 2018, the Camp Fire erupted 90 miles (140 kilometers) north of Sacramento, California."
View Comments and Join the Discussion!
Posted-In: Analyst Color Government Regulations Upgrades Price Target Top Stories Analyst Ratings Movers Best of Benzinga