The Future Of Retail? Stitch Fix, Blue Apron, Birchbox Provide Innovative Alternatives To Traditional Shopping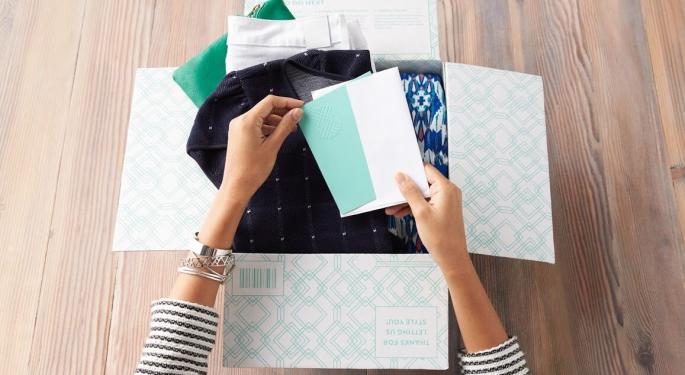 Subscription-based and personalized e-commerce means that excitedly checking the delivery status on a shipment has, for many, replaced the feeling of dreading a trip to the grocery store or shopping mall.
Receiving packages is not only exciting, but convenient. Online shopping is steadily becoming more prominent, according to research by Statista on the number of digital shoppers in the U.S.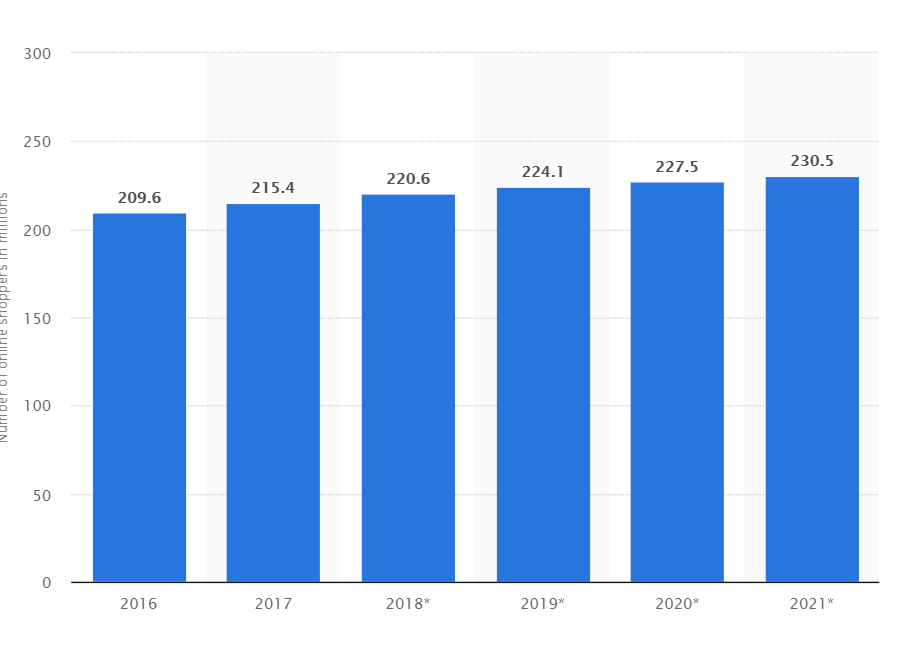 From food preparation subscriptions to cosmetic boxes, there is a niche for everyone.
Cosmetic Subscription Boxes
One of the most popular boxes for cosmetics is the New York City-based service Birchbox.
Statista conducted more research last year detailing the reasons why customers feel inclined to subscribe to beauty boxes. Of those customers, most reported their drive to discover new products.
"Today's consumers have less time  —  and more choices  —  than ever. They are inundated with information about a dizzying array of goods and services," said Birchbox CEO and co-founder Katia Beauchamp. "Realistically, customers cannot do the work to stay up to speed with this proliferation of options in every category of their life: food, fashion, beauty, travel, etc."
How It Works
Each Birchbox purchase is completely personalized. An algorithm allows consumers to enter preferences based on skin type, style and other factors in an effort to obtain the most accurate products.
For $10, subscribers receive up to five samples of the highest-rated cosmetic items trending on the market. Because these products are generally pricey, Birchbox offers trial sizes, allowing the consumer to test them out and develop preferences.
Growth Projection
As of 2017, Birchbox has a reported 1 million subscribers and 4 million customers.
"At Birchbox, we feel that we are still in the very early days of how we will contribute to this movement. Brands have traditionally catered to the 20 percent of consumers spending the most in that category, but we see an enormous opportunity to reach the 80 percent of women who have a more casual interest in beauty and are underserved by the industry today," Beauchamp said.
Clothing Styling Services
Stitch Fix, Inc. (NASDAQ: SFIX) has a prominent role in personalized e-commerce: as one of the most advertised brands of this type, its overwhelming social media presence is unrivaled.
As of 2018, Stitch Fix sells to 2.7 million active clients, 86 percent of whom are repeat customers. Based on new product lines and advanced product technology, these figures will likely increase over time.
Stitch Fix is particular in its style matching. With 85 data scientists, 3,700 customer stylists and specific data capability, stylists are easily able to gain a deep understanding of each customer and their style needs.
How It Works
Stitch Fix customers fill out a specific styling profile where they list preferences and dislikes and leave personal notes for their stylist.
For a monthly styling fee of $20, customers receive a personalized box with clothing specifically chosen to reflect industry trends. These items are designed to be worn separately or congruently to complete an entire look.
From there, the customer has the option to send everything back, or purchase any or all of the items in the box.
Growth Projection
The addition of mens, plus-sized and kids sections should help Stitch Fix grow revenue by 20 percent, according to a recent KeyBanc Capital Markets note.
Stitch Fix boasts strong customer loyalty and low turnover, two key catalysts for an e-commerce brand.
The brand's uniqueness provides competition to both e-commerce stores and traditional retail stores.
"SFIX serves as the modern archetype of the heyday department store — helping consumers understand what is new and interesting, offering a wide selection and offering a very personalized edit," said KeyBanc's Edward Yruma.
Food Prep Subscriptions
Food subscription boxes offer different perks than those within retail: it's a matter of convenience.
Blue Apron Holdings Inc. (NASDAQ: APRN) makes grocery shopping and meal preparation a lot more manageable.
How It Works
The process is mostly customizable. Customers are able to select the amount of people they plan to serve, the consistency of the deliveries and meal preferences. The company accommodates restrictions such as vegetarian and pescatarian diets.
Blue Apron offers a two-person meal plan for $60 per week with ingredients for three recipes.
For most people, the less-expensive option would be a trip to the grocery store. But for those with rigorous schedules, those who are new to cooking or those with specific dietary restrictions, the subscription is a convenient alternative.
Growth Projection
Blue Apron announced a revenue decrease of 20 percent year-over-year in its first-quarter earnings report, and as a response launched its first retail expansion.
The pilot program with Costco is an effort to optimize direct-to-consumer sales. The program allows customers to purchase meal kits in-store at any time.
"We also improved our customer metrics as we began to methodically re-accelerate marketing late last year, with a specific focus on attracting new customers with high affinity as well as deepening our engagement with current customers," Blue Apron CEO Brad Dickerson said in the company's Q1 press release.
Is E-Commerce Sustainable?
According to research conducted by Springbot on 2017 e-commerce trends, 51 percent of Americans reported a preference to shop online.
Despite the data and the drumbeat of brick-and-mortar pessimism, traditional stores will not go extinct anytime soon. The two platforms will likely continue to work together for an increasingly hybrid approach.
The rise of online shopping and subscription services merely supplement the industry by giving consumers more options, more freedom and most importantly, more exposure to the world of retail.
Related Links:
KeyBanc Downgrades Nordstrom, Urban Outfitters, Says E-Commerce Pressures Are only Increasing
Jim Cramer Gives His Opinion On Blue Apron, Teva And More
Photo courtesy of Stitch Fix.
Posted-In: Analyst Color Education Retail Sales Top Stories Exclusives Media Interview General Best of Benzinga
View Comments and Join the Discussion!