Munster: Buybacks Will Help Distinguish Apple From Its Contemporaries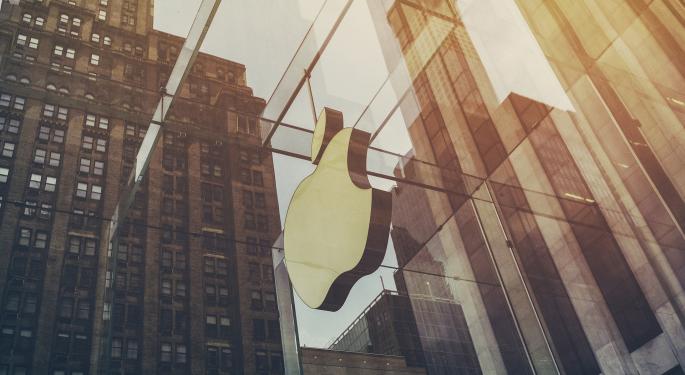 Apple Inc. (NASDAQ: AAPL) posted a slight top-line miss and bottom-line beat Tuesday after close and guided for third-quarter results marginally higher than analysts expected.
But the real story, as Gene Munster says, is in the $100 billion buyback plan and a 16-percent dividend increase.
"This is part of the story that I think will become increasingly more important, and that's probably an understatement," the managing partner of Loup Ventures said Wednesday on Benzinga's PreMarket Prep trading show. "I dare say that this will become more than half of the story over the next five years."
Management considers the stock undervalued, and Munster sees an opportunity to boost the price 3 to 5 percent every year through consistent, $50 billion buybacks. This capacity, he said, distinguishes Apple from its FAANG contemporaries.
"It's not an exciting part of the story to talk about — they have a lot of cash, they're going to buy the stock back — but the substance of this is going to be just as exciting as any growth story, and you're going to see they're going to crank this higher," Munster said. "This is going to be a measurable lever in terms of how they can impact the stock going forward."
Piper Jaffray analyst Mike Olson expressed similar expectations for aggressive buybacks and dividend growth, but he also anticipates allocation of cash for small, incremental mergers to round out Apple's profile.
The iPhone's Leadership
Munster considered stabilization of the iPhone business another notable feature of Apple's second-quarter earnings.
"The biggest [surprise] was they didn't guide down for the June iPhone number, and that may not sound like a big surprise, but it really is indicative of a bigger story that's going on here which is the iPhone business is slowly moving into a phase of more predictability," he said.
That "good news" of predictability, he said, marginally outweighs the "bad news" that the iPhone isn't a growth business. The latter is nonetheless an important factor considering the product remains a primary revenue source.
Olson said he's not immediately concerned the iPhone comprises most of Apple's business — by his estimates, nearly 80 percent between device sales and related services.
"The good news is the innovation coming in iPhone will be enough to sustain the story over the next few quarters," he said, predicting the fall launch of three new iPhone X versions. "We believe this could drive investor anticipation around a better upgrade rate and it could drive actually higher ASPs."
Olson was encouraged by the iPhone average selling price, which, although below consensus, testified to "solid" mix.
The Main Negative
Unexpected and unusual margin pressure was the only real negative in Apple's report, by Munster's assessment.
"It wasn't a slam dunk, grand slam kind of a March quarter, and that was probably the biggest negative, but if you put it all together, there wasn't anything that was a real obvious negative, it just wasn't a spectacular quarter in terms of upside," Munster said.
New Areas For Growth
The analysts were both impressed by the 10-percent services revenue beat demonstrating almost double the growth rate analysts had expected.
Looking forward, Munster considers TV and video content, music streaming and wearables "all growth areas" and market-capturing opportunities for Apple.
"When you put all this together, these are small wins that add up to mean something that is measurable in terms of investor psychology about different ways they can grow," he said.
Apple Pay, which accounts for "a fraction of a fraction" of revenue, is also expected to expand. This quarter, usage was up three times year-over-year.
"It's still a relatively small base but something they're getting a lot of traction in," Munster said, estimating 525 million active users. "Payments is an area that Apple is not going to want to make money in but is an area that they are going to want to try to differentiate…. I think that they're going to start to play up the digital wallet, ApplePay aspect of the phone as a defined feature to get you to buy more iPhones."
Related Links:
The Future Of Retail Is 'SIMPL': What It Means And Why It Matters For Apple Investors
Apple Will Be King Again: DA Davidson Initiates With Buy Rating, $220 Target
Posted-In: Analyst Color Earnings News Buybacks Top Stories Analyst Ratings Tech Interview Best of Benzinga
View Comments and Join the Discussion!