Exclusive: RedHill Biopharma CEO Talks Steering His Company Through A Year Heavy With Potential Catalysts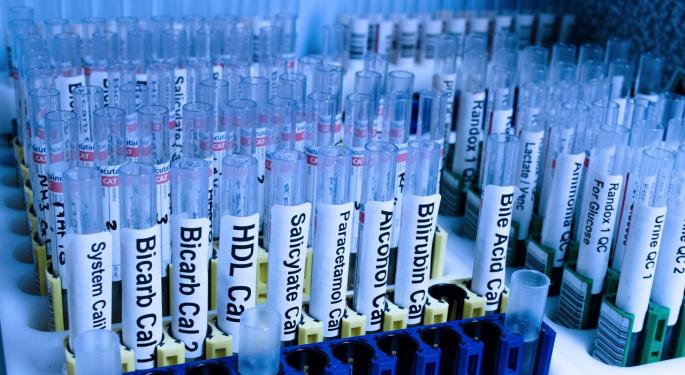 If investors were to sum up the year 2017 for specialty drug maker RedHill Biopharma Ltd - ADR (NASDAQ: RDHL) in one phrase, it might be this: "catalyst-rich."
A specialty biopharmaceutical company based in Israel, RedHill has a treasure trove of developing drugs in its pipeline to treat cancers and gastrointestinal diseases. Investors anxiously await interim efficacy analysis for its RHB-104 compound for treating Crohn's disease, as well as top-line data from two separate studies of what may be considered its lead drug candidate, Bekinda.
In a recent telephone interview with Benzinga, RedHill CEO Dror Ben-Asher talked clinical progress, financing and the difficulties of being headquartered outside the U.S.
Tale Of 2 Indications
Bekinda is a once-daily pill formulation of ondansetron currently undergoing a Phase III study for the treatment of gastroenteritis, and a Phase II study for use in cases of irritable bowel syndrome with diarrhea.
It's been proposed that with positive enough results in gastroenteritis, Bekinda could potentially bypass a second Phase 3 study and move directly for regulatory approval with the Food and Drug Administration.
"It will have to do with significance," Ben-Asher said. "We do not know the exact number we need to achieve beyond just meeting endpoint in order to be able to file an NDA (new drug application) immediately. But the FDA has been telling us, and we have been telling the market, that if the results are strong enough we expect to file a new drug application based on this single Phase III study."
The FDA hasn't told RedHill the exact p-value that would qualify Bekinda to move straight to an NDA submission, but generally p<0.001 is considered "highly significant."
IBS-D represents a significant unmet need, with the market for treatments expected to reach more than $1.115 billion by 2022, but RedHill will face more than a bit of competition in that space from companies like Allergan plc Ordinary Shares (NYSE: AGN).
"IBS-D is an important indication," Ben-Asher explained. "Also, the market is growing very rapidly. There are several new products on the market that are doing very well. Bekinda is a unique approach." If Bekinda is successful in its Phase II study, Ben-Asher feels it will have significant advantages, most notably it being a single-dose per day. Combined with the convenience this offers, Bekinda also offers a relatively low dose.
"In terms of pricing, we will have significant pricing elasticity." Ben-Asher emphasized, "IBS treatments are pretty expensive. Fully reimbursed, we can do very well in that market."
Financing, Partnerships And Timelines
"On the R&D side, the pipeline of products under development is pretty rich," said Ben-Asher. "We needed to decide over the last few years, is are we going to stay a pure development company." This would mean RedHill would forego the development of a commercial operation, focusing solely on clinical research, supporting itself through licensing partnerships of its successful drug candidates in return for royalties. Or, the company could opt to "go it alone."
"We decided to go for the latter," Ben-Asher said. "We built a commercial operation in the United States. We also built a sales force of over 30 sales reps. They're employed by RedHill, they're not rented sales force, they're not outsourced."
This month, RedHill will commence the launch of Donnatal and EnteraGam. Donnatal is an IBS treatment RedHill Is co-promoting with Concordia International Corp (NASDAQ: CXRX), while the company has exclusive U.S. rights to EnteraGam, used to treat chronic diarrhea.
This begs the question, in the event RedHill succeeds in gaining FDA approval for Bekinda in gastroenteritis, will the company seek to raise money on its own — through a secondary stock offering for example? Or, will RedHill facilitate bringing Bekinda to market through a licensing agreement or partnering with another pharmaceutical company?
"Bekinda is an interesting case. RedHill, alone, is unlikely to be able to launch Bekinda in the U.S., which means we would probably need a co-promotion with someone else, who would co-promote with us in the U.S. Or license the product entirely to someone else," Ben-Asher said.
Asked whether those discussions are underway or if other financing avenues are being explored at present, the CEO would only point to the relative strength of the company's "solid" balance sheet and the expectation of additional revenues to be generated through the launch of Donnatal and EnteraGam.
"We do not a plan for any immediate or short-term financing from the financial markets, but continue to evaluate in the future," Ben-Asher added, while choosing not to share any details around licensing or pharma partner talks.
May I Have Your Attention
Despite the fact that RedHill has the potential to score multiple clinical wins this year, any one of which could significantly affect the stock, the company still experiences a dearth of attention from the financial media and sell-side analysts.
The company's CEO acknowledges that being headquartered outside the U.S. certainly plays a part in this.
"It's a question we've been asking ourselves. On the one hand we're seeing increasing awareness, and liquidity and interest in general. On the other hand, one might argue that it's less awareness than you would expect from a U.S. company with the same scale of activity that we have. The jury is out, there's no verdict yet whether it has anything to do with our Israeli presence or not."
To spread the good word about the company, Ben-Asher said RedHill has been initiating plenty of investor relations activity. He conceded, however, that the company has been conservative and "old-fashioned" in its approach, and hasn't harnessed the power of social media.
One analyst that has taken notice of the company is Swayampakula Ramakanth of H.C. Wainwright & Co., who said positive results from Bekinda's Phase III trial could be a major catalyst. The analyst thinks there is a "high likelihood of success," and in a recent research note maintains a Buy rating for RedHill shares with a $33 price target.
Related Links:
The Current State Of The Breast Cancer Treatment Space
Is The FDA Panel Vote On Puma Biotech Likely To Lead To Actual Approval?
Posted-In: Biotech Long Ideas News FDA Top Stories Exclusives Trading Ideas Interview Best of Benzinga
View Comments and Join the Discussion!