The Silver Lining In An Ugly Jobs Report Is In Construction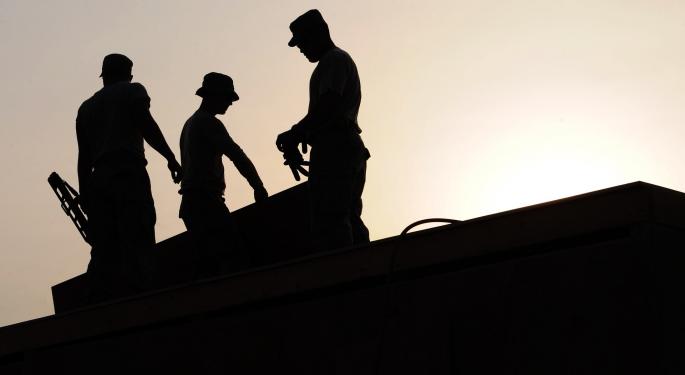 The Bureau of Labor Statistics reported Friday morning that 138,000 jobs were created in the U.S. in May, far less than the 185,000 estimate.
Unemployment was below the estimated 4.4 percent at 4.3 percent, the lowest since May 2001.
"The headline number is definitely ugly, there's no two ways about that," TD Ameritrade Chief Strategist JJ Kinahan told Benzinga.
What's especially concerning to Kinahan though, is the downward revisions from the previous two months. The nonfarm payrolls for March declined from 79,000 jobs created to 50,000, and the April number was slashed from 211,000 to 174,000.
A Silver Lining
"The silver lining in this report [is that], if you look at where jobs are being created, they're continuing to be created in the areas we want to see and those areas remain strong — that being business to business services," said Kinahan
He also noted that May is often a miss due to high degrees of seasonal factors, including the end of the school year, summer jobs, and changing weather.
Construction is still doing surprisingly strong, Kinahan believes, despite that the sector created fewer jobs than expected in May. "If you look at some of the previous reports, since February construction jobs have come in better than expected," he added.
Kinahan attributes this to good weather in Snowbelt, Midwest, and East Coast regions. Work completed earlier in the year is resulting in slightly less demand for workers now.
Government jobs were also a focus point for Kinahan. "I think the biggest surprise to people, and certainly to me, was that the government lost 9,000 jobs last month."
Like the overall jobs number, he guesses the change has mostly to do with seasonality and the school year ending — school districts laying off employees would wait until summer break.
Regardless of the May report, employment in the long run is doing well. "I look for the trend more than the particular number. The trend is still telling me we're in the right place, so that's fantastic," said Kinahan.
For a more detailed analysis of the May jobs report, click here.
View Comments and Join the Discussion!
Posted-In: Analyst Color News Economics Exclusives Signals Analyst Ratings Interview Best of Benzinga