Third Point Is Shorting Frac Sand Miners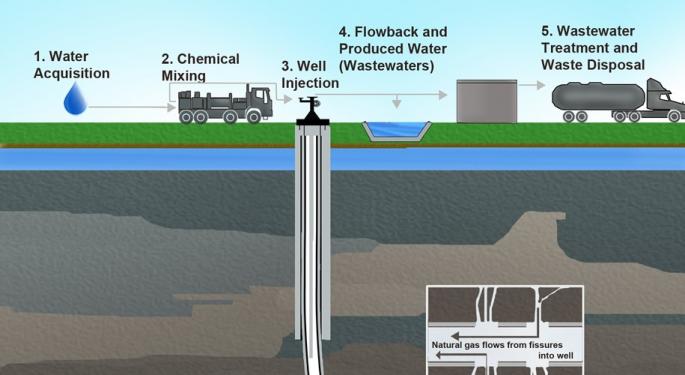 Frac sand miners have fallen out of favor, knocked off the pedestal they were once perched upon at the start of the first quarter. The fall comes amid fears of supply glut.
Hedge fund Third Point, founded by Daniel Loeb, has pressed the sell button on the frac sand miners.
What Are Frac Sand Miners?
Frac sand is quartz sand of high level of purity and durability, with the grains very round. It derives its name from its end use — a process called fracking or hydraulic fracturing, which is used to produce petroleum fluids such as oil, natural gas and natural gas liquids from rock units that lack adequate pore space for these fluids to flow to a well.
The demand for frac sand swelled in recent years, as thousands of oil and natural gas wells are being stimulated by hydraulic fracturing process.
The Hey Days
Third Point noted the combined market capitalization of the frac sand miners reached $11 billion in early first quarter, with the pricing in an average enterprise value per ton of over $300 or over 15 times the replacement value.
At that time, the fund noted an army of consultants, sell-side analysts and speculators confidently pointed to the exponential rise in the demand for frac sand, as rig counts and company budgets turned a corner, drilling activity was on the upswing and proppant intensity was rising.
There were views that these companies would continue to defy the laws of supply and demand.
The Rationale Behind The Sell Recommendation
The sell recommendation is premised primarily on a few reasons:
Shift from the use of northern white to abundant in-basin brown sand.
Large and increasing number of greenfield projects creating new capacity.
Significant overhang sitting on the sidelines now being reactivated.
"As sand pricing starts to decline in summer or fall at the latest as a consequence of the outsized supply, we have seen, we expect many of the publicly-listed frac sand miners to end up with little if any equity value," Third Point concluded.
Stocks In Focus, Readings At Time Of Writing
Related Links:
What Happens To A Stock When An Activist Liquidates A Position?
_______
Image Credit: By US Environmental Protection Agency - http://www2.epa.gov/hfstudy/hydraulic-fracturing-water-cycle, Public Domain, https://commons.wikimedia.org/w/index.php?curid=25673027">via Wikimedia Commons
Posted-In: Analyst Color News Short Sellers Short Ideas Hedge Funds Commodities Markets Analyst Ratings Best of Benzinga
View Comments and Join the Discussion!