BioPharmX CFO Talks Clinical Pipeline Ahead Of Big Q2 Catalyst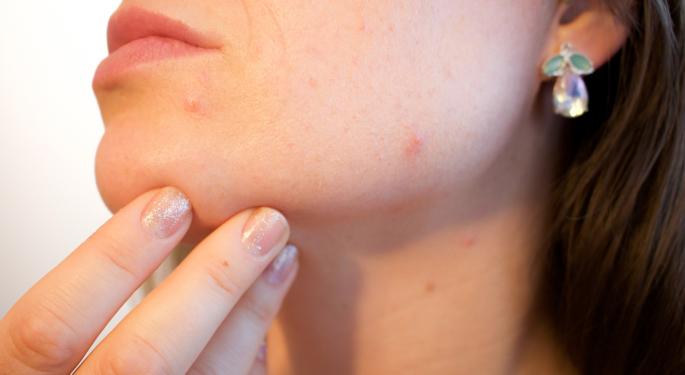 Biopharmx Corp (NYSE: BPMX) shares have moved 38 percent higher in 2017 as the company progresses its dermatology-centric drugs through the pipeline. The Silicon Valley-based pharmaceutical currently has its lead candidate, BPX-01, undergoing both a Phase 2b dose finding trial for the treatment of acne and also in an open-label Phase 2 tolerability study for rosacea.
Benzinga recently spoke with BioPharmX Chief Financial Officer Greg Kitchener, who in a telephone interview detailed expectations for a number of major clinical events in 2017.
Second-Quarter Studies
"We had full enrollment in our acne trial for BPX-01 in early January," Kitchener said. "We expect the results of that study to be available in our Q2, which is generally the June time-frame."
This study has three "arms" comparing treatment with a placebo and the BPX-01 topical gel in both a 1 percent and 2 percent concentration of minocycline, the antibiotic BioPharmX is developing to treat acne.
In a recent research note from H.C. Wainwright, analyst Swayampakula Ramakanth said, "As the first study designed to investigate the anti-acne efficacy of BPX-01, we believe that a positive result in this study would be a significant catalyst on the stock." The analyst reiterated a Buy rating on the shares with a $3 price target, implying a potential for nearly 500 percent upside.
What Positive Phase 2 Results Could Mean For Q3
"We expect then to be able to start our Phase 3 study for the drug in our Q3 time frame, say end of summer or early fall," Kitchener explained.
Regarding the tolerability study in the rosacea indication, "We should be able to get the results back in the next month or so. Based on the outcome of that tolerability assessment we would then be able to do a Phase 2/3, which would similarly commence in the Q3 time-frame. So as a company we think that there's a strong opportunity to have 2 products in Phase 3 clinical trials, both starting in the early Fall time-frame."
What Sets BPX-01 Apart
Minocycline has been used to treat acne before, through oral delivery, but this has been associated with side effects ranging from headaches and dizziness to vulvovaginal candidiasis and diarrhea. BioPharmX's BPX-01 isn't the only drug being developed for topical use, however.
Foamix Pharmaceuticals Ltd (NASDAQ: FOMX) has been concurrently developing its FMX101, with a 4 percent minocycline concentration. The company recently announced mixed results from its Phase 3 trials of FMX101, with one trial meeting its endpoints and the other failing to do so.
Kitchener spoke about the difference in safety, tolerability and efficacy with a lower minocycline concentration in BPX-01.
"The way to think about BPX-01 is that we're providing a very unique approach to how minocycline is delivered. What differentiates us further from other competitors is that our delivery system is a hydrophilic delivery system, as opposed to the more traditional lypophilic formulation. Lypophilic means, essentially, oil-based, and as you probably know, oil and acne don't go well together. It's occlusive, it doesn't feel good on your skin.
"We're able to stabilize the drug," Kitchener continued, "we're able to fully solubilize the drug. That's very different and unique, no one's really been able to do that with minocycline yet. What that means is that we're able to improve our bio-availability, and also able to use a very low dosage of minocycline.
"We think we'll do very well from an efficacy standpoint, compared to both the orals as well as other topicals. Because we're able to use a low dosage of it, our safety profile is much improved over anything out there."
In Ramakanth's view, if the BPX-01 Phase 2 study is successful, the drug could potentially "become the best-in-class topical treatment for acne." To do so, however, it will need to meet, as its secondary endpoint, a two-grade reduction in Investigator's Global Assessment — an endpoint Foamix failed to meet with FMX-101.
The American Academy of Dermatology calls acne the most common skin condition in the United States, and the U.S. market for prescription acne medications is estimated at $4 billion, according to a BioPharmX press release. BioPharmX will be hoping Phase 2a study data in BPX-01 showing effectiveness comparable to much higher doses of minocycline will hold true come the end of Phase 2 in Q2.
Related Links:
A Discussion On WebMD's Buyout Likelihood
Corbus Pharma's Positive Phase 2 Study: Safety First
Posted-In: Analyst Color Biotech Long Ideas Health Care Reiteration FDA Top Stories Exclusives Best of Benzinga
View Comments and Join the Discussion!