Is Glencore Too Big To Fail?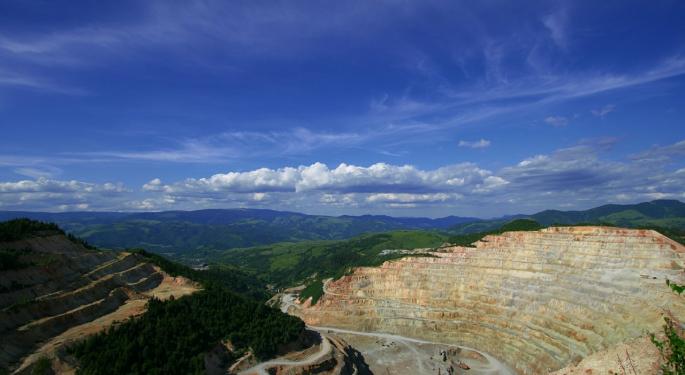 An Investec note highlighting Glencore International PLC, St. Heiler (OTC: GLCNF)'s debt issues have sent shares plunging this week.
Glencore's size and role as a commodity trading firm have drawn fearful comparisons to Lehman Bros.
A report by University of Houston professor Craig Pirrong explained why Glencore does not pose the type of systemic risk that a large bank does.
Fears surrounding Glencore have skyrocketed this week as shares on global markets plunged upward of 25 percent following the release of an Investec note highlighting the troublesome debt load at the company.
Glencore is one of the largest global resource companies, and fears that it could ultimately be dragged into default by its debt load have Wall Street once again whispering of Lehman Bros, systemic risk and "too big to fail" mentalities.
The Debt
The source of all the worry surrounding Glencore is its debt load. As the Investec note pointed out, the company has a much larger debt-to-equity ratio than peers Rio Tinto plc (ADR) (NYSE: RIO), BHP Billiton Limited (ADR) (NYSE: BHP) and Antofagasta plc (ADR) (OTC: ANFGY).
Related Link: Glencore Business Remains Operational, Has Taken Steps To Weather Current Commodity Complex Storm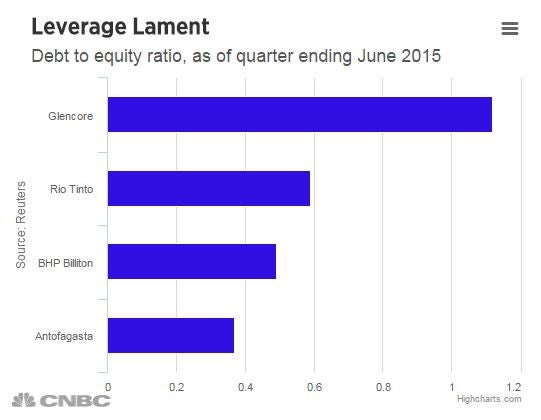 Worries over the debt load have sent Glencore's current credit default swap (CDS) rates surging. Current rates imply a 54 percent chance of default, the highest level since 2009.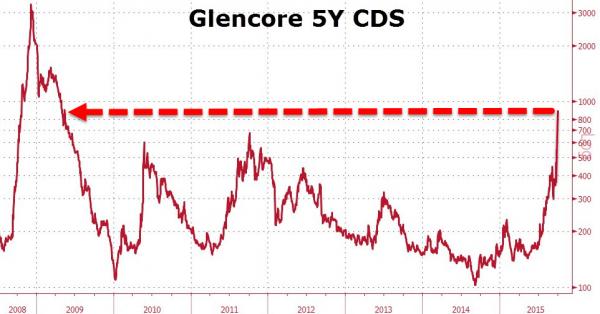 Lehman 2.0?
As bad as it would be for a single commodity trading company the size of Glencore to fall, the true fear in the market is that a potential failure would mark a tipping point in the market similar to the one that Lehman Bros represented in 2007.
"Glencore is like Lehman Brothers, they have the most sophisticated trading desk when it comes to metals, coal, copper, iron ore," said Frank Holmes, CEO and chief investment officer at U.S. Global Investors. "They're not just a company processing ore from the ground. If it was to unravel, that could have a global impact."
Systemic Risk
With shares of Rio Tinto, BHP Billiton and NOBLE GROUP LTD (OTC: NOBGF) all falling 5–12 percent in Tuesday trading around the world, it's clear that investors are worried about the systemic risk that Glencore poses.
However, a study released earlier this year by Craig Pirrong, professor of finance and the energy markets director at the University of Houston, claims that commodity trading firms (CTFs) do not pose systemic risk to global markets the same way that large banks do.
"This is true for many reasons," Pirrong wrote in the report. "Most notably, CTFs are not excessively leveraged; their liabilities are not fragile because they do not engage in maturity or liquidity transformations; the risks of contagious runs and fire sales are low; they can continue to supply transformation services even when in financial distress; they are not major suppliers of credit; and their financial performance is not highly procyclical."
Wall Street's Take
At least for now, many Wall Street firms seem to agree with Pirrong; systemic fears surrounding Glencore are unjustified at this point.
In a new note out Tuesday, Jefferies analyst Christopher LaFemina maintains the firm's Hold rating on Glencore, although he noted that "Glencore must stop the bleeding now."
Macquarie analyst Alon Olsha is a bit more optimistic. Although he noted that Glencore's share price is implying another 8.0 percent drop in commodity prices, he maintains the firm's Outperform rating on Glencore and noted that "fears of credit lines being withdrawn are overblown."
Finally, Citi Research analyst Heath Jansen joins Olsha in identifying the collapse in Glencore's share price as a buying opportunity for long-term investors. "We believe the market's response is overdone and that the ratings agencies are likely to take a more through-the-cycle view, and therefore a downgrade to sub-investment grade is not likely," Jansen explained. Citi maintains its Buy rating on Glencore.
Disclosure: The author holds no position in the stocks mentioned.
Image Credit: Public Domain
View Comments and Join the Discussion!
Posted-In: Alon OlshaAnalyst Color Long Ideas Commodities Top Stories Markets Analyst Ratings Trading Ideas Best of Benzinga