Apple's Secret Plan To Change Augmented Reality Is Finally Emerging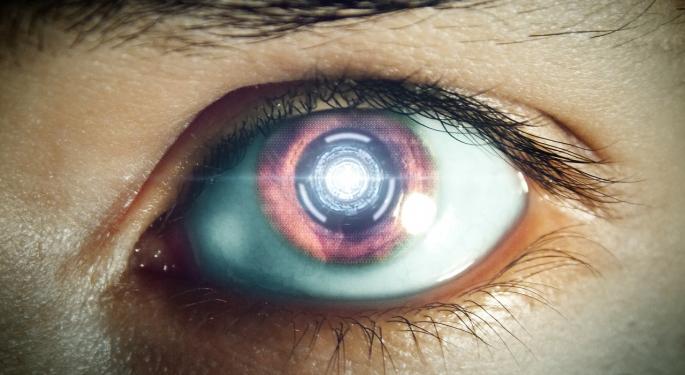 Apple Inc. (NASDAQ: AAPL) has acquired Metaio, a company that refers to itself as "pioneers in augmented reality (AR) and computer vision." It might be the latest clue in Apple's mission to change AR forever.
"[Apple] is establishing APIs for Siri and for what they call 'Proactive,' which is sort of the ability to incorporate recognition of intent into the user interface that they support," Dan Miller, senior analyst and founder of Opus Research, told Benzinga.
He referenced a report about Proactive by 9to5Mac, along with his own analysis.
"I think augmented reality is going to be baked into the responses that make Maps better – make geographically relevant responses [through] Siri or through this new Proactive capability – more powerful," Miller added.
Sean Udall, CIO of Quantum Trading Strategies and author of The TechStrat Report thinks that Apple is already "firmly" in the augmented reality and virtual reality space.
"I bet they're putting more money into it or as much money into it as anybody, they just don't talk about it," Udall told Benzinga.
Apple previously acquired PrimeSense, a company that is famous for supplying the technology inside the Kinect motion control system from Microsoft Corporation (NASDAQ: MSFT). Kinect has been referred to as the grandfather of the HoloLens, Microsoft's new augmented reality headset.
If Kinect-related technology could lead Microsoft down the path to AR, it could do the same for Apple.
Related Link: Is Apple's Same-Day Delivery The End For Apple Stores?
Imminent Announcement?
Apple is unlikely to make any Metaio-related announcements at the Worldwide Developers Conference next month, but Miller expects a few revealing tidbits.
"The results of the acquisition probably won't be known for several months, but the direction they're taking – search and the highly individualized and personalized interface – is gonna be made clear next month," said Miller.
There is also the possibility that Apple and Metaio started working together long before the acquisition was complete.
"I'm not sure how deeply they've been working with the company already before they decided to acquire it," Miller added. "This specific IP or [the] price of company probably won't be totally baked in, but the intent to add augmented reality to their responses – to increasingly natural-feeling searches – is definitely there. The direction will be there at the development conference."
Miller said it will be "months, not years" before the actual technology is incorporated.
Related Link: Google, GoPro Team Up On Virtual Realty; Apple Reportedly Makes Augmented Reality Acquisition
'Exactly What I Think Apple Should Be Doing'
When it comes to investments, Udall said that this is "exactly what I think Apple should be doing."
"I thought they should be buying a lot of stock when it was cheaper," Udall added. "As the price keeps going up, I would much rather see Apple invest in growth, new technology and buy revenues and growth and new companies."
Beyond that, Udall noted that Apple has "a lot of patents."
"Apple has a very strong patent portfolio, and it's not a purchase portfolio, it's one they created on their own," said Udall. "I'll bet their patent portfolio for AR and VR is basically as strong as [everyone else]."
Udall thinks that Metaio will be the "first" of new AR-related acquisitions, but said that doesn't necessarily mean the firm will compete with Oculus Rift, HoloLens or any other AR or VR headset maker. Apple could go in another direction entirely.
"My take is Apple is [going] to put their own spin on it," said Udall. "They'll probably try to create AR and VR that ties into their current ecosystem in some way."
Disclosure: At the time of this writing, Louis Bedigian had no position in the equities mentioned in this report.
Image Credit: Public Domain
View Comments and Join the Discussion!
Posted-In: 9TO5Mac Apple Maps Coulus Rift Dan MillerAnalyst Color Exclusives Tech Interview Best of Benzinga