Apple's 'Reactive' Strategy Led To New Hires, Not New Products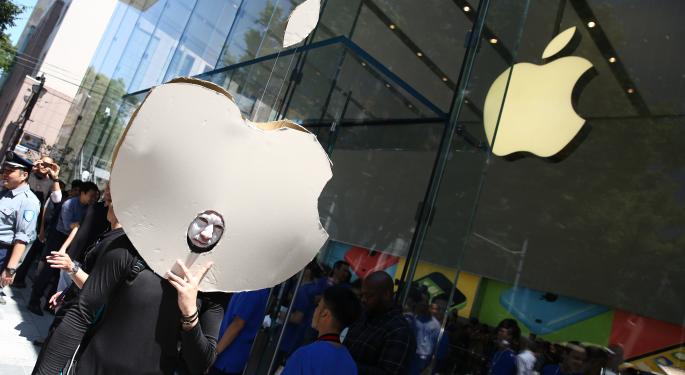 Apple (NASDAQ: AAPL) has attracted a lot of new talent over the past 12 months, but where are the new products?
Some bloggers believe that Apple acquired Beats Electronics to perfect and promote the long-awaited iWatch. They have pointed to Apple's recent hires -- TAG Heuer's Patrick Pruniaux and two engineers from Nike's FuelBand team -- as further evidence that the company is developing a smartwatch.
This isn't the first time that Apple acquired talent from Nike. The company last fall hired Nike's design director, Ben Shaffer.
Eddy Cue, Apple's Senior VP, fueled the rumor mill when he proclaimed that Apple's 2014 lineup is the best he has seen in his 25-year career.
Related Link: How Many Leaders Can Apple Live Without?
Global Equities Research analyst Trip Chowdhry criticized Cue for not providing any specific examples.
"The statement should have been, 'I am going to launch the most [exciting] product in the last 25 years,'" Chowdhry told Benzinga last month. "'If any of those products are not launched or not considered revolutionary, I will quit my job before the year's end.' Then that statement would have had some credibility. Right now, some of Apple's executives are just blowing hot air. There's no credibility."
Chowdhry this week shared his thoughts on Apple's recent hires.
"They're building a team," Chowdhry told Benzinga. "It's a reactive strategy. They're in reactive mode. They cannot be the leader."
Big Hires, Small Project
Barry Randall, the Portfolio Manager for the Crabtree Technology portfolio on Covestor, is intrigued by the various individuals that Apple has added to its team. He isn't convinced, however, that an iWatch (if one exists) will be able to increase Apple's annual revenue.
"If you do the numbers, the watch business (on a units basis) is nowhere near that of the [smartphone and tablet business]," Randall told Benzinga. "The profitability would have to be significantly higher for [the iWatch] to move the needle in terms of Apple's revenue growth. So I'm not counting on these efforts, whether it's the watch or an Apple [television set]."
Despite his concerns, Randall said that Apple has "made a history of surprising" consumers.
"I think they caught everyone by surprise in terms of the success of the iPhone, myself included," he added.
Annual cell phone sales are quickly approaching the one billion mark. That number could get even bigger with emerging markets factored in. It's a big opportunity for everyone in the industry, including Apple.
TV manufacturing is a much different business. Less than 300 million units are sold each year. TVs are not the same as a "throwaway" device, such as a smartphone. Many are not as eager to replace a $1,000 display every two years.
"Apple's resurgence from 1998 onward was built on 'I can't believe they just did that'-type products," Randall concluded. "Neither the iWatch nor an iTV seems [capable of being] a kind of, 'Oh my God, they changed it again'-type thing."
Disclosure: At the time of this writing, Louis Bedigian had no position in the equities mentioned in this report.
Posted-In: Apple Apple Television Apple TV Barry Randall commentsAnalyst Color Rumors Tech Best of Benzinga
View Comments and Join the Discussion!