Apple Earnings Preview: Will iPhone Sales Disappoint Investors?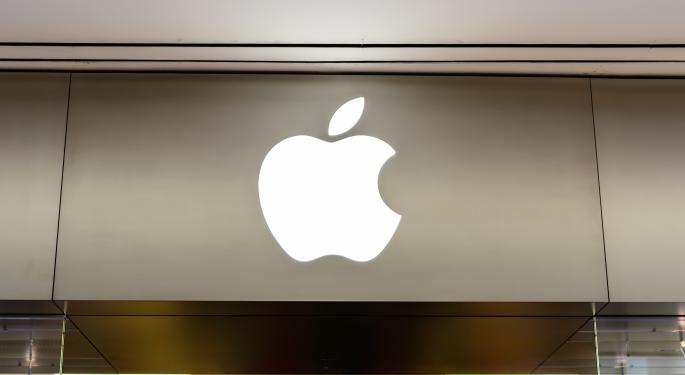 Apple (NASDAQ: AAPL) will report its second quarter results on Wednesday after market close. Apple is expected to earn $10.13 per share on revenue of $43.55 billion.
Apple reported its first quarter results on January 27 when its earnings of $14.50 per share blew past the consensus estimate of $14.09. Revenue of $57.6 billion also topped the consensus estimate of $57.46 billion despite iPhone sales falling short of the Street's expectations.
Investors were unimpressed with Apple's second quarter guidance, as shares traded lower by more than eight percent in the after-market session following the earnings report and subsequent guidance forecasts.
Apple said that it expects its revenues to come in a range of $42 billion to $44 billion in the second quarter, below the consensus estimate at the time of $46.05 billion. Apple also expects its second quarter gross margin to be in a range of 37 percent to 38 percent, roughly in line with the 37.5 percent it recorded in the same quarter a year ago.
On January 28, IDC reported that Apple's main competitor, Samsung, ended 2013 the same way it began the year -- as the "clear leader" in worldwide smartphone shipments. Samsung maintained a "sizable" double-digit lead over Apple who had the lowest year-on-year increase of all the leading smartphone vendors.
Related: Intuitive Surgical Plunges On Weak Sales Of Da Vinci Systems
Apple's venture into the lucrative Chinese market has been challenging since it entered the market officially on January 17. China Mobile (NYSE: CHL) announced on March 20 that it had added 1.34 million 4G subscribers in February, and that "most of them" were iPhone users.
Piper Jaffray's Gene Munster who is considered as one of the top authorities on Apple called the iPhone China number a "disappointment."
With an iPhone 6 allegedly ramping up production (according to Asian news sources such as Katy Huberty, analyst at Morgan Stanley believes that now is the best time to invest in Apple based on upcoming catalysts including the iPhone 6, iWatch, a larger screen iPad and services.
"While most investors expect weak March quarter results and June guidance, we see evidence of better iPhone sales which combined with a more aggressive share buybacks could result in less downward EPS pressure than expected and bridge the gap to product cycles later this year," Huberty wrote in a note to clients on April 17.
Apple's stock performance tends to improve following periods of R&D growth as the company invests in new products. Despite this fact, investors are underestimating Apple's ability to innovate and launch new products and services, according to Huberty.
Huberty uses a proprietary smartphone tracker called "AlphaWise," which gathers sell-through data using web search analytics. According to the AlphaWise, demand for the March quarter points to a total unit demand of 40.6 million iPhones, as many U.S. carriers and retailers held promotions that may have stimulated demand more than expected.
Nevertheless, Huberty is modeling for Apple to report that it had sold 38 million iPhones for the quarter and 20 million iPads, similar to the consensus estimates.
During the quarter Apple purchased $14 billion of stock, above the $5.5 billion Huberty had modeled which would add $0.19 to Apple's earnings per share. Huberty expects Apple to increase its buyback program and dividend when the company reports its earnings.
Huberty is projecting Apple to earn $10.16 per share on revenue of $43.367 billion in the second quarter. However, Huberty is expecting Apple to announce below consensus estimates for the third quarter and is projecting an earnings per share of $7.75 on revenue of $25.7 billion. The consensus estimate for the third quarter is for an earnings per share of $8.51 and revenue of $38.3 billion.
Shares are Overweight rated with a $630 price target.
Wells Fargo: Weak iPhone and iPad sales, but expect gross margin strength
Maynard Um, senior analyst at Wells Fargo believes that Apple could report potentially lower iPhone and iPad sales for the quarter. However, Apple could be offset by gross margins strength from a few accounting items and the compounding deferral increase, as well as a smaller share count due to Apple's $14 billion of shares it bought back in the quarter.
Um is projecting Apple to report sales of 39 million iPhone devices and 21 million iPads. For every one million shortfall in iPhone sales, that would translate to $0.23 in missed earnings per share. For every one million shortfall in iPad sales, that would translate to $0.08 in missed earnings per share.
Longer term, Um believes that the positives of potential near-term "s" cycle gross margin improvements and new products are "balanced" against gross margin pressures that the company could face later in the year. Additionally, Um believes that there is an upcoming "power shift" that will move towards the wireless operators from the handset manufacturers.
Um is projecting Apple to earn $10.51 per share on revenue of $44.318 billion in the second quarter.
Shares are Market Perform rated with a valuation range of $505 to $575.
Related: Amazon/HBO Deal The Kind That Would Make Reed Hastings Jealous
Apple will be a digital media giant
Ben Schacther, analyst at Macquarie Securities is bullish on Apple for all the different reasons.
Schacther initiated coverage of Apple on March 20, the 63rd sell-side analyst to join the "frenzy."
Schacther focused on Apple's iTunes, Software and Services offerings that are "under-appreciated businesses," which will be a key profit growth driver.
In 2012, Apple's "other" businesses accounted for just eight percent of sales. By 2016, it will grow to 13 percent of sales before driving nearly 40 percent of all of Apple's profits by 2020, when it will generate approximately $30 billion in sales.
"While the growth profit of Apple's hardware business is uncertain, we believe that its opportunity in digital content and services (including the potential of TV-centric Apps) will be the key profit growth driver," Schacther wrote. "It is also important to note that while we expect significant new innovations to come from Apple, we are not sure it is all that helpful to investors to be the 63 voice to say that an Apple wearable's could be big. Simply put, our model does not attempt to guesstimate/quantify the impact of unknown devices."
Bottom line, consistent with Schacther's sell-side peers, Apple's hardware business faces many challenges in the coming months and years.
Apple has historically been able to maintain high margins on its handsets given the high subsidy rates in the U.S. markets which is estimated at around $350 per device. However, with major carriers beginning to scale back subsidies, this could pressure sales growth and pricing strategies for the iPhone. Simply put, lower-priced Android devices may begin to look more attractive or desirable to consumers.
"Because of the out-sized contribution of the iPhone to Apple's consolidated profitability, pressure on iPhone margins would have a disproportionate impact on overall margins, all else equal," Schachter wrote.
Schacther is projecting Apple to earn $10.89 per share on revenue of $44.43 billion in the second quarter.
Shares are Outperform Rated with a $630 price target.
Posted-In: AlphaWiseAnalyst Color Earnings News Previews Analyst Ratings Tech Trading Ideas Best of Benzinga
View Comments and Join the Discussion!