Wells Fargo Breaks Down Apple's 5-Phase Evolution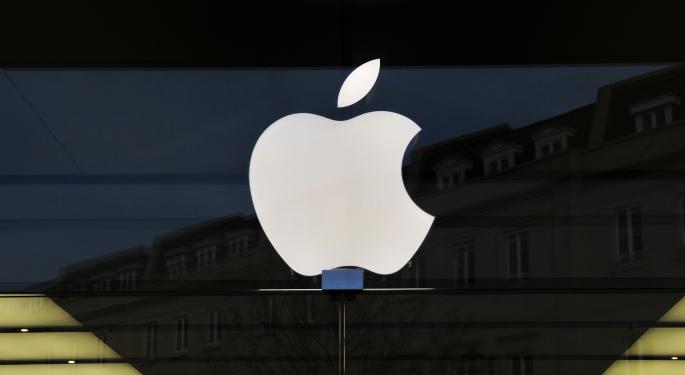 In a report published Friday, Wells Fargo Securities analyst Maynard Um described his vision for Apple (NASDAQ: AAPL) and the company's long-term opportunities.
Wells Fargo laid out its summary on Apple by first noting the company's product-cyclical story. Um commented, "what complicates the product-cyclical story, in our opinion, aside from the extremely limited visibility at this point in time, is our view of the potential balance-of-power shift between the operators and the handset vendors.
"That stated, we do believe there is a secular story to Apple, but one that we expect will play out beyond the next 2-3 years. This report details what we believe will, or should, be the evolution of Apple into more of a secular story."
The analyst described this evolution in five phases:
Phase 1: A Push for Content--Establishing the Ecosystems
Wells Fargo described the first phase, as the period between 2007 and 2010, in which the company used hardware and media-generated content to create ecosystems. The analyst emphasized that although it was believed that "content was king," he does not believe Apple must own all the apps or content. Wu remarked that partnerships "will continue to be important" and ownership of specific apps will be crucial.
The analyst noted that Apple and Google have a tremendous lead in the ecosystem. He commented that it would be "difficult" for Apple to build a new complete ecosystem, but sees opportunity for mini-ecosystems.
Related: Key Designer Greg Christie Leaving Apple
Um wrote, "we do believe there will be room for mini-ecosystems for certain applications and uses cases, similar to the larger social networking hubs (Facebook, Twitter, or LinkedIn). Examples include video (Netflix, Hulu, or Roku), music (Pandora or Spotify), proximity-based solutions (Foursquare, OpenTable, or Yelp), content distribution/aggregation (Feedly or Pocket), or storage/productivity (Dropbox or Evernote)."
Phase 2: Push for Market Share and Installed Base
Following the creation of ecosystems, Wells Fargo remarked that growing the ecosystems hardware and user installed base during 2010 to 2013 makes up Phase 2. Um emphasized that large vendors have built scale and the resulting "more effective" global marketing campaigns and the difficulty for sub-scale vendors to compete.
The analyst further noted the changing pace and make-up of innovation. Um commented that past innovations were "driven by physical hardware elements (e.g., touch screen, thinner and lighter form factors, screen sizes, cameras, more memory, faster chipsets, etc.), which changed roughly every year or so, and then on more software-related elements, particularly user interface (for example, HTC's Sense, Samsung's TouchWiz, Motorola MOTOBLUR, Sony Ericsson Timescape, et. al.)."
Wells Fargo concluded that the pace of hardware innovation is decelerating from the customer's perspective.
Phase 3: A Push to Drive Usage and Data
In Apple's current phase, the analyst reported that this period is focused on "driving deeper penetration and usage of applications and services with the purpose of gathering more in-depth information about end-user behavior. By virtue of owning the ecosystems, companies such as Apple and Google have their owned apps (Internet browsers, e-mail, video/music stores, maps, calendar, etc.) that they are trying to drive increased usage of. However, we expect these companies to also be engaging in extending their ecosystems (via the Internet of Things) to increase end-user information."
Wells Fargo added that Apple's ownership of the operating system and user interface give the company "valuable habits and preferences, i.e., the "natural resource" of the digital economy." To keep this headway and continued app expansion, Um noted that Apple could take two approaches.
The first approach includes "driving usage of owned apps and services", in which the company would make improvements to apps (including Maps) to help the platform address user needs. The alternate and less popular approach describes Apple partnering with other service vendors and apps.
Related: Whole Foods' CEO Shrugs At Wal-Mart's Wild Oats Deal
Phase 4: A Push for Artificial Intelligence
In a year or two, the analyst expects the company "to focus on using the data to increase utility to end users." The phase will focus on users' convenience in making lives easier with artificial intelligence. By looking at the behavioral history of a user, Apple can make recommendations and "offer a value-add service to not only simplify, but also improve, the consumer experience."
Phase 5: A Push for Monetization
The last phase will essentially focus on how to monetize all the data. Wells Fargo does not believe Apple will monetize this data in the traditional sense of push-based advertising. Um commented that an in-app, opt-in model could be a likely new model.
The analyst wrote, "For example, a user can, through a healthcare provider app, allow a healthcare provider access to various user data that Apple collects, such as blood pressure, physical activity stats, sleep data, pulse, etc. Apple could then potentially charge the healthcare provider for access to that data. The user could benefit from getting lower premiums (assuming the user is healthy, which may be tracked through an iWatch). The healthcare provider could benefit from lower risk or payouts. And Apple could sidestep (some) privacy concerns if it is purely opt-in."
Shares of Apple closed at $523.48 on Thursday.
Posted-In: Google Maynard Um Wells Fargo SecuritiesAnalyst Color Analyst Ratings Tech Best of Benzinga
View Comments and Join the Discussion!