Can Sony Steal Microsoft's Thunder With Virtual Reality?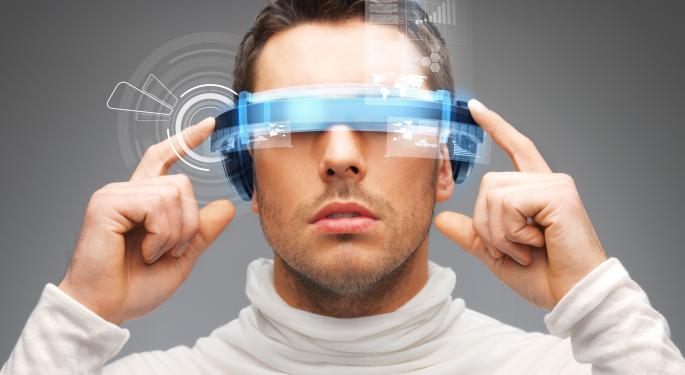 Sony (NYSE: SNE) is officially developing a virtual reality headset for PlayStation 4.
Known as Project Morpheus, the headset features a panel resolution of 1920×1080, which amounts to 960×1080 per eye. The prototype device currently contains a 90 degree field of view, as well as 3D audio, an accelerometer and a gyroscope.
Crytek (creator of Far Cry and Crysis) and Epic Games (creator of the Unreal Engine and Gears of War) have already signed up to develop games for Project Morpheus. It is only a matter of time before others follow suit.
"It's a prototype with very few details," Jefferies analyst Atul Goyal told Benzinga. "Interesting product," he added.
Related: Could This Startup Save Nintendo?
Indeed, the announcement is very interesting -- but Sony is not the first game company to develop a VR device. Nintendo tried (and failed) to bring VR to the masses when it released the Virtual Boy nearly two decades ago.
Thus far, none of the big players have had success in this realm. But others have made progress.
Virtusphere, for example, has developed an entire "locomotion platform" (a giant ball that users can walk around in) to make VR more immersive. The concept has yet to take off, but it is one of the industry's more creative ideas.
Last fall, two former Valve developers created a VR and AR (augmented reality) system called castAR. The project successfully raised $1 million on Kickstarter -- more than doubling the goal of $400,000.
One year prior, Oculus Rift (another indie VR project) became one of the most successful Kickstarter campaigns. Oculus VR, the device's developer, raised $2.4 million -- more than nine times the goal of $250,000.
Oculus Rift and castAR might have given Sony the push it needed to finally bring VR to a PlayStation console.
However, Sony has been toying with 3D headsets for several years and has already released a wearable HDTV for $999.99.
Last week, Electronic Arts surprised the world when its CEO, Andrew Wilson, announced that the company was exploring VR development. This fueled rumors that Sony was developing a VR headset for PlayStation 4.
Days later, The Wall Street Journal reported that Microsoft (NASDAQ: MSFT) is also working on a VR headset for its newest game console, Xbox One.
As of this writing, Microsoft has yet to make an official announcement, and Sony has yet to set a launch date for Project Morpheus. But Sony did confirm that it will not be released in 2014.
Wedbush analyst Michael Pachter has been very critical of the various VR concepts. Before Sony's announcement, he told Benzinga that VR could have trouble attracting content "since content has to be tailored for it and the hardware will initially have a small installed base."
"This is chicken and egg, so without compelling software, the hardware base will never get large, and without a large hardware base, there will be little incentive to develop compelling software," he added. "The technology is really cool, but I have trouble seeing how it can become mainstream."
Interestingly, Ubisoft -- a company that typically jumps at the chance to support new and unproven hardware (Wii U, the original Xbox, etc.) -- has decided to hold off on VR game development.
During a roundtable event in San Francisco, the company's VP of Creative, Lionel Raynaud, conveyed Ubisoft's stance on VR.
"VR would need to sell at least 1 million units to be viable for development," said Raynaud, as quoted by GameSpot.
Can Sony live without Ubisoft's initial support? Certainly, but Ubisoft's comments are very telling. It means that the company is unwilling to invest in a technology that is not only new, but has proven to be disastrous for others within the industry.
Related: Is NVIDIA's Tegra K1 On Par With PlayStation 4, Xbox One?
Project Morpheus is at least a year away from release, so Microsoft could use this opportunity to learn from Sony's prototype (the good and the bad) and develop a headset that one-ups the competition -- including Oculus Rift.
In the meantime, Sony is likely to get more attention than any other VR developer. The success of PlayStation 4 -- which has sold more than six million units (versus four million Xbox One units) -- is sure to give Sony a boost in this regard.
If developers are going to invest in a VR project, they are most likely to support the one with the greatest number of potential customers.
Disclosure: At the time of this writing, Louis Bedigian had no position in the equities mentioned in this report.
View Comments and Join the Discussion!
Posted-In: Atul Goyal comments CrysisAnalyst Color News Rumors Analyst Ratings Tech Best of Benzinga