Will Apple Release A Cheaper Smartphone Than iPhone 5C?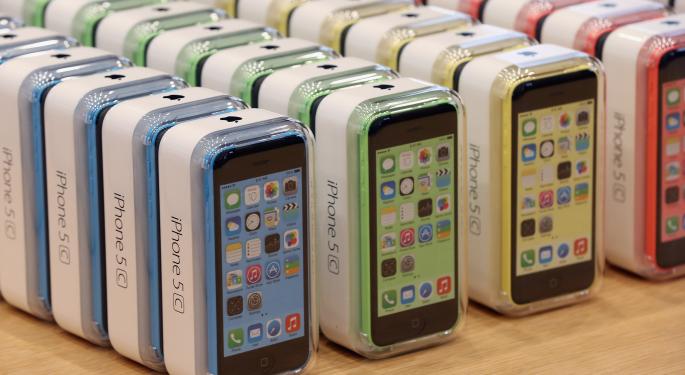 Apple (NASDAQ: AAPL) could be forced to build lower-cost phones if Huawei and other Chinese manufacturers continue to build cheaper (but comparable) devices.
"I wouldn't be so sure [that] Apple will be a huge force in the mid-term," said Andrew Henderson, Editor-at-Large of Nomad Capitalist. "I think they're beginning to run a bit low on new ideas, and the marketing act won't go on forever. Huawei and others like them will grab more share and I think they'll command more of the market and force Apple to adapt."
That, Henderson said, is the point of The $10 Trillion Prize: Captivating the Newly Affluent in China and India, a book by Michael J. Silverstein.
"Companies that serve emerging markets will break even for as long as they have to [in order] to force established companies to compete with them. Sixty percent margins on iPhones aren't sustainable forever, and I think Apple is already starting to realize that."
Apple was largely expected to unveil a low-cost iPhone during its press event in September. Instead, the Cupertino, California-based tech giant introduced a revised version of the iPhone 5.
Marketed as the iPhone 5C, the new device features a plastic body and other lower-cost components that allowed Apple to reduce its manufacturing expenses.
However, the starting MSRP -- $99 with a contract, $549 without -- is in-line with the price of Apple's second-tier iPhones.
Related: iPad Mini 2 Rumor Roundup
For the past several years, Apple has reduced the price of its older iPhones whenever a new model is released. The 12-month-old model is typically reduced by $100, while the two-year-old iPhone becomes "free" for those who are willing to sign a two-year contract.
If Apple had continued to sell last year's iPhone 5, it would likely retail for $549 now that the iPhone 5S has been released. But the iPhone 5C proved to be a replacement for that model, not the lower-cost device that many analysts had expected.
While this decision may have disappointed Wall Street, it does not seem to have hurt Apple's sales.
Collectively, the iPhone 5C and iPhone 5S sold nine million units during their first three days at retail. This set a new record for Apple and for the entire smartphone industry.
Related: Apple's iPhone 5S Draws Record-Breaking Crowds, No iPhone 5C Buyers
Henderson likes the Huawei Ascend 510 much more than any of the iPhones that are currently available. But he has been an Apple customer in the past.
"I have a MacBook Pro and an iPad and I think Apple is overblown," he said. "Perhaps even a bit of a cult. I don't see the value and I probably won't buy another iPad because of it."
Henderson credited Apple with marketing itself as a "high-value brand." He said he would rather own a company that was in Apple's position -- or a company at the low-end market -- instead of one that was stuck in the "middle-market."
"Apple will have a good business for awhile, but the realities of the emerging world are why I have my money on Huawei," said Henderson.
What about Apple's competitors?
"I think HTC has become middle-market," said Henderson. "It's not an innovator from what I can tell when I bought one of their phones four [or] five years ago.
"Microsoft (NASDAQ: MSFT) is trying to innovate but just can't seem to get much headway.
"Samsung (OTC: SSNLF) is doing a great job and I think their play will be in increasingly proprietary strategies, perhaps getting away from Android. I like Samsung as an Apple alternative, but I still think you're going to have billions of people getting new and better smartphones, and they can't afford those."
This is why he feels that Huawei and other Chinese players will eventually dominate the smartphone market.
Disclosure: At the time of this writing, Louis Bedigian had no position in the equities mentioned in this report.
Louis Bedigian is the Senior Tech Analyst and Features Writer of Benzinga. You can reach him at louis(at)benzingapro(dot)com. Follow him @LouisBedigianBZ
View Comments and Join the Discussion!
Posted-In: Andrew Henderson Android Apple HTC HuaweiAnalyst Color Analyst Ratings Tech Best of Benzinga