Consumer Reports Rates Tesla Model S the Best – Maybe Ever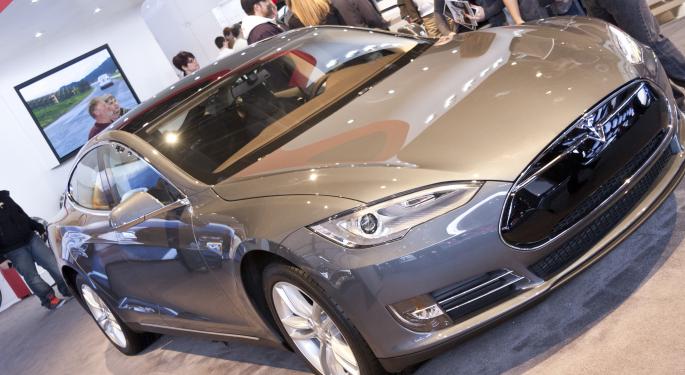 Consumer Reports magazine, it seems, has fallen in love - with the Tesla Motors Inc. (NASDAQ: TSLA) Model S sedan.
"If it could recharge in any gas station in three minutes, this car would score about 110," said Jake Fisher, head of auto testing for Consumer Reports, according to CNNMoney.
The consumer organization put the object of Fisher's affection through its paces recently. Consumers Union, publisher of the magazine, known for its tough, unbiased reviews of all types of consumer products ranging from lawn tractors to toothpaste, is the ratings agent of choice for car buyers everywhere.
Ratings by Consumer Reports are on a 0 to 100 scale. Tesla's almost unheard of score of 99 matches the score earned by the Lexus LS460 in 2009, according to CNNMoney, and is as high as the consumer magazine's automotive scores have ever gone. In fact, no car at any price has ever scored higher.
The uncharacteristic sweet talk, on the part of CR, doesn't stop with Fisher's comments. At the head of the article, listing accolade after accolade, Consumer Reports said, "The Tesla Model S outscores every other car in our test ratings. It does so even though it's an electric car. In fact, it does so because it is electric."
Consumer Reports made much about the fact that Tesla was designed to be an electric car, or EV, from the beginning, allowing for such design features as a low center of gravity thanks to mounting the battery in the lowest part of the car's body. This, CR said, gives the car what it calls a "rock-bottom center of gravity" that provides great handling, a comfortable ride, and a flat-floored roomy interior.
Not only that, but since there's no space-hogging gasoline engine, the car features both a front trunk and a large rear cargo storage space. According to the magazine, the Model S seats up to seven people when the optional third-row jump seat is utilized.
The only serious drawback, Consumer Reports said, is that unless one wants to drive back and forth between Boston and Washington, D.C. or in California, where the company has set up a network of Supercharging stations, range is a problem. The driving range is a little over 200 miles between charges.
Driving range must not be a serious drawback. Tesla just raised sales forecasts for the Model S and announced its first ever profitable quarter.
The question, of course, is whether the car will continue to sell well. Todd Turner, an industry analyst with Car Concepts in California told CNNMoney "A lot of that will depend on the longer-term dependability of (Tesla's) battery technology."
Consumer Reports closed its analysis with the big question: Is the Tesla Model S the best car ever? The magazine concluded that it depends. If the driving range of the Tesla fits your needs, it might be the best car you've ever owned. If, on the other hand, you're the type of person who requires the ability to take off on a whim and drive all day, Tesla might leave you stranded. Literally.
Tesla Motors, Inc. closed Thursday at $69.40, up $13.61 or 24.4 percent.
As of this writing, Jim Probasco has no position in any mentioned security.
Posted-In: tesla motorsAnalyst Color Earnings News Retail Sales Events Analyst Ratings Best of Benzinga
View Comments and Join the Discussion!