The Decline Of Google Shares (NASDAQ:GOOG) (NASDAQ:GOOGL) And The Positive Opinions Held By Analysts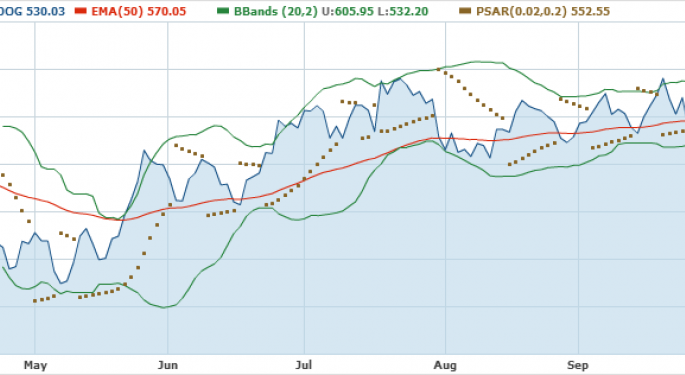 In the past week both of Google shares (NASDAQ: GOOG) and (NASDAQ: GOOGL) have dropped 40 points from $570 to $520 and $582 to $530 respectively at market open on the 16th of October 2014. Despite this, analysts still etimate a price target for the stocks between $650 and $715.
The share price has incurred alot of volatility through events such as the release of the new Nexus 6, the Q3 earnings which are to be released later today. Also the ongoing legal battle with technology giant ORACLE (NYSE: ORCL). All these reasons could have cast doubt upon investors and be linked to the drop in share price, however the key point is that analysts remain confident of Google's (NASDAQ: GOOG) vast growth potential.
(NASDAQ: GOOG)Are there reasons to be cheerful?
The yearly exponential moving average has dipped slightly, however this is to be expected and we cannot gauge much about the stock's future from this.
The Parabolic SAR shows the negative trend of the stock over the past week, however with the trend line over the period that it is, it is unlikely the negative trend will continue.
From the Bollinger bands we can infer that the stock is close to a change in momentum, and that maybe over the next few weeks, we will see the price return to previous levels.
Extra points:
As for Google's (NASDAQ: GOOG) legal battles, they are nothing new to Google who as we know have a large cash reserve and will want to see the battle through to the end. Also they have filed a petition to the American Supreme Court to resolve the matter quickly, indicating they are partially confident of a good result.
The upcoming release of the Q3 Earnings will likely show nothing negative, with the recent movements of the company and the release of new products, Google (NASDAQ: GOOG) are looking to move forward and expand.
Overall There is a lot to be said for Google's (NASDAQ: GOOG) recent decline, however the general consensus is of a positive outlook for the future and for the business giant to continue gaining market share.
The preceding article is from one of our external contributors. It does not represent the opinion of Benzinga and has not been edited.
View Comments and Join the Discussion!