Time To Order Some Blue Apron?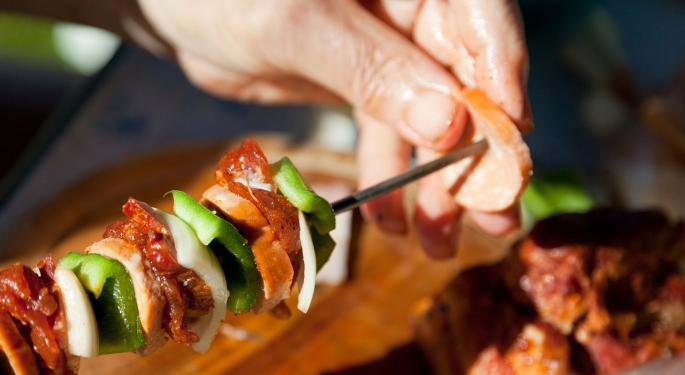 Sometimes, when it seems things couldn't possibly get any worse for a stock, it's actually the best time to buy.
Investors would be hard-pressed to find any stock that had had more problems than Blue Apron Holdings Inc (NYSE: APRN) since it filed for its highly publicized IPO on June 1.
On June 16, Amazon.com, Inc. (NASDAQ: AMZN) announced a $13.4 billion buyout of Whole Foods Market, Inc. (NASDAQ: WFM). The announcement that Amazon would be entering the grocery space severely impacted demand for Blue Apron IPO shares. After announcing an intended price range of $15 to $17 per share on June 1, the company ultimately priced its IPO at just $10. Even after the price cut, shares tanked in the stock's first several weeks on the market, culminating with a larger-than-expected earnings loss in the second quarter. Blue Apron also reported that the size of its client base is down 9 percent since the first quarter.
Related Link: These Analysts Still Have An Appetite For Blue Apron
To make matters worse, Wall Street analysts haven't had many kind words for the stock as of late. In fact, the past six analysts to comment on the stock have downgraded their ratings and/or lowered their price targets for Blue Apron.
Bearish technical trading momentum, negative commentary from Wall Street and lackluster fundamentals certainly aren't typically a winning recipe for a stock. But without much more to go wrong for Blue Apron, the stock's 7 percent bounce 8 percent bounce in the past week may be a sign that all of the negative sentiment in the market has finally pushed the stock to its bottom.
The stock bottomed at exactly $5.00 following its earnings miss, a nice round number that could potentially serve as Blue Apron's first decent technical support level since its IPO. If $5 continues to hold, the stock may begin to slowly creep back up toward its IPO valuation, providing opportunistic buyers a chance for major gains.
In addition, with $5 stablished as a support level, traders can expect the stock's massive horde of short sellers to use $5 as a potential cover point, providing even more support for the battered stock.
Joel Elconin contributed to this story.
Posted-In: Technicals Commodities Top Stories Markets Tech Trading Ideas Best of Benzinga
View Comments and Join the Discussion!