Mastercard Inc Working Its Way Toward An Upside Breakout Attempt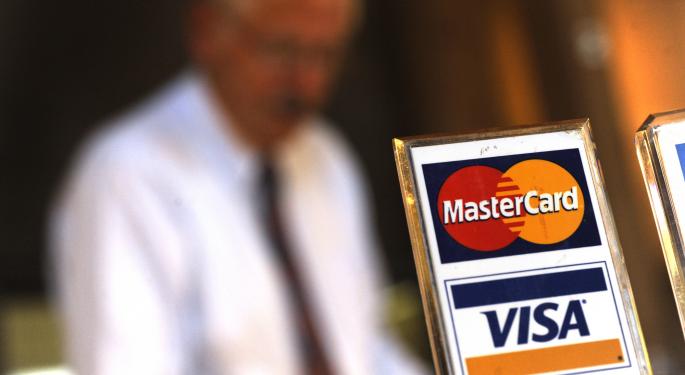 Mastercard Inc (NYSE: MA) holds the lower edge of a pennant formation and now is on the way toward testing the upper edge.
Will it manage to break out bullishly above the consolidation pattern?
Mastercard shares traded down to the lower edge of a technical pennant formation as technicians thought they would, as highlighted in Benzinga's last report. Where the technicians went wrong was in predicting a breakdown below the pennant formation and a continued move down to $66 or so. That may still happen, but thus far the bulls have held their ground nicely.
What The Bulls Are Seeing
The Mastercard bulls out there are in love with the macro trends into which the company is plugged, namely the ever-increasing move toward mobile computing and mobile transactions.
They also love Mastercard's huge 30-percent profit margins, strong balance sheet and strong free cash flow numbers as justification for owning this richly-valued stock.
Technically, they would quickly latch onto the fact that shares did not break down out of the pennant formation and are now marching higher toward a test of the upper edge of the pennant. The lack of a breakdown is bullish evidence in their opinion.
Related Link: Visa Inc Stock Grinding Sideways
What The Bears Are Seeing
Bears in Mastercard point to rich valuations: price-to-sales ratio of 9.87 and the price-to-book ratio of 14.83, as well as the P/E ratio (based on next year's consensus estimates) of 24.
They also point to the fact that the technical pattern is not necessarily bullish and that they are still in the game as long as Mastercard does not eclipse the $79.22 level.
The Technical Take
Technicians say that a break and close below $75 will confirm for them that a technical breakdown is underway and that the target of $66 will likely come into play sooner than later. However, they note that a close above the $79.22-$79.60 range would give the bulls the edge and send the bears running for cover. The upside target on such a breakout would come in at $84.75 for starters and more likely up toward the $90-$100 range.
The bulls are starting to send the bears back on their heels with a series of up days. If the break and close above $79.60 takes place, it will be a bullish knockout of the loudmouth bearish opponent. On the other hand, if the bears can muster some strength from somewhere, such as a weakened market condition, they may be able to hit the bulls with a "haymaker" of their own and reestablish control of the fight.
Time will tell who wins this battle.
Stock chart:

Posted-In: mastercardTechnicals Movers Trading Ideas Best of Benzinga
View Comments and Join the Discussion!