General Electric Company Stock 'Stuck In The Middle With You'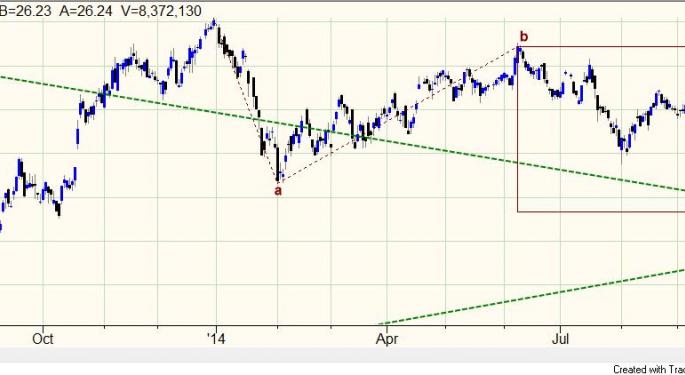 General Electric Company (NYSE: GE) stockholders have had their patience tested for the duration of 2014, as the stock has corrected and consolidated following the late 2013 peak at $28.
Now just under 10 percent off the December high, investors and traders alike are wondering if the stock is simply being propped up by massive index buying. And more importantly, when that index buying eventually dries up, will there be enough longs in GE to keep the stock from tumbling?
What The Bulls Are Seeing…
Those bullish on General Electric love the dividend and the idea that they own a company involved in many aspects of everyday life.
Fundamentally, the company is cheap on a price-to-book (1.95) and price-to-sales (1.79) basis and has massive positive cash flows.
The stock itself, generally speaking, goes through periods of strong outperformance and relative underperformance. Right now, the stock is going through one of those underperformance periods. So, if one believes in buying low to sell high, then the time to buy GE is during one of these ugly periods.
The question yet to be answered is: How long will this period last, and how low will GE have to sink before it gets major institutional interest?
What The Bears Are Seeing…
The bearish crowd, on the other hand, notes that the company is hugely levered and any systemic issues that arise could put the company in major jeopardy, just as it was back in 2008 at the peak of the financial crisis.
The bears also are quick to point to GE's anemic revenue and earnings growth projections, which take a seemingly low PE ratio of 15 and make it appear rather expensive.
Related Link: Cisco Off Its Highs And Failing To Show Any Real Fight
Technically, the bears note GE is setting up for a drop to around $23.67 if the prospective "abc" downside correction pattern plays out fully. Only a close back above $27.50 would negate the bearish set-up completely (although technicians note that a close above $27 should be enough to make shorts cover their positions).
Which Side Will Win Out?
The answer, put simply, could be both.
General Electric stock could -- if technicians are right about their "abc" downside correction thesis -- drop around 8 percent before rallying anew. Any close below $25 will signify that the bears are winning the argument and any close above $27 will give the edge to the bulls.
Disclosure: At the time of this writing, Tim Thielen had no position in the equities mentioned in this report.
Stock chart:


Posted-In: technical analysisTechnicals Trading Ideas
View Comments and Join the Discussion!