An ETF To Deal With Central Bank Shenanigans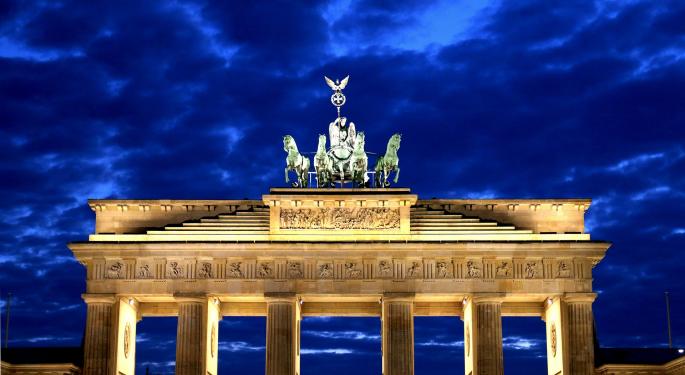 Eurozone stocks are outpacing their U.S. counterparts in a big way this year, which is no small feat considering the strength in the euro. A strong currency can be a drag on shares of Eurozone exporters, of which the region has plenty.
The MSCI EMU Index is up 26.4 percent year-to-date, an advantage of more than 900 basis points over the S&P 500, while the CurrencyShares Euro Trust (NYSE: FXE) is up 10 percent. Investors considering Eurozone stocks and related exchange traded funds should watch the European Central Bank. Fears emerged earlier this year that the ECB could set out on a tapering effort, but today, many market observers believe the ECB will not consider higher interest rates until 2019.
The WisdomTree Dynamic Currency Hedged Europe Equity Fund (NYSE: DDEZ) is an example of an ETF that can help smooth the ECB's whims. With either currency hedged ETFs or non-hedged funds, investors are making a directional bet on a given currency's performance against the dollar. DDEZ employs a dynamic hedging strategy so that investors do not need to be constantly shuffling back and forth between 100 percent hedged or completely unhedged.
Paying Off
DDEZ is up 21 percent year-to-date, but the ETF's solid showing is nothing new. The ETF fund turns two (its underlying index is slightly older) early next year and has been building a steady track record since its inception.
"Since the inception of the WisdomTree Dynamic Currency Hedged Europe Equity Index in November 2015, a strategy designed to dial exposure to the euro up or down depending on the three signals, U.S. short-term rates have been higher than eurozone short-term rates," according to WisdomTree research. "The above chart of 2-year sovereign yields in the U.S. and Germany shows how short-term interest rate differentials are related to why that rate signal applies a hedge to the euro currently."
DDEZ devotes over half its weight to French and German stocks. In order, Germany and France are the Eurozone's two largest economies. Spain and Italy combine for another quarter of the ETF's geographic exposure.
Doing Its Job
The advantage of an ETF such as DDEZ is that it can respond to shifts in currency markets, going from unhedged to fully hedged or somewhere in between as market forces dictate.
"With less than a 50 percent hedge for the past five months during a strong euro environment, the dynamic hedge is doing exactly what would be expected: dialing up the exposure to the currency based on the quick to respond momentum signal and reaping some of the tailwinds of the currency," said WisdomTree. "Over the short two-year live history, a period where the euro has appreciated nearly 5 percent versus the dollar, the WisdomTree Index has been able to maintain a 200-basis point outperformance advantage over the MSCI EMU Index in dollars, and an over 800-bps outperformance over the MSCI EMU Index in euros."
Related Links:
View Comments and Join the Discussion!
Posted-In: Long Ideas Specialty ETFs Eurozone Currency ETFs Forex Markets Trading Ideas ETFs Best of Benzinga