Fight Rising Rates With This New ETF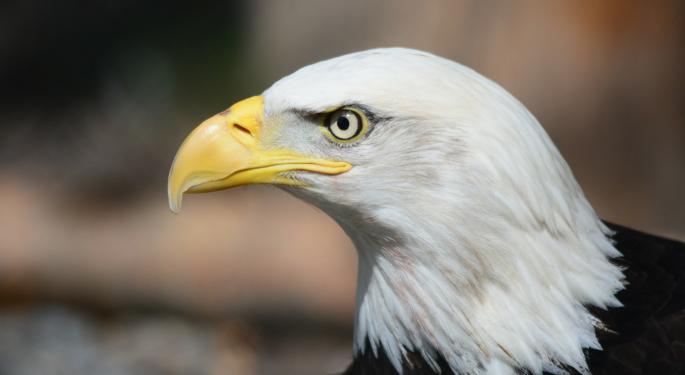 The Federal Reserve has raised interest rates twice this year and plenty of fixed income market participants believe a third rate hike will take place before the end of 2017.
That hasn't derailed U.S. equities as the S&P 500 and other major benchmarks keep grinding to record heights, but focusing on those sectors that perform well in rising rate environments could prove to be a winning strategy if the Fed moves forward with more rate increases.
The ProShares Equities for Rising Rates ETF (NASDAQ: EQRR), which debuted Tuesday, is an exchange traded fund to help with objective of equity exposure in the face of increasing borrowing costs. The new ETF tracks the Nasdaq U.S. Large Cap Equities for Rising Rates Index.
"The goal of the fund is to provide relative outperformance, as compared to traditional U.S. large-cap indexes, such as the S&P 500, during periods of rising U.S. Treasury interest rates," according to ProShares. EQRR already has $15 million in assets under management, according to issuer data.
Inside EQRR
Historical data indicate that some sectors are solid bets in rising rate environments while other groups are vulnerable to increasing borrowing costs. Seasoned investors know that high-yield, bond-like groups - such as telecommunications and utilities - can be lag as Treasury yields rise. Conversely, other sectors are believed to benefit from rising rates.
Of course, that includes financial services. On that note, the sector has been a surprising laggard this year, but the new ETF from ProShares allocates almost 30 percent of its weight to the financial services sector.
EQRR also allocates almost a quarter of its weight to the energy sector, the worst-performing group in the S&P 500 this year. The combined large weight to financial services and energy stocks gives EQRR something of a value feel because those sectors usually figure prominently in traditional value funds.
Materials, industrial and technology stocks combine for about 46 percent of the new ETF's weight. EQRR holds just 50 stocks.
Competition
There is some competition in the equity ETFs for rising rates space. In September 2016, Fidelity introduced the Fidelity Dividend ETF for Rising Rates (NYSE: FDRR).
That ETF tracks a basket of dividend-paying U.S. equities that can potentially prove durable in rising rates environments. FDRR has proven successful with investors as highlighted by $146.3 million in assets under management as of July 24.
Related Links:
Posted-In: Long Ideas Broad U.S. Equity ETFs Specialty ETFs New ETFs Federal Reserve Trading Ideas ETFs Best of Benzinga
View Comments and Join the Discussion!