Investing Meets Church With New Biblical ETFs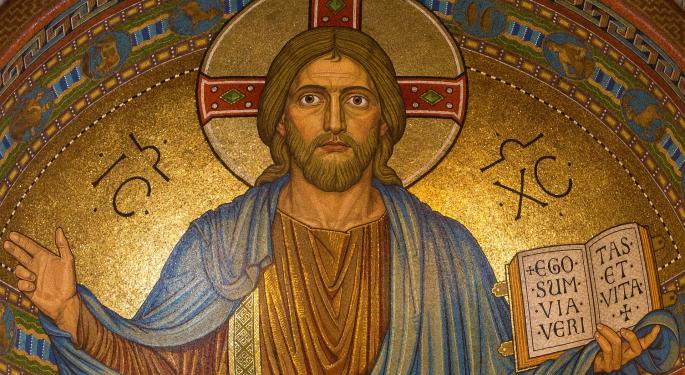 Another issuer of exchange-traded funds is trying its hand at Christian value ETFs. Inspire Investing launched the Global Hope Large Cap ETF (NYSE: BLES) and the Inspire Small/Mid Cap Impact ETF (NYSE: ISMD) on Feb. 28.
What Are Inspire ETFs?
"Inspire ETFs are built around the revolutionary Inspire Impact Score methodology, which measures a company's positive effects on customers, communities, workplaces and the world. The Inspire Impact Score allows investors to identify and invest in some of the most inspiring companies in the world. Daily, artificial-intelligence (AI) technology filters millions of publicly available data points related to thousands of companies," according to a statement issued by California-based Inspire Investing.
Related Link: How ESG Investing Is Reshaping The Business World
What Are Christian-Themed ETFs?
Christian-themed ETFs can be considered part of the fast-growing environmental, social and governance (ESG) sub-sector of the ETF space. However, past iterations of religiously-inspired ETFs have shown differences when compared against other ESG funds. In the case of the Inspire ETFs, these exclude companies with ties to standard ESG no-nos such as alcohol, gambling and pornography as companies with checkered human rights track records and those that support the LGBT community.
2 New Inspire ETFs
The Inspire Global Hope Large Cap ETF follows the equal-weight Inspire Global Hope Large Cap Equal Weight Index, which defines large-cap as companies with market values of $10 billion and up. The index holds 400 stocks. BLES allocates half its weight to U.S. stocks, 40 percent to international developed markets and 10 percent to emerging markets. The new ETF charges 0.61 percent per year, or $61 on a $10,000 investment.
The Inspire Small/Mid Cap Impact ETF follows the Inspire Small/Mid Cap Impact Equal Weight Index.
"Under normal circumstances the index will be comprised of 50 percent U.S. mid cap companies with market cap between $2 billion–3.5 billion, and 50 percent U.S. small cap companies with market cap between $1 billion–2 billion. Inspire believes that companies in this "smid cap" capitalization range have the potential to deliver above average growth," according to Inspire.
ISMD also charges 0.61 percent per year.
While Christian-themed ETFs could ruffle the feathers of some liberal investors, notable is the fact that Inspire donates half its corporate profits to worthy causes such as clean water projects, human trafficking relief efforts, Bible distribution and humanitarian relief for refugees in the Syrian crisis.
View Comments and Join the Discussion!
Posted-In: Long Ideas News Broad U.S. Equity ETFs Specialty ETFs New ETFs Topics Markets Trading Ideas Best of Benzinga