Emerging Markets' Great 20-Year Returns Trend Likely To Continue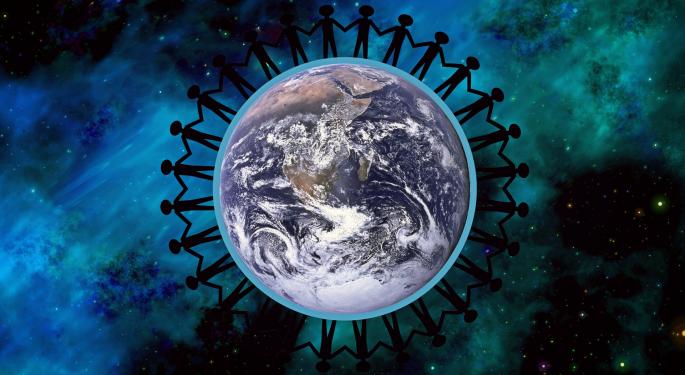 Many analysts and investors are worried about how a Donald Trump presidency will impact the global economy and equity markets. However, as history shows, there's an investment that can weather almost all conditions: emerging markets.
According to Bloomberg, over the past two decades, nine out of the 10 top performing stock indexes (on average) corresponded to emerging or frontier markets. Even more notably, in 2016, all ten of the top performing indices tracked emerging nations, from Brazil and Bulgaria to Peru.
But, high returns come with high volatility? Or, don't they?
New data seems to defy this time-honored paradigm: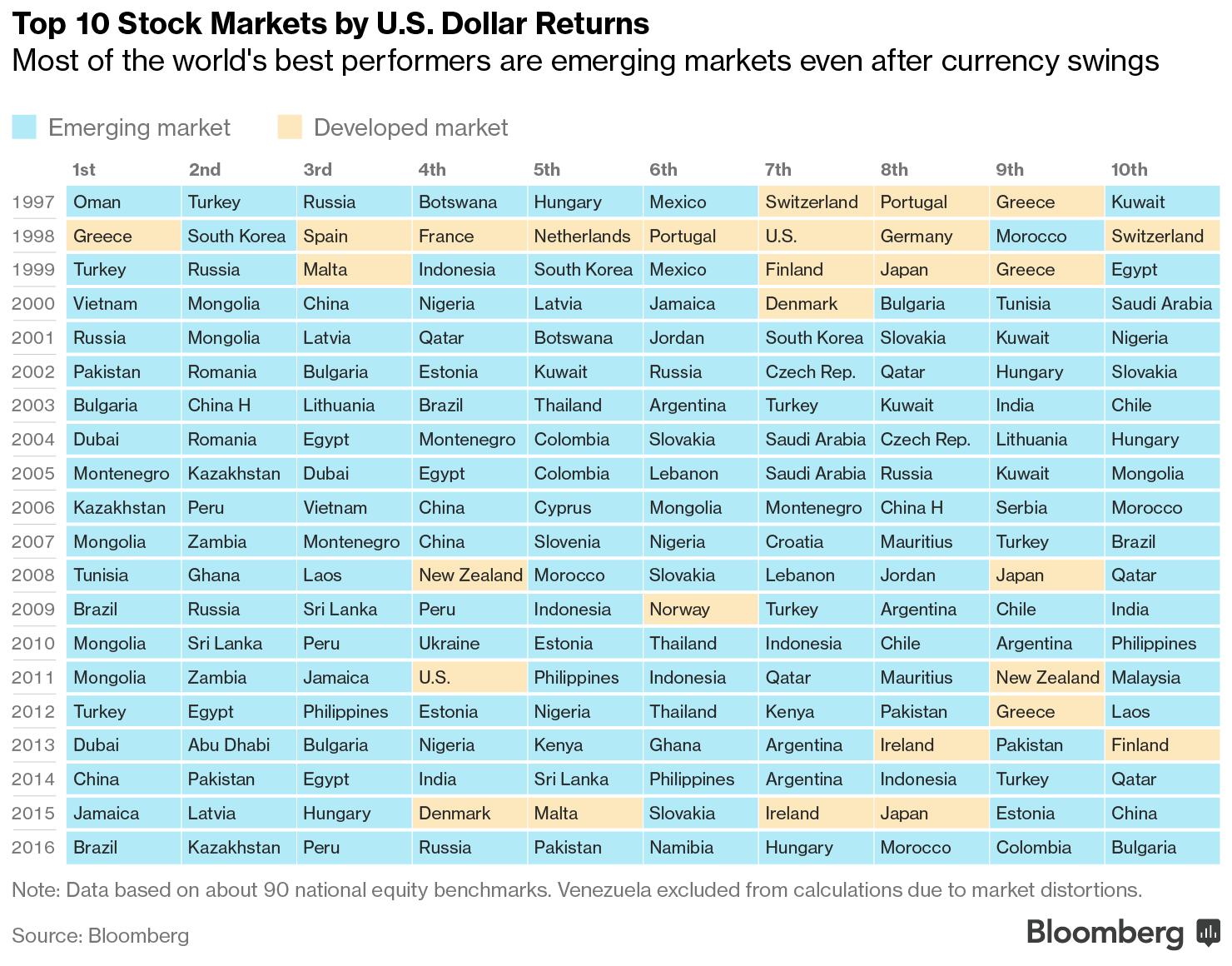 "The long-standing thought is that emerging markets are riskier and less resilient than developed markets. This data demonstrates that it isn't always the case," said Julian Mayo, co-chief investment officer at Charlemagne Capital Ltd.
A Continuing Trend
Despite the uncertainty surrounding all predictions — especially for 2017 — it seems like emerging markets could offer some stability. Yet again, developing nations occupy nine out of the top 10 spots in the dollar returns list – year to date. When gains are adjusted by volatility, the list still contains seven emerging countries.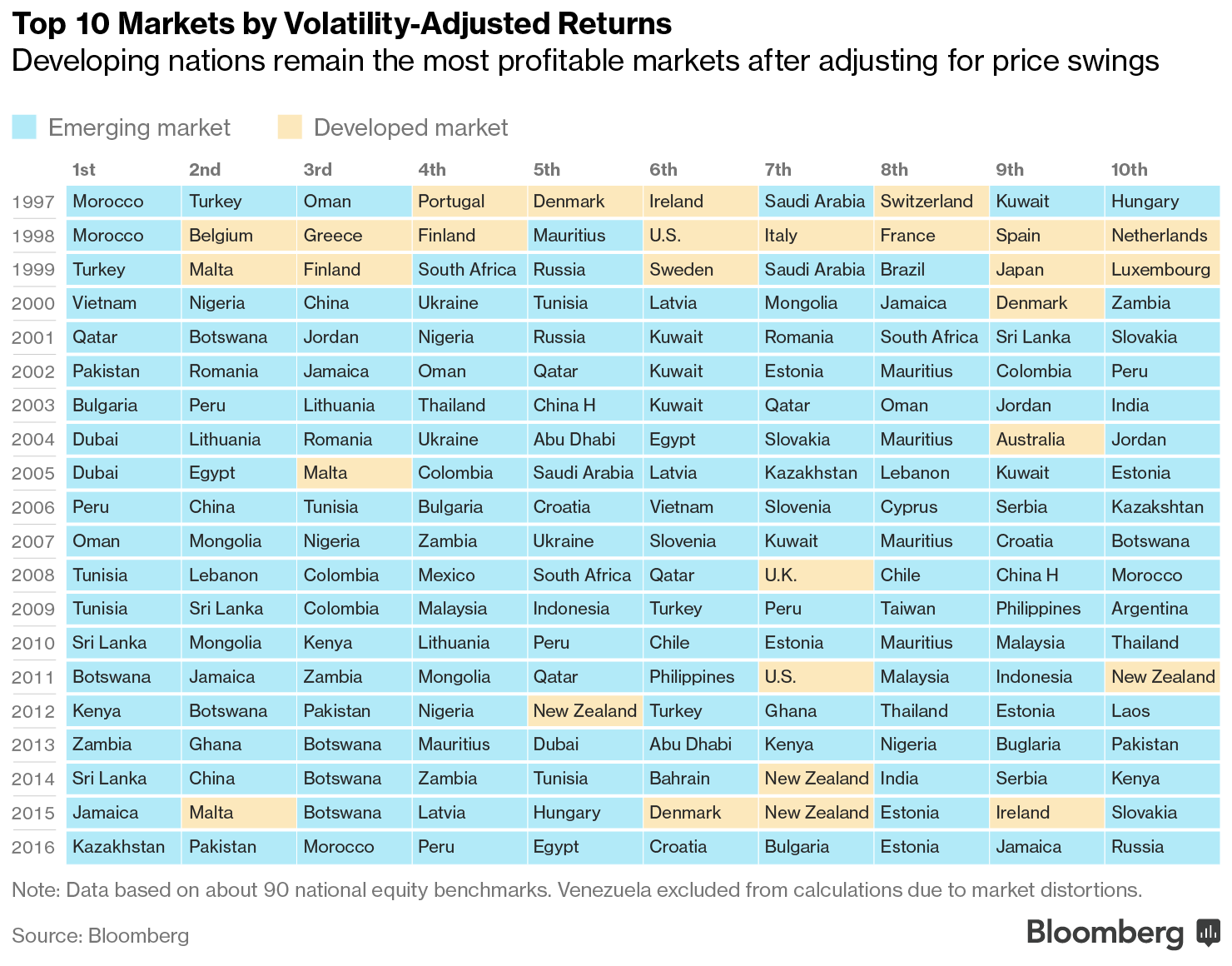 "Emerging markets will benefit from higher earnings expectations, expanding growth differentials with rich nations and more disciplined capital-spending by companies," the same Bloomberg article explained.
Since the beginning of the year, the iShares MSCI Emerging Markets Indx (ETF) (NYSE: EEM) has gained 3.4 percent, while the iShares MSCI EAFE Index Fund (ETF) (NYSE: EFA) rose less than 2.2 percent, and the Vanguard MSCI EAFE ETF (NYSE: VEA), almost 2.3 percent.
However, Mayo concluded, this does not mean that all emerging markets offer attractive investment options, just that the best performers happen to be developing economies. So, find the right ETF for you and give the country (or countries) involved a hard look; valuations across these categories remain alluring, overall.
View Comments and Join the Discussion!
Posted-In: Long Ideas News Emerging Markets Emerging Market ETFs Markets Media Trading Ideas ETFs Best of Benzinga