3 Google Employees Injured In Self-Driving Car Crash: What's Next For The Industry?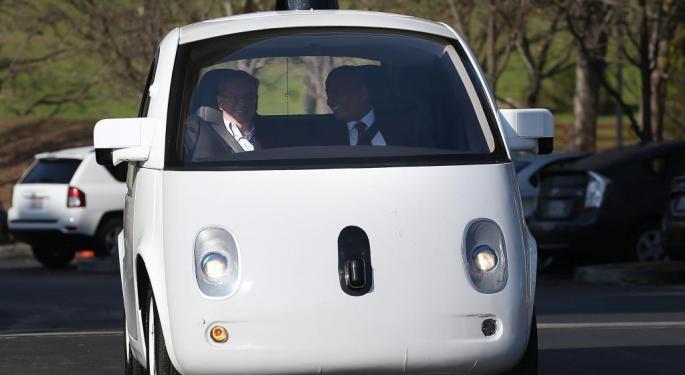 In a new blog post on Thursday, Chris Urmson, director of Google Inc (NASDAQ: GOOG) (NASDAQ: GOOGL)'s self-driving car project, disclosed that, for the third time in recent weeks, one of the company's fleet of 23 self-driving Lexus prototypes was involved in a minor traffic accident. Three Google employees were sent to the hospital after suffering minor whiplash, but none were admitted.
Hard Miles
According to the blog post, the Google vehicle was stopped at a red light when it was rear-ended by another motorist. Google has been developing self-driving cars since 2009, and reports that its vehicles have logged more than 1 million test miles in recent years.
The most recent incident is the first that has involved injuries to Google employees, but it is the 14th time that Google's self-driving vehicles have been involved in traffic accidents.
Perfect Record
Despite the hard knocks, Urmson reports that 11 of the 14 incidents have involved Google's vehicles getting rear-ended by other motorists, and Google has not been at fault in a single one of the 14 collisions.
"Our self-driving cars are being hit surprisingly often by other drivers who are distracted and not paying attention to the road," Urmson writes. "The clear theme is human error and inattention."
Safety Still A Concern
Despite the perfect driving record that Google's automated vehicles boast, the technology still has a long way to go before it can safely navigate the nation's highways.
According to the MIT Technology Review, Google cars still cannot handle large, complicated parking lots, driving in snow or heavy rain, and unexpected obstacles such as large potholes in the road, construction detours or "a police officer at the side of the road frantically waving for traffic to stop."
However, the Insurance Institute for Highway Safety reports that vehicles equipped with automated collision avidance systems have already witnessed 7 to 15 percent reductions in front-end accidents. KPMG projects that automation will reduce the total number of traffic accidents by 80 percent over the next 25 years.
Market For Automated Vehicles
Although the self-driving vehicle project is currently only a tiny, experimental part of Google's business, some analysts believe that the market for self-driving cars could end up being huge.
In a report just last month Piper Jaffray analyst Gene Munster listed autonomous vehicles as one of the key long-term growth opportunities for Google that is underappreciated in the market.
Posted-In: Chris Urmson Google Self Driving CarsLong Ideas Tech Trading Ideas Best of Benzinga
View Comments and Join the Discussion!