Halozyme Closes In On A Breakout: A Technical Analysis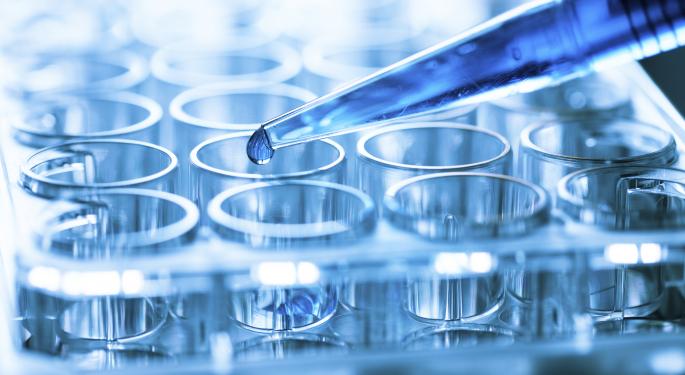 Stocks have been getting hit pretty hard over the last week. The new year has started off somewhat like 2014 did -- down.
Some individual industries are holding up a little better than others, such as gold miners, REITs and airlines.
Biotech stocks have held on relatively well, too.
Biotech names such as Agios Pharmaceuticals (NASDAQ: AGIO) and Incyte Corp (NASDAQ: INCY) are still trading near yearly highs, while biotechs like Bluebird Bio (NASDAQ: BLUE) and Isis Pharmaceuticals (NASDAQ: ISIS) just recently hit new highs.
Then there's Halozyme, which has been trading sideways for months. Could it be time for a breakout?
The company: Halozyme Therapeutics, Inc.
Ticker Symbol: (NASDAQ: HALO)
Sector: Healthcare
Industry: Biotechnology
Halozyme Therapeutics is a biopharmaceutical company, researches, develops, and commercializes human enzymes.
Related Link: The Struggles Of Gilead Sciences
Its research focuses on human enzymes that transiently modify tissue under the skin to facilitate the delivery of injected drugs and fluids, or to alter abnormal tissue structures for clinical benefit.
Review the one-year chart of Halozyme with the added notations: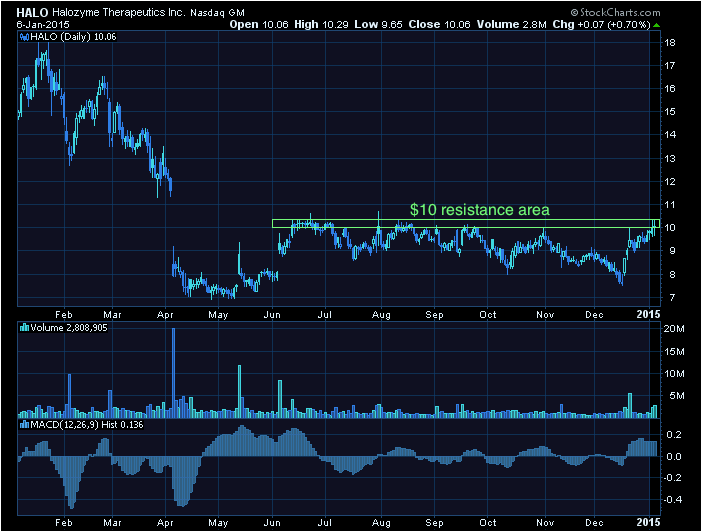 Halozyme declined from January of 2014 up until April and May before finally finding some footing near $7 per share. The stock rallied for a month or so from there, but eventually stalled around $10.
Since that rally, Halozyme traded sideways for the next six months even though the biotech industry as a whole moved higher.
In addition, over the course of the stock's sideways move, the price of $10 has constantly stalled the stock's attempt at a higher move just as it did back in June.
A break above that $10 area should mean that Halozyme has bottomed and a larger rally is underway.
The stock closed Tuesday at $10.06 and recently traded at $11.14, up 10 percent.
Posted in: Long Ideas Short Ideas Health Care Technicals Trading Ideas General Best of Benzinga